The press service of the President of Ukraine reports that Poroshenko has signed a law on strengthening the responsibility of servicemen for non-execution of command orders. The law is called "On Amendments to Certain Legislative Acts of Ukraine on Strengthening the Responsibility of Servicemen and Some Other Persons".
The document implies an increase in the level of military discipline in the units of the Armed Forces of Ukraine and other law enforcement agencies of the country. UNIAN reports that the level of responsibility for violation of statutory requirements, including the use of alcohol in the performance of official duties, and disobedience to the command of reservists, is increasing.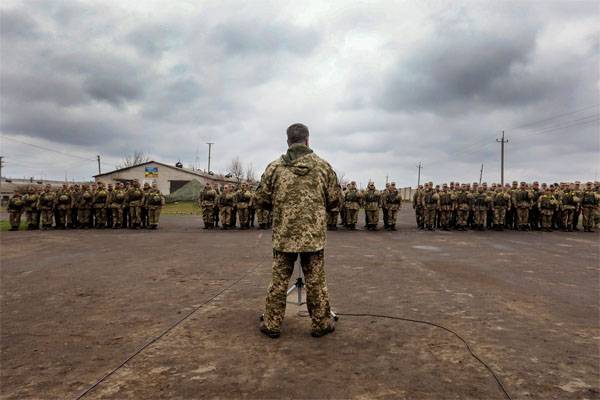 It is noteworthy that such a law Poroshenko signed after the scandal that erupted during the military gathering with the involvement of those same reservists. We are talking about a situation where the radicals from the Right Sector (banned in the Russian Federation) who were at the training camp, were posted in a tent camp at the training ground black and red flags. The general, who arrived at the landfill, ordered the flag of Pravosek to be removed. Instead of fulfilling the order, the radicals began to use foul-hearted against the commander and added that all other command orders would be carried out only after they were allowed to leave the flags on the tents.
From the material
UNIAN
:
In particular, the law provides that drinking alcoholic, low-alcoholic beverages or the use of narcotic drugs, psychotropic substances or their analogues by military servicemen, persons liable for military service and reservists during the passage of dues in the territory of military units, military facilities, or the appearance of such persons in a military unit in a state of intoxication , in a state of narcotic or other intoxication, or the performance by them of the duties of military service while intoxicated, in a state of narcotic or other intoxication, and the refusal of such persons to undergo an inspection on the state of alcoholic, narcotic or other intoxication entails the imposition of a fine from 70 to 145 of non-taxable minimum incomes of citizens or arrest with detention at a guardhouse for up to 5 days.
Whether the arrest for 5 days will stop those who are not used to executing command orders is a big question.