In the Western media, the situation around the Korean Peninsula is gaining momentum. Any step by Kim Jong-un after Trump's statements about the readiness of "decisive action" is described only as "playing with fire". In particular, the Western media, including CNN, issued for the "obvious preparation of North Korea for war" competition of special forces soldiers of the DPRK army, held annually a few days before the Day of the Sun. In the DPRK, the Day of the Sun is celebrated on April 15 - on the birthday of Kim Il Sung.
From the message
Central Telegraph Agency
North Korea:
Comrade Kim Jong Un watched the competition in landing and repelling the enemy's strike with the special forces of the people's army.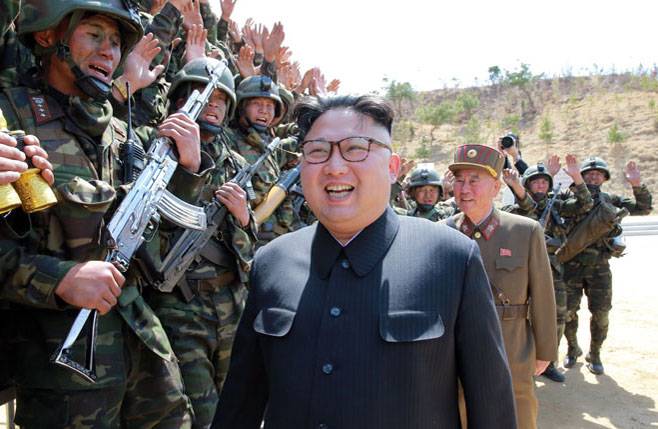 Fighters of the special operations battalion of the 525 military unit of the Korean People's Army, as well as military personnel of the 4 shock group of the 5 separate detachment at the military unit 2625, 2 of the shock group 1 of the individual detachment of military unit 252 of the KPA Navy, 1 of the shock group of the 1 squadron of military unit 323 of the KPA Air Force, as well as a squadron of military transport airplanes and helicopters, etc.
The winner of the competition was the military personnel of the special operations battalion of the 525 KPA military unit.
Against this background, there continue to be reports that PLA troops have concentrated along the border with the DPRK. According to some reports, the official Beijing after the actions of Trump in Syria seriously fears that the United States is preparing to launch a missile attack on the objects of the KPA. For obvious reasons, they will not deliver a direct blow to the DPRK's nuclear infrastructure (at least they are counting on in Japan and South Korea), but to go for strikes on combined-arms facilities and delivery vehicles is completely.
Against this background, military experts are discussing the possibility of a retaliatory strike from the DPRK. One of the likely scenarios, according to CNBC experts, is the use of Kim Jong-un for retaliation of nuclear-powered submarines
weapons
on board. Is it worth it for the American media to make such bold assumptions about a real war with North Korea, taking into account the fact that there is neither oil nor a "moderate opposition" in the DPRK ...