A meeting was held between US Secretary of State Rex Tillerson, Russian Foreign Minister Sergei Lavrov and Russian President Vladimir Putin. At the same time, information is being actively promoted in the Western press that "Putin deliberately took the time to meet with the American Secretary of State in order to make him nervous." Apparently, the Western media were not very familiar with the schedule of the Russian president on Cosmonautics Day, otherwise they would have known that the president had met with representatives of the space industry the day before, and "dragging out the time before meeting with an American official" was nothing more than far-fetched statements by Western journalists themselves.
The press service of the Russian Foreign Ministry presents the text of the final press conference of the heads of the diplomatic departments of Russia and the United States after the end of the talks. Here are some excerpts from the statements
Sergei Lavrov
:
In addition to the fight against terrorism in Syria and in the region as a whole, we have a common interest - the achievement of a political settlement of the complex Syrian crisis. Over the past years, Russia and the United States have led international efforts to find compromises, to unite all participants in both the internal Syrian conflict and external players at the negotiating table under the auspices of the UN.
Russia and the United States also have many opportunities to help the international community to resolve the conflicts in Yemen and Libya, and last but not least to try to find approaches to still get the Palestinian-Israeli settlement off the ground.
We also have such a topic as Afghanistan. As you know, over the past couple of years we have used a variety of formats that have been aimed at building external support for intra-Afghan reconciliation efforts.
We have touched upon the crisis in Ukraine. We have a common position that the 2015 Minsk agreements must be implemented.

We also spoke about the situation on the Korean Peninsula, which worries us all very much. Russia and the United States are in favor of strict observance of the UN Security Council resolutions that were adopted on this topic.

We also noted the special responsibility of Russia and the United States for the state of affairs in the field of military-political security in the regional and global terms. We have synchronized watches on the progress of the implementation of the strategic stability treaties and arms reductions that are in force between our countries.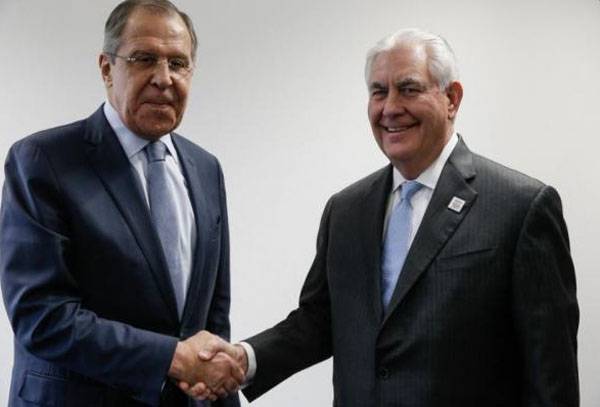 US Secretary of State Rex Tillerson noted at a press conference that Washington and Moscow need to enter the trajectory of mutual trust, since relations are "at a low point." According to the American diplomat, the two largest nuclear powers cannot have such relations, and therefore a special working group is being created to restore the partnership, which will include representatives of various departments.