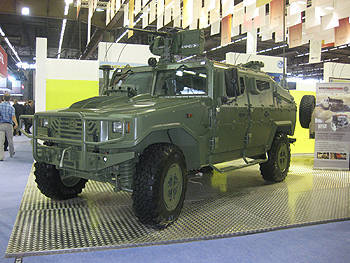 The Spanish company "Levels" (Urovesa - Uro Vehicules Especiales) has developed a new version of the armored vehicle VAMTAC S3 (Vehiculo de Alta Movilidad Tactico) with the wheel formula 4x4.
The 8-ton armored patrol car, designated as VAMTAC BN3, is equipped with the 6-cylinder diesel engine "Steyr" M16TCA-3 hp with 220 hp, seven-speed "Ellison" S1000 gearbox. BBM is able to reach a maximum speed of 115 km / h, power reserve - 500 km.
The BN3 armored cab was developed jointly with the Danish company Composhild and provides mine protection that complies with the requirements of STANAG 4569 "Level.2" against small
weapons
- STANAG 4569 "Level.3" and STANAG 4569 "Level.4" from the fragments of 155-mm artillery shells.
BBM can be equipped with additional equipment, including a centralized tire inflation system, chemical protection, climate control, information system, enhanced armor protection of the engine and airborne compartment, fire extinguishing system, an embrasure for firing in the windshield, a front electric winch, a remote-controlled combat module.
In its basic configuration, the BBM VAMTAC BN3 is equipped with two ROSY smoke curtain systems developed by Rheinmetall and a Raphael remote control unit Samson Junior armed with an 7,62-mm machine gun.
VAMTAC S3 is currently in service with the armed forces of Belgium, Malaysia, Morocco, Romania, Spain and Venezuela. Malaysia, which received 85 armored vehicles in June 2009 of the year, is currently negotiating to supply, through the Malaysian company Masdef (formerly Master Defense), 15 additional BBM.
REFERENCE:
In April, 2008, CB Malaysia signed a contract with Master Defense for the supply of 80 BBM VAMTAC S3 to Levels in VAMTAC 3PKL (weapons transport) and VAMTAC 4PC configurations (launcher platform). The cost of the agreement was 19,1 million euros. Some of them are equipped with launchers of Igla-S MANPADS.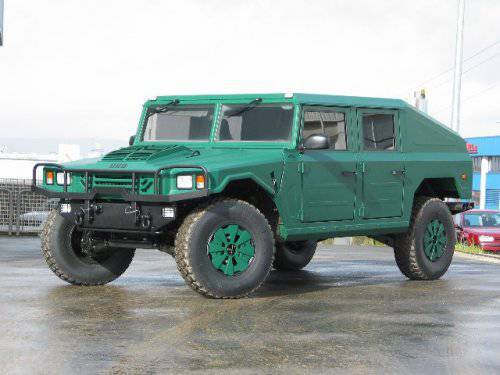 According to available information, the SV of Spain intend to acquire a light mortar system designed to provide fire support for infantry units, which prompted the company "Levels" to unite with the Israeli "Salt" and "GMV defensa and seguridad" to develop a mobile mortar installation based on VAMTAC.