Today, mourning events are held in Poland to mark the seventh anniversary of the plane crash near Smolensk with President Lech Kaczynski on board. The main events are held in Warsaw, where the first persons of the state organized a mourning rally. No cost and without provocation. To the building of the Russian embassy, ​​"activists" were driven, who are demanding the return of the wreckage of the crashed airliner to Poland.
Against this background, regular statements on the progress of the investigation, which the Poles started six years after the catastrophe and more than four years after the investigation was completed by an international commission, were made by representatives of the Polish "investigative subgroup".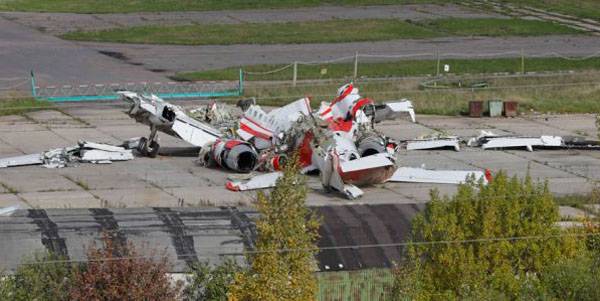 The head of the "subgroup" Vaclav Berchinsky announced literally the following (quote
TVP
):
Our investigative team came to the conclusion that the plane began to fall apart even before the collision with the ground. We analyzed the pilots talk data and realized that the plane began to collapse when it was in the air. The wreckage was scattered tens of meters.
Attempting to provide the information contained in this statement, as an achievement of the Polish investigation team, looks more than strange. And when else should the plane have started to collapse, if not before the collision with the ground, taking into account that it touched the trees with a wing during the descent? The reduction of the aircraft was started, despite the bad weather conditions and despite the proposals of the dispatchers of the Smolensk Severny aerodrome to withdraw to the alternate aerodrome.
Recall that a few days earlier, the Polish side stated that the blame for the collapse of the Polish side of the №1 in April 2010 lies with the Smolensk dispatchers and with some kind of "third person". But what exactly is the "fault of dispatchers" in Warsaw prefer not to say.