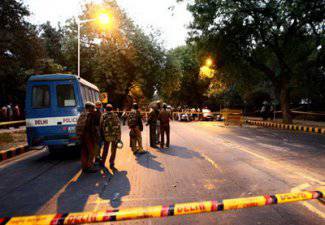 As reported by 14 February from Delhi, Iran has denied accusations of organizing yesterday's attacks on employees of Israeli diplomatic missions in Tbilisi and Delhi. Iranian Ambassador to India, Mehdi Nabizadeh, called these accusations "absolute lie."
Benjamin Netanyahu, the Israeli Prime Minister, previously stated that the Iranian authorities are behind the car bombing of the Israeli embassy in Delhi and the attempted similar terrorist act in Tbilisi. Netanyahu noted that these attacks are similar to the recent attempts of attacks on Israelis in Azerbaijan and Thailand. Israel also laid responsibility for them on Iran and on the Lebanese Hezbollah group supported by Teheran (information from Radio Liberty).
According to the latest data, four people were injured in the Delhi bombing. Previously, 2 reported about the wounded: the wife of one of the diplomats and the driver. In the capital of Georgia, the police defused a bomb fixed under the bottom of a car of an Israeli embassy employee.