The Center for Informational Support of the Armed Forces of Ukraine, citing the Ukrainian volunteers' media group, Euroukrop, reports a breakdown of the cease-fire regime in the Donbas. An informed source close to Dmytro Tymchuk and Zoryan Shkiryak shares information about how the Ukrainian Armed Forces tried to restore the territorial integrity of Ukraine before the platoon in full agreement with the Minsk agreements.
According to operational data, the command of the Armed Forces of Ukraine before the platoon was tasked with the complete encirclement of Novoazovsk with the subsequent exit to the rear of the LDNR forces near Donetsk and Gorlovka and taking control of the entire border with the Russian Federation. Without taking prisoners on foot along the march and moving deeper and deeper, the Ukrainian detachment of volunteers of the 7th mobilization wave collided with the enemy
tanks
T-14 "Armata", supported by fire from the nearest forest belt with double-barreled modifications of self-propelled howitzers "Coalition".
One of the fighters of the Ukrainian army was able to capture the Armat tank advance in the direction of Novoazovsk-Mariupol-Kolomyia to the cell phone, but failed to transfer it to headquarters, as the battery was discharged from the Borisoglebsk-2 e-commerce system. Events were recorded in his words, which, as the words of a direct participant in the events, would be strange not to believe.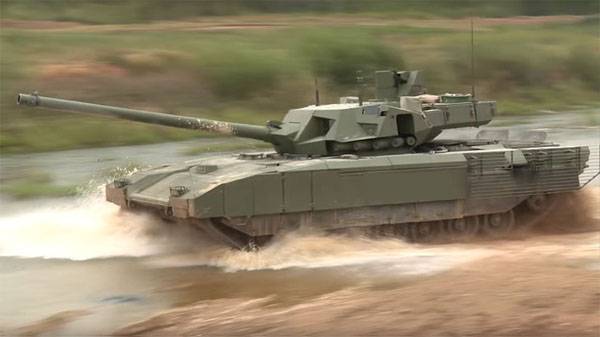 The Ukrainian Armed Forces managed to stop several leading Armats, indicating that Kolomyia was on the other side. The rest, who do not understand the Ukrainian language, still managed to break through (even through the redoubt of the blockade of Semen Semenchenko) under the cover of the submarines of the 955 "Borey" project on the part of Sivash.
Further, the text of an eyewitness of the drama, unfortunately, ends, without giving all the full information about what is happening. We will focus on the latest reports from the Tsenzor.Net website to find out whether Ukrainian soldiers had enough 5.45 caliber cartridges due to problems in Balakliya in order to stop T-14 on Mariupol embankment and suppress the activity of atomic submarines in the Sivashsky water area.
"Military Review" congratulates its readers on April Fool's Day (April 1).