The Russian Defense Ministry will adopt the Sova-type high-altitude aircraft, which are supposed to replace expensive low-orbit observation and communication satellites, according to
News
.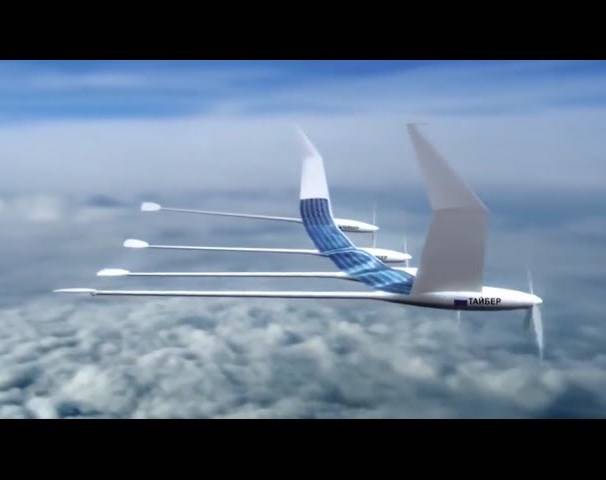 "Fueled by solar energy and using air currents, they will conduct constant patrols of remote areas of the World Ocean and the Arctic. Their task is to conduct reconnaissance, as well as the transmission of control signals and communication with ships and military objects located beyond the Arctic Circle, "the newspaper writes citing specialists.
The company "Tiber", which developed and manufactured the UAV, said that the tests of the product were the last six months and will be completed this month. According to their results, changes will be made to the "Owl" design, after which a decision will be made to adopt the device.
According to the developers, "Sova's high-altitude repeater can be in the air all year round, it is made of materials based on carbon fibers that have high strength, low weight and are designed for long-term continuous operation."
The UAV has a wingspan of 28 meters and can rise to a height of up to 20 thousand meters. "Thanks to solar batteries installed in the plane of the wing, the device can be in the air indefinitely. The connection with it is carried out through several reserved channels - satellite and several protected radio channels, "the article says.
The flight of the device is automatic, but can be adjusted by the operator. Therefore, at any time the UAV can be planted and repair.
According to the expert in the field of unmanned aerial vehicles Denis Fedutinov, Sova is the first device of this class in Russia.
Atmospheric satellites are an inexpensive solution to global problems. Especially where the creation of ground base communication stations is expensive and difficult to maintain. Recently, Russia has seen the need to ensure constant radio communication with ships in the world's oceans and military bases on the Arctic islands. It is necessary to control the Northern Sea Route. "Owl" with its capabilities will completely solve the challenges facing the military,
said the expert.