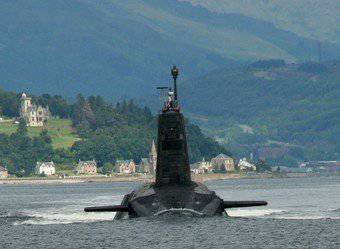 UK envoy to the UN Mark Grant 11 February rejected accusations of militarization of the Falkland Islands, which were made by Argentina against the United Kingdom.
Earlier in the press reported that the Argentine Foreign Minister E. Timerman accused the British that they are deploying nuclear weapons in the area of ​​the Falkland Islands. The Minister said at a press conference in New York that Buenos Aires has information about sending London to the islands of the Vanguard class submarine.
Mark Grant emphasized that the British government "does not comment on issues relating to the deployment of its submarines, nuclear weapons, and the like" (ITAR-TASS information).
A British diplomat said: "The statements made by Mr. Timerman about the militarization of the islands by the UK are absurd. The military presence of the United Kingdom near the Falkland Islands was minimal for a long time. Only after Argentina illegally invaded the territory of these islands in 1982 did we have to take measures to ensure their defense. These measures have not been strengthened in recent months or years. The facts on which the head of the Ministry of Foreign Affairs of Argentina has focused his attention - the deployment of warships, rocket tests carried out once every six months - have been taking place there for thirty years. The only thing that has changed during this time is the policy of Argentina. "
M. Grant also recalled that, according to the provisions of the UN Charter and the Atlantic Charter, the residents of the Falkland Islands have the right to self-determination - and they have repeatedly expressed their desire to remain in the UK.
We remind you that the day before, UN Secretary-General Ban Ki-moon called on Argentina and the UK to avoid escalating the conflict around the Falkland Islands. According to Rosbalt, Ban Ki-moon expressed concern about the deterioration of relations between the two countries. The UN Secretary General hopes that Argentina and the UK will resolve differences through dialogue.
Previously, the media reported that the British Navy sent a nuclear submarine to the Falklands to protect the islands. It was indicated that either the Tireless submarine or the Turbulent submarine would be sent to the South Atlantic. Also 31 January 2012, the British Ministry of Defense made a statement about the direction to the islands of the newest destroyer "Dauntless". And since that time, the tension between Great Britain and Argentina began to increase.
2012 marks thirty years since the start of the war for control of the Falkland Islands between Great Britain and Argentina. From the beginning of the last century, Argentina considered its islands its own, but in 1833, the islands were captured by British troops. The leadership of Argentina still does not give up claims to the Falklands.