In Poland, another act of vandalism took place in relation to the burial of Soviet soldiers who died during the liberation of this country from the Nazi invaders. The Russian diplomatic mission reported that the vandals had desecrated the cemetery of Soviet soldiers on виvirka Street and the Wygurs in Warsaw.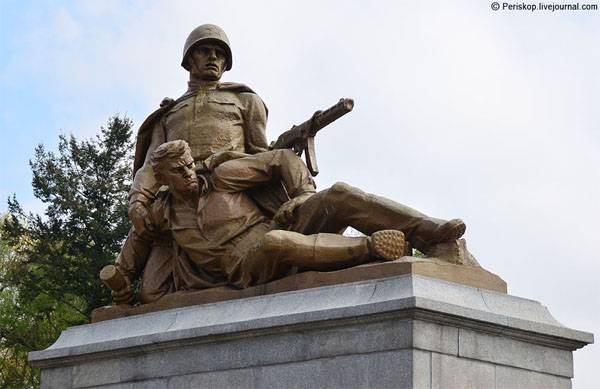 RIA News
cites a statement by the official representative of the Russian Embassy in the Republic of Poland, Nikita Markelov:
The embassy expresses its indignation at another instance of the desecration of the memorial cemetery of Soviet liberators in Warsaw.
Unknown, being at the Central Military Cemetery-mausoleum of the soldiers-liberators who fell for the freedom and independence of Poland, desecrated the sculptural composition of the memorial. Nikita Markelov reports that on the steps of the memorial and its slab around the perimeter of the obelisk there are images of Nazi symbols in black. In addition, the vandals left footprints in red against the background of the Star of David.
For reference: in the Central Military Memorial Cemetery of Warsaw about 22 thousands of fallen Soviet soldiers are buried. The territory of the complex is under video surveillance, however, the request of Russian diplomats about the progress of the investigation on the basis of the video data obtained as a result of monitoring did not receive a response from the Polish side.
Recall that during the liberation of Poland from the Nazis killed about 600 thousands of Soviet soldiers. Unthinkable price for the liberation of the state, which not only does not appreciate the liberation, but also defiles the memory of the liberators. None of the acts of vandalism against Soviet graves was thoroughly investigated by Polish law enforcement officers.