The damage inflicted on the Novorossiisk element is estimated at six hundred million rubles. Extreme frosts for Kuban, coupled with the hurricane wind, turned out to be the hardest for the citizens. Hundreds of houses have damaged roofs and broken windows. Many residents of Novorossiysk live without light. Power lines are broken by the wind. Now the help to the city is pulled from all over the region.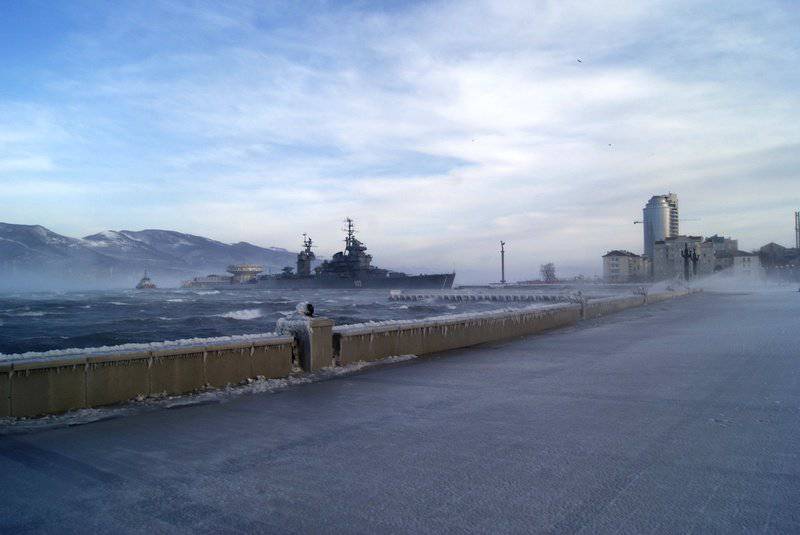 Tsemess Bay turned into a maze of frozen water and tall ice mountains. From the pier and from the ships, the sailors chipped off the frozen storm waves. In one area of ​​the city the water supply pipe was broken. The breakthrough site, by the way, has become a popular background for amateur photographers. The Ice Sculpture Park, made up of icy trees, houses and pipes, is indeed a rare sight.
Winter frost, unusual for Novorossiysk, was in addition complicated by a very strong wind. The hurricane hit the eve of the Black Sea coast of Russia and Ukraine; its epicenter was precisely in Novorossiysk. From city streets they remove fragments of metal tiles and slate.
Metal shingles and slate were blown away by hurricane winds, like paper sheets. Residents of the upper floors are now freezing: it's cold outside, but the roof is not there. It will take a lot of time to repair after a hurricane, and besides, city residents are afraid of other blows from the storm.
In total, Novorossiysk damaged more than two hundred buildings. Not one hundred families are in a state of siege. Children lie under the covers for days on end, schools are closed. The townspeople curtain the broken windows with carpets or prick them with plywood. In many apartments there is no electricity.
Meanwhile, according to official sources, the power supply in the city has been fully restored. However, residents of several streets of Novorossiysk can not get through to the "hot line" in order to refute this information.
To the aid of the townspeople came the military. There are field kitchens in the city. Volunteers preparing for sporting events spread hot food to the apartments. If necessary, operational services are ready to open evacuation points.
Today there is no threat to people's lives. However, in the coming days, warming is not expected.