The transfer of the Bundeswehr armored vehicles to Lithuania is a mission to strengthen the eastern borders of NATO and intimidate Russia, writes Stern magazine.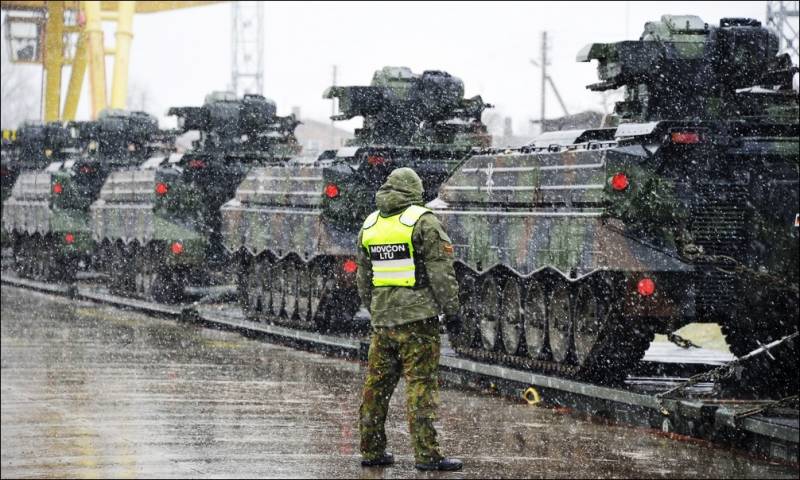 "On dozens of units of German military equipment arrived in Lithuania on Friday, including 20 Marder infantry fighting vehicles and six
tanks
Leopard 2 - they will be placed a hundred kilometers from the Russian-Lithuanian border, "the publication cites
RIA News
.
In addition, there will be around 450 German troops in Lithuania.
The build-up of the German forces is thus completed, next week we can begin the exercises,
said the representative of the Ministry of Defense of Germany Torsten Stefan.
The mission is designated by the abbreviation EFP (Enhanced Forward Presence), which implies strengthening the eastern flank of NATO, which was discussed at the summit of the alliance in the summer of 2016.
In this way, NATO intends to strengthen the eastern flank and intimidate Russia,
declares Stern.
Austrian media also noted the significance of this event. Portal oe24.at:
Friday happened
historical
troop movement. For the first time since the end of World War II, German tanks were deployed to the Russian border.
In turn, Der Spiegel columnist Jacob Augustein is afraid of a revival of the lexicon used during the Cold War.
"Is the cold war madness back? Will we soon think in the categories of "mutual guaranteed destruction"? The Bundeswehr in the Baltic States is going to "scare away" Russia, the German authorities intend to increase defense spending, and popular media are already wondering if Germany will have its own atomic bomb, "he writes.
We are going to invest billions in
weapon
whose sole purpose is our suicide. It would be better for us to reflect on why the Soviet Union in its time did not seize West Berlin. He just didn't want it
notes journalist.