According to the information
Russian newspaper
", Scientific director of the Research Institute
aviation
systems, Academician of the Russian Academy of Sciences Evgeny Fedosov announced that the developers of a new strategic missile carrier for the Russian Aerospace Forces (a promising long-range aviation complex, PAK DA) defended the corresponding preliminary project:
The requirements for a new aircraft are very high. The military inscribed everything they think: a strategic bomber, a tactical bomber-missile carrier bomber, and even a long-range interceptor with a platform for launching spacecraft.
In the long-range aviation, the PAK DA is intended to replace all three types of aircraft in service - the long-range missile carrier
Tu-22M3
, strategic missile carrier bombers
Tu-95 and Tu-160
.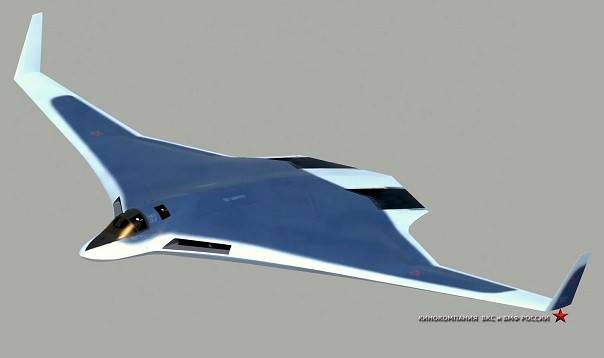 When creating the PAK DA, the economic factor is also taken into account. Tu-160 is a masterpiece that no one has yet succeeded to surpass, but it is very expensive. The new military aircraft are going to make cheaper, but more massive. The decision on the PAK DA was taken as follows: the advance project was credited, they came to the conclusion that it is necessary to build.
- explained E. Fedorov.
PAK DA is planned to be built according to the "flying wing" scheme. Began development of the engine for the new aircraft, designed for subsonic speeds. The machine will be equipped with a large number of compartments for armament.
It is impossible to make the missile carrier invisible to radar and supersonic at the same time, so the advantage is given to stealth. PAK DA will carry missiles with artificial intelligence and a range of up to seven thousand kilometers. The rocket is the main component of the complex, the task of the carrier is only to deliver it to the launch line. Analyzing the air and radar situation, the rocket itself will decide in which direction, at what altitude and speed it will fly. Such missiles are already there, we are working on them.
- said Commander-in-Chief of the Russian Aerospace Forces Colonel-General Viktor Bondarev.
Earlier, Deputy Minister of Defense Yuri Borisov
reported
that the newest PAK DA bomber can be introduced in 2018:
There is a high probability that we will see it in 2018 year.