Ten samples of small
weapons
were upgraded for combat equipment "Warrior", reports
RIA News
a message from the Commander-in-Chief of the Land Forces, Colonel-General Oleg Salyukov.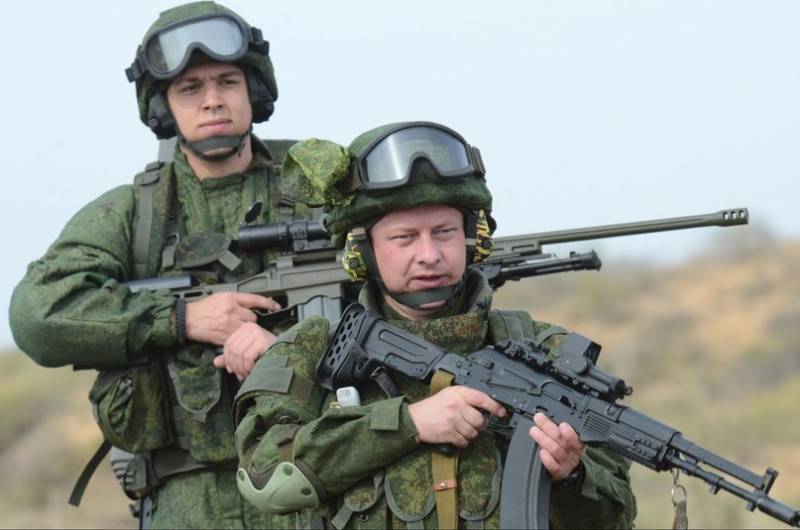 As part of the experimental design development "Warrior" developed and upgraded ten samples of small arms. Among them 9-mm sniper rifle "Vintorez", 9-millimeter machine "Shaft", X-NUMX-millimeter sniper rifle Dragunov, 7,62-mm machine gun "Pecheneg", 7,62-millimeter large-caliber sniper rifle, anti-personnel unit.
Salyukov said in an interview with the agency.
According to him, since February 2015, the products have been under "controlled exploitation".
"All models of small arms improved the accuracy characteristics, increased resource, all equipped with Picatinny slats, introduced elements to improve the ergonomic characteristics of the weapon: tactical handles, butts with adjustable butt plates and board plates, adjustable bipod, shortened barrel length and low-noise device and flameless shooting for a special machine gun. Shops have been developed for automatic machines with the ability to visually monitor the presence of cartridges ",
- told the commander in chief.
In addition, "in December 2016 of the year, two stages of comparative tests of 5,45-millimeter and 7,62-millimeter machines manufactured by the Kalashnikov Concern and the Degtyarev Plant in the military units of the Airborne and Land Forces were completed."
The third and fourth stages of the tests, according to Salyukov, "are planned for the Naval units
fleet
and special purposes. " They should be completed in May of this year.