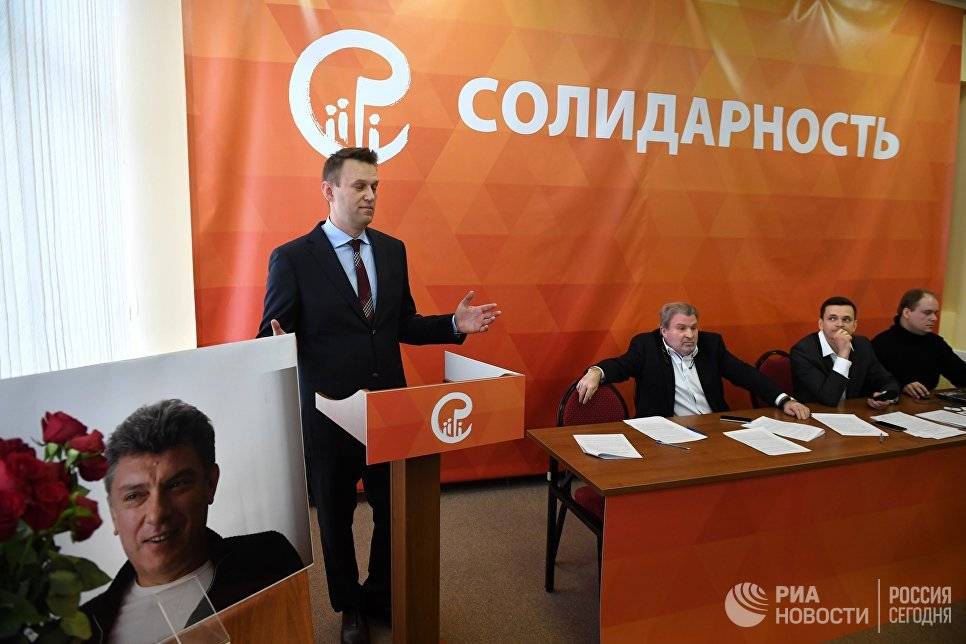 Politician Alexei Navalny during a speech at the congress of the social and political movement "Solidarity" stated the need to nominate a single candidate at the 2018 presidential election, representing all opposition forces in Russia, including the parties that have seats in the State Duma.
The proposed procedure Navalny involves holding primary elections, the results of which determine the leader, representing a wide range of opposition forces. It should be noted that at the same meeting of Solidarity, the federal political council of the movement announced support for Alexei Anatolyevich, who expressed his intention to run for the presidency in 2018 year.
It can be stated that one of the most odious representatives of the Russian opposition has finally managed to find a political platform on which he can rely when organizing an election campaign. The well-known politician, who has long declared his ambitions of power, has repeatedly appealed to various currents of the "democratic" sense to take part in the parliamentary elections with a consolidated program.
At first glance it may seem that Navalny's opportunities for gaining popularity among the electorate have increased. His reputation, significantly tarnished after two lawsuits about stealing money from Kirovles, could possibly be retouched by professional political technologists and local activists. However, considering that, across the country, the participants in Solidarity are a little more than 3 thousand people, this scenario seems unlikely.
Moreover, the said social movement itself is still a rather amorphous structure. At the moment, it is a group of journalists, human rights activists and politicians who are actually united by only two factors: firstly, the rejection of the existing Russian government, and secondly, the desire to get this power themselves. The main problem lies in the fact that the representatives of Solidarity do not offer Russians the specific goals of their activities, except for speculative ones, which, by and large, boil down to the slogans "For all the good!" And "Against all the bad!". As a result, for almost ten years of its existence, the movement still cannot be transformed into a political party, which theoretically could increase its weight and increase the chances of success at least at the regional level.
However, the main obstacle to the unification of all opposition forces and the nomination of a single candidate in the presidential election is the heightened vanity of their most prominent representatives. Every ardent "fighter against the regime", whether it is Alexei Navalny or Mikhail Kasyanov, calls for rallying precisely around his own person. Although Alexey Anatolyevich also tried to assure that he would support any opposition candidate who wins the primaries, it is known that his campaign headquarters had already begun to open in the regions of the country. It is this disunity and the desire to drag the blanket over himself, and not the imaginary "hand of the Kremlin", critically harm the transformation of several dozen separate currents into a tangible political force.