Syrian military sources report the success of Syrian troops and militias in the Palmyra region. The report said that the Desert Falcons, together with
tank
and the infantry units of the Syrian army, using air support, freed vast territories in the so-called gas-bearing fields from ISIS (banned in the Russian Federation). In the past few months, terrorists have controlled the Khayyan gas production areas near Palmyra.
Information resource
AMN
writes that air strikes allowed the ground forces of the SAR on the positions of the Ishilovites at the moment when they tried to regroup to establish defense. The militants were not allowed to regroup. Tank attacks crushed the enemy's defenses. As a result of the operation, several dozen Igilovites were liquidated, the rest fled to the east, scattering into small groups of 2-3 terrorists, so as not to become easy prey for the military
aviation
.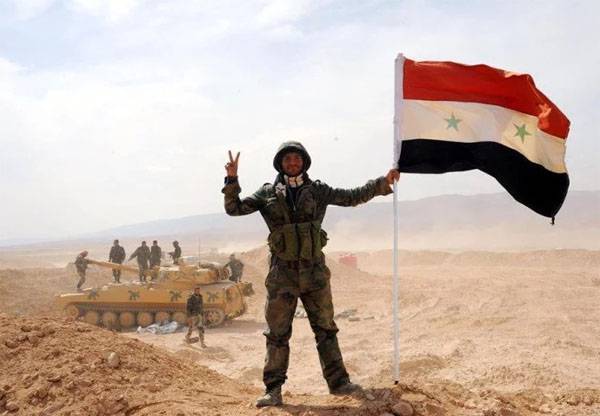 Recall that on the eve of the Syrian troops took control of strategic important heights (hills) near Palmyra, which allows you to view the territory for many kilometers and deliver effective strikes on positions Igilovtsev.
After the liberation of the Haiyan territory, the Syrian military discovered that the terrorists destroyed quite a few gas installations before the advance of the SAR forces.
The command of the armed forces of the SAR reports that the offensive continues. Substantial forces are operating in the area of ​​Al-Bayarat, located approximately 38 km from the historical center of Palmyra. It was here that the militants decided to create a semblance of a fortified area to confront the advancing forces of the Syrian government army.