At the test site located in the Jewish Autonomous Region, command and staff exercises began with a missile compound of the Eastern District, said
press service
BBO.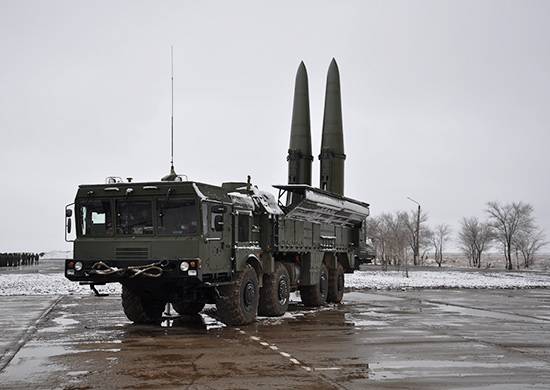 "Within the framework of the exercise, the Iskander-M operational-tactical missile systems (OTRK) crews marched to the designated area, during which the military worked out the tasks of destroying conditional sabotage and reconnaissance groups, and personnel actions during raids aviation, overcoming infection sites, various obstacles and natural obstacles, "
- said in a release.
It is reported that "on arrival in the designated area, the rocket officers carried out measures to deploy the complexes from the march to unprepared positions."
"In the field conditions, the combat calculations of the compound also fulfilled the tasks of verifying the performance of the missile systems, as well as fulfilled the tasks of overloading the missiles in the field using special transport-charging machines," the press service said.
In the course of the exercise, the units will have to perform a complex of tasks with repeated change of positions without performing combat launches.
"The combat calculations of the Iskander-M operational tactical complexes will have to detect targets at a considerable distance and destroy them by completing electronic launches," the message says.