Amid reports that not everything is OK with the combat effectiveness of the British underwater
fleet
, there are reports of military-technical problems in another NATO state. So, German magazine
Der Spiegel
Publishes material stating that seven of the eight Airbus A400M military transporters are not able to engage in NATO training and combat maneuvers. The material stated that only one of the eight aircraft is "on the wing", the rest are either undergoing repairs, or their condition is assessed by experts from the commissions of the Bundeswehr.
The assessment of the technical condition of military transport aircraft in Germany is carried out after the incident at Kaunas airport. Then the plane of the German Air Force, on which the delegation of the German Defense Ministry, headed by Minister Ursula von der Lyayen, was supposed to return to Berlin, could not fly for a long time due to a detected malfunction. As a result, the minister and her retinue had to be transplanted to another transport worker in order to enable them to fly away from Lithuania.
The previous incident with the Airbus A400M German Air Force occurred in January of this year, when in the cockpit cracked glass during the flight. Another military transport worker of the German Air Force was forced to make an emergency landing in Sweden after the crew identified technical problems on board. According to one version, one of the engines crashed during the flight.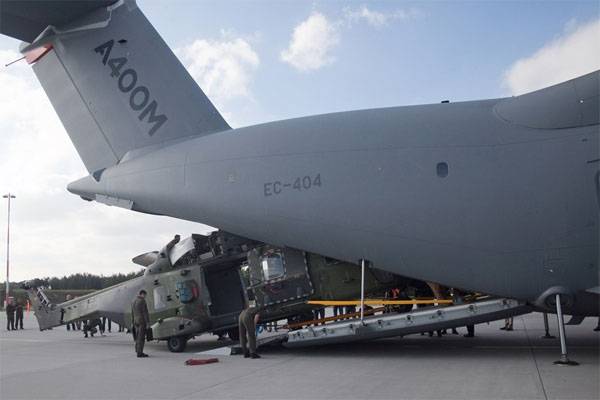 The German magazine states that "in the" Luftwaffe "(German Air Force) are disappointed with the state of military transport aircraft." It is noted that the majority of these aircraft were delivered recently by the manufacturer.
Earlier, other German sources reported that the German Air Force commanded Airbus about 40 million euros for compensation.