Extremely cynical "show" decided to arrange the Ukrainian media. We are talking about the "media" action, called #ExplosionChallenge, launched first in social networks. Its essence lies in the fact that readers of the Ukrainian media and users of the Ukrainian segment of the Internet are in favor of who it is from representatives of the army or the leadership of the republics of Donbass to be killed next. We are, in fact, talking about the implementation of terrorist acts against the leaders (political, military and moral) of the LC and the DPR.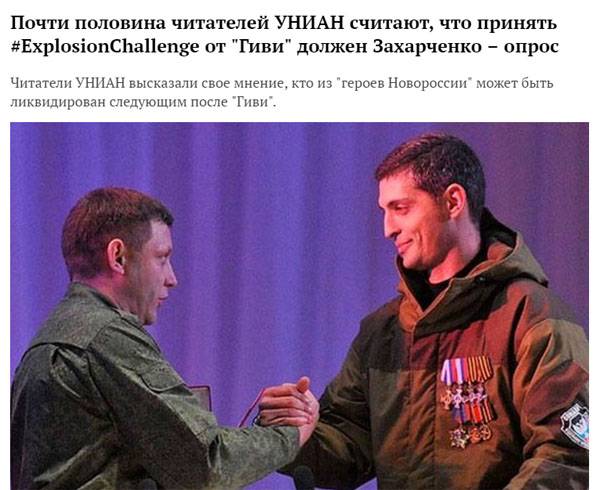 For example, the Ukrainian agency joined the cynical action.
UNIAN
. On the site ukroSMI conducted a survey on the topic of "to whom Givi will pass the baton." Ukrainian users are willing to participate in this action, calling the names of those acts of terrorism against whom they would warmly support.
As a result of a blasphemous poll, Ukrainian readers of UNIAN support the idea of ​​the need to carry out a terrorist act against Alexander Zakharchenko - 42%. 17% "offered" Oleg Tsarev. 10% - "for" Igor Plotnitsky.
And after such attacks, frankly giving an extremist stench of character, which the infamous Peacekeeper has been doing all this time, Kiev declares that he is in favor of resolving the conflict in the Donbass and the implementation of the Minsk agreements? ..