The Kyiv Court of Appeal "allowed" Ukrainian security officials to arrest the head of the Donetsk People's Republic, Alexander Zakharchenko. Such a decision was reported in the press service of the court. It draws attention to the fact that earlier another Ukrainian court - Shevchenkovsky (Kyiv city) - in December 2016 refused to detain the head of the DPR on formal grounds than incurred the wrath of Prosecutor General of Ukraine Yuriy Lutsenko.
It was the Prosecutor General's Office of Ukraine that filed a complaint with the Court of Appeal against the decision of the Shevchenko Court.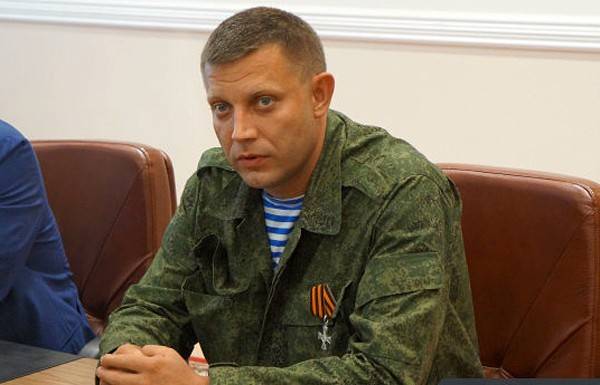 Announced that Alexander Zakharchenko is charged with "participation in a terrorist organization." He "must be brought to court for the election of a preventive measure for him."
Recently, the deputies of the Verkhovna Rada have heard statements that "Zakharchenko is next." This meant terrorist acts against the head of the People's Militia of the LPR, Oleg Anashchenko, and the battalion commander (DPR), Mikhail Tolstoy (call sign "Givi"). Moreover, the deputy Mosiychuk, known that some time ago he shot a portrait of Ramzan Kadyrov with a machine gun, said that "people known to him work in Donetsk", and he knows for sure about those "patriots who were blown up by Motorola in an elevator last year" .
Alexander Zakharchenko himself commented on the statements that he is "next". According to him, he does not give a damn about the statements of Ukrainian terrorists, as millions of people live in the Donbass, and if not him, then others will continue to resist the Kiev aggression.