Vyatka-Polyansky manufacturer of small
weapons
- "Molot" plant (included in Rostec), which went bankrupt 5 years ago, is put up for sale by the bankruptcy commissioner, reports
Kommersant
.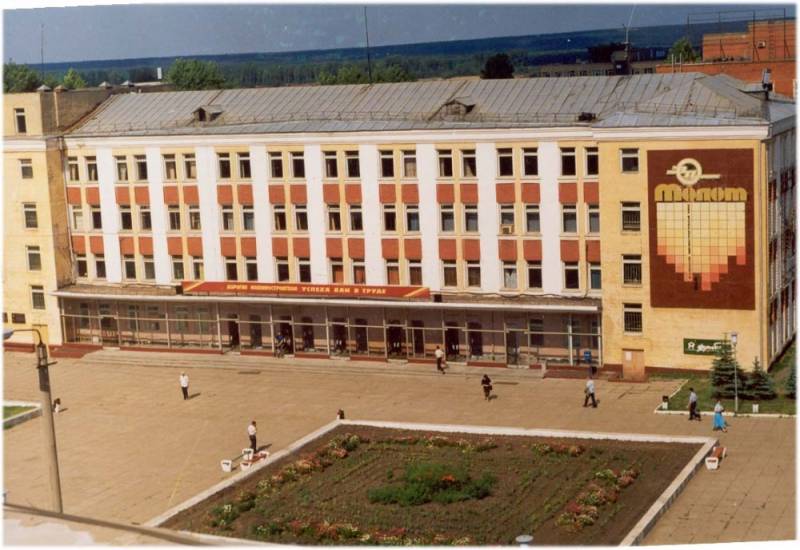 As the manager noted, "all the company's debts with the sale of the complex will not succeed: the assets put up for auction are estimated at 1,5 billion rubles, while Hammer's debt to creditors reaches 2,4 billion rubles."
In addition to the property, intellectual property is included in the bankruptcy estate: "patent rights to 13 inventions, 11 utility models, 12 industrial designs and exclusive rights to 16 trademarks," the material states.
According to experts, "taking into account restrictions on access to trading and a very small state order for small arms, finding a buyer for Hammer will be quite difficult."
It is reported that problems with orders from the city-forming plant began in the 2008 year. Production was stopped several times, the government allocated subsidies to the enterprise to pay off wage arrears and establish work. However, in 2012, the plant entered bankruptcy proceedings at the suit of Nizhny Novgorod OOO Metsnab, a metal supplier to which the plant owed 1,25 million rubles. The external control procedure was introduced in the 2013 year.
It will be difficult to sell the plant because of the current situation in the market of small arms and civilian weapons.
The manufacture of small arms is now not very profitable, because its reserves have remained in Russia since the times of the Great Patriotic War. In addition, now the priority of the Ministry of Defense of the Russian Federation has shifted towards the new high-precision weapons, and although small tenders for the supply of machine guns are sometimes held, the plant can hardly count on large-scale state defense orders,
- said expert in the field of armaments Maxim Pyadushkin.
As for civilian weapons, hunting and sporting weapons, the USA was the largest market for their sales; however, after the introduction of sanctions, this market was closed for Russian manufacturers, while the remaining foreign markets accounted for a few percent in total exports,
- he added.
"The plant has long been turned into the notorious" suitcase without a handle ": it is heavy to carry and it's pitiful to quit. It is possible that Rostec will simply shift the plant from one pocket to another, or the company will give someone a load. In any case, before the 2018, the plant will be provided with a minimum load, as hundreds and hundreds of people work on it, and the unrest may cause popular unrest, and on the eve of the presidential election in 2018, no one needs a new Pikalevo, "the newspaper said. source in the defense industry.