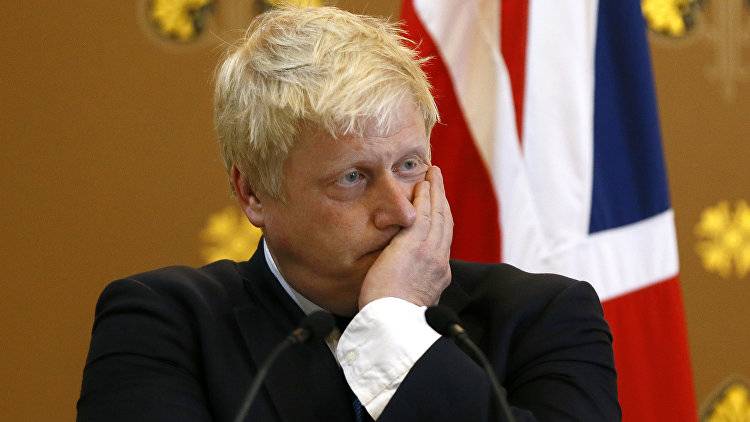 In the Russian-American dialogue, the British establishment is trying to become the third participant whose task is to prevent the improvement of relations between Moscow and Washington. A recent speech by the British Foreign Secretary, Boris Johnson, was another confirmation of the above thesis.
In late January, telephone talks were held between President of the Russian Federation Vladimir Putin and the newly elected President of the United States, Donald Trump. One of the main topics discussed during the 45-minute conversation was the issue of strengthening economic ties between countries. At the same time, the states that were not involved in the negotiation process decided to say their word in the dialogue between the United States and Russia.
The other day, British Foreign Secretary Boris Johnson at a meeting of foreign ministers of EU member states announced the official London's intention to insist on maintaining sanctions against Moscow. According to the diplomat, the decision was caused by the aggravation of the military conflict in the south-east of Ukraine, in which, we recall, Russia acts exclusively in the role of a negotiator, reconciling the opposing forces.
When analyzing the actions of the authorities of Foggy Albion, two unequivocal conclusions arise.
Firstly, it is impossible not to note the frequent attempts by the United Kingdom to influence the policy of the new American leadership. It is worth recalling that two weeks earlier, a personal meeting of British Prime Minister Theresa May with Donald Trump was held in Washington, during which the representative of the United Kingdom spoke in favor of the West conducting a dialogue with Moscow "from a position of strength".
Secondly, the statement by Boris Johnson can also be viewed as a sign of approval by European partners who supported the retention of anti-Russian restrictive measures until July 31 of this year. We emphasize, in contrast to London, which suffered minimal damage from the sanctions struggle against the Kremlin, for a number of countries, the decision has already turned into tangible damage.
Note that for two and a half years of economic confrontation, the treasury of Brussels was short of 60 billions of dollars. The main losses were sustained by Germany, the Netherlands and Italy, which account for more than 35% of the turnover of the European Union with Russia. At the same time, the largest by the EU standards, the UK economy is not even among the top five trading partners of Russia. That is, political pressure on the Russian side is costing London not too expensive.
Summing up, it can be stated that the British establishment, having lost its main ally in the person of the former President of the United States, Barack Obama, does not lose hope to keep the anti-Russian course, which partners will kindly pay for. However, in this situation, little depends on London. If the presidents of the United States and Russia can agree, the third participant will only humbly accept this fact.