The Syrian military command reports on the continuing fierce battles against the militants of the so-called "Islamic state" (prohibited in the Russian Federation) in the Deir ez-Zor area. The terrorists made another attempt to break through the defenses of the Syrian troops north of the city in order to break into the city and finally take control of both Deir ez-Zor and the airfield controlled by Syrian troops.
Igilovtsy attacked the positions of Syrian troops in the area of ​​Al-Macabar and Ta'amina around 23: 00 local time on Sunday 5 February. After several attempts to assault the positions of the SAR armed forces, the militants were exhausted, and the Syrian contingent struck back, dropping the militants to their original positions. It is particularly emphasized that in addition to the Syrian military personnel, the local militia forces, consisting of residents of the surrounding villages, who have their own accounts with ISIL, take part in the defense of the airfield.
In the material
AMN
it is said that the Russian military took part in the operation against the militants
aviation
. In particular, the terrorists were significantly damaged in manpower and military equipment in the Deir ez-Zora region. The blow fell on another supply column, which was moving to the positions of terrorists from the east - from the Iraqi border.
Government Information Resource ATS
SANA
writes that the militants suffered serious losses in the area of ​​the settlement of Liva at-Tamin.
Against this background, the operation of the Syrian army in the area of ​​al-Bab (northern part of the province of Aleppo) continues.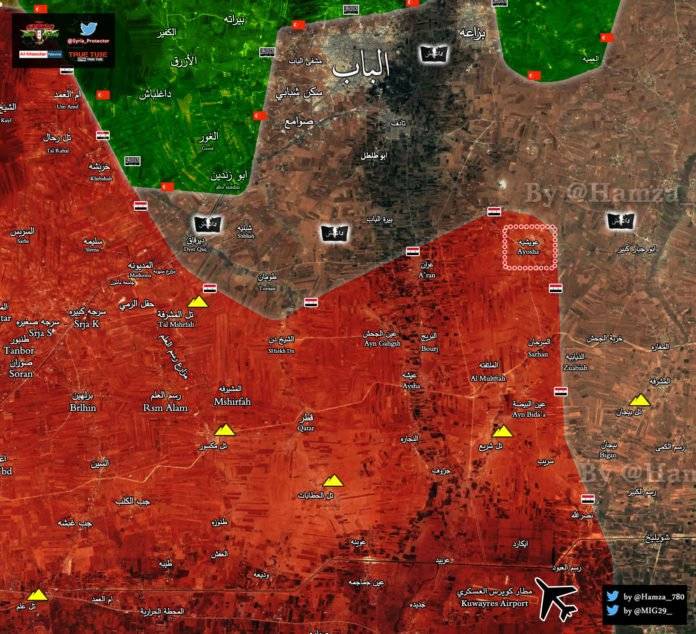 Over the past few days, Syrian troops have taken control of several villages south of the city and reached its south-eastern outskirts. The group of ISIL in Al-Bab in the coming days (with the likelihood of coordination of actions of the CAA, the SSA and the Turkish troops) may be completely surrounded. If there is no agreement, all the successes at El-Bab can be reduced to zero. Recall that Turkey has recently been claiming that it is conducting an "irreconcilable struggle against ISIS in Syria".