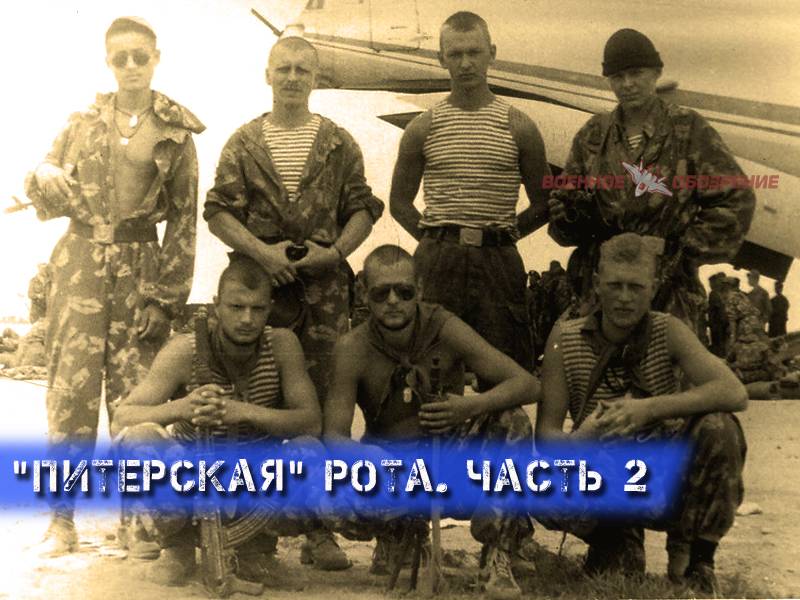 1 June 1995, we replenish ammunition and advance to Kirov-Yurt. There is a tank with a mine trawl in front, then "Shilka" (self-propelled anti-aircraft installation. - Ed.) And a battalion of armored personnel carriers, I - on the head. I have the following task: the column stops, the battalion turns around, and I stormed the 737 high-rise from Mahketov.
Just before the skyscraper (it was a hundred meters away), a sniper fired at us. Three bullets whistled beside me. They shout on the radio: "It hits you, it hits you! ..". But the sniper didn't get at me for another reason: the commander usually sits not at the commander's place, but above the driver. And this time I intentionally sat on the commanding position. And although we had an order to remove the stars from epaulets, I did not remove my stars. The battalion commander made remarks to me, and I told him: "Fuck off ... I'm not an officer and I'm not going to shoot stars." (After all, officers with stars went to the Great Patriotic War even at the front line.)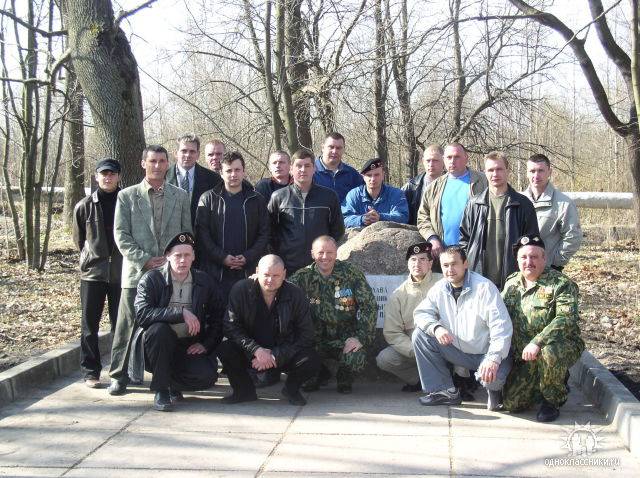 We go in Kirov-Yurt. And we see a completely unreal picture, as if from an old fairy tale: the water mill is working ... I am in command - increase the speed! I look - on the right, about fifty meters down, there stands a destroyed house, the second or third from the beginning of the street. Suddenly, a boy of ten or eleven runs out of it. I give the command on the column: "Do not shoot! ..". And then the boy throws a grenade at us! Grenade falls into the poplar. (I well remembered that he was double, he was spreading out with a slingshot.) The grenade bounces off, rebounds, falls under the boy and breaks it ...
And the "dushars" are so tricky! They come to the village, and there they are not given food! Then they from this village give a volley in the direction of the Group. Grouping, of course, is responsible for this village. On this basis it is possible to determine: if the village is destroyed, it means that it is not "spiritual", and if it is whole, then they are. For example, Agishty were almost completely destroyed.
Above the Makhkety, "turntables" are patrolling. Passes from above
aviation
. The battalion begins to unfold. Our company is moving forward. We assumed that we most likely would not meet organized resistance and there could only be ambushes. We went to the skyscraper. There were no "spirits" on it. They stopped to determine where to get up.
From above it was clearly visible that the houses in Macheta were whole. Moreover, here and there were real palaces with towers and pillars. It was clear from all over that they were built recently. On the way, I remembered such a picture: a big country house is sound, a grandmother with a little white flag stands near it ...
Soviet money was still in use in Makhetah. The locals told us: "Since 1991, we have children who don't go to school, there are no kindergartens, and no one gets a pension. We are not against you. Thanks, of course, that they saved us from the militants. But you have to go home. " It is literally.
Local immediately began to treat us with compotes, but we were wary. The aunt, the head of the administration, says: "Do not be afraid, you see - I am drinking." I: "No, let the man drink." I understood that there was a triad power in the village: the mullah, the elders and the head of the administration. And the head of the administration was precisely this aunt (she graduated from technical school in St. Petersburg at the time).
2 Jun resorts to me this "chapter": "Ours are robbing ours!" Before that, of course, we walked around the courtyards: we looked, what kind of people, was there
weapon
. We go behind it and see the oil painting: representatives of our most numerous law-enforcement structure take out carpets and all that stuff from the palaces with columns. And they did not come on armored personnel carriers, which they usually drove, but on infantry fighting vehicles. Yes, and dressed under the infantry ... I so marked their eldest - Major! And he said: "Appear here again - I will kill! ..". They did not even try to resist, they were instantly blown away by the wind ... And I said to the local ones: "To write on all the houses -" The economy of "Vietnam". DKBF. And the next day, these words were written on each fence. Combat even offended me about this ...
Then, under Vedeno, our captured a column of armored vehicles, about a hundred units - BMP,
Tanks
and BTR-80. The very thing was that the armored personnel carrier with the inscription "Baltic Fleet", which we received from the Group during the first "walk", was in this column! under the Vietnamese hieroglyph ... In front on the dashboard it was written: "Freedom to the Chechen people!" and "God is with us and St. Andrew's flag!".
We dig deeply. And they started 2 June, and 3 in the morning already finished. Designated landmarks, sectors of fire, agreed with the mortar. And by the morning of the next day the company was completely ready for battle. Then we only expanded and strengthened our positions. For all our stay here, the fighters have never sat down with me. We settled all day long: we dug trenches, connected them with message trenches, built dugouts. Made a real pyramid for weapons, all surrounded by boxes of sand. We continued digging until we left this position. Lived according to the Charter: rise, physical charge, morning divorce, guard. Fighters cleaned their shoes regularly ...
Above me, I hung the St. Andrew's flag and a home-made "Vietnamese" flag, made from the Soviet leader in the "Leader of Socialist Competition". We must remember that it was during the time: the collapse of the state, some gangster groups against others ... Therefore, I did not see the Russian flag anywhere, and everywhere was either the St. Andrew's flag or the Soviet flag. Infantry generally went with red flags. And the most valuable thing in this war was a friend and comrade near, and nothing more.
"Spirits" were well aware how many people I have. But besides shelling, they no longer dared to do anything. The "spirits", after all, the task was not heroically to die for their Chechen homeland, but to report back for the money received, so they simply did not confuse themselves to where they would probably be killed.
And on the radio comes a message that militants attacked an infantry regiment near Selmenhausen. Losses from ours - more than a hundred people. I was at the infantry and I saw what kind of organization they had there, unfortunately. After all, there every second fighter was taken prisoner not in battle, but because they got into the habit of chickens from the locals. Although the guys themselves were humanly completely understandable: there was nothing to eat ... They were seized by these local residents to stop this theft. And then they called: "Take your own people, but only so that they no longer go to us."
We have a team - not to go anywhere. And how not to go anywhere, when they constantly bombard us, and various "shepherds" come from the mountains. We hear the neighing of horses. We walked around constantly, but I did not report anything to the battalion commander.
They began to come to me local "walkers". I tell them: we go here, but we don't go there, we do it, but we don't do it ... After all, we were constantly attacked by a sniper from one of the palaces. We, of course, responded by firing from all that we had in that direction. Somehow comes Isa, the local "authority": "I was asked to say ...". I told him: "As long as they shoot at us from there, we will also hammer." (A little later we made a sortie in that direction, and the question of shelling from this direction was closed.)
Already 3 June in the middle gorge we find a field mined "spiritual" hospital. It was evident that the hospital had recently acted - blood is visible all around. Equipment and medicine "perfume" thrown. I have never seen such medical luxury at all ... Four gasoline generators, water tanks connected by pipelines ... Shampoos, disposable shaving machines, blankets ... And what kind of medicines were there! .. Our doctors simply wept with envy. Blood substitutes - made in France, Holland, Germany. Dressings, surgical threads. And we have nothing but promedol (anesthetic. - Ed.), And it really wasn't there. The conclusion suggests itself: what kind of forces are thrown against us, what finances! .. And what does the Chechen people have to do with this? ..
I got there first, so I chose what was most valuable to me: bandages, disposable sheets, blankets, kerosene lamps. Then he called the colonel of the medical service and showed all this wealth. His reaction, like me. He just fell into a trance: stitched materials for vessels of the heart, modern medicines ... After that we were in direct contact with him: he asked me to let me know if I could find something else. But I had to contact him for a completely different reason.
Near the river Bass there was a faucet, from where the locals took water, so we drank this water without fear. We drive up to the crane, and then one of the elders stops us: "Commander, help! We have trouble - a woman gives birth sick. The elder spoke with a strong accent. Nearby stood a young guy as a translator, suddenly something would be incomprehensible. Nearby I see foreigners in jeeps from the "Doctors without Borders" mission, like the Dutch in conversation. I to them - help! They: "Not-ee ... We only help the rebels." I was so taken aback by their answer that I didn't even know how to react. He called the medical colonel on the radio: "Come, you need help with childbirth." He immediately came to the "pill" with one of his own. Seeing the woman in labor, he said: "And I thought you were joking ...".
Put the woman in the "pill". She looked scary: all yellow ... Her birth was not the first, but probably there were some complications in connection with hepatitis. The colonel gave birth himself, but he gave me the child and began to put some droppers on the woman. From the habit, it seemed to me that the child looked very creepy ... I wrapped it in a towel and held it in my arms until the colonel was released. Here is such
история
happened to me. I did not think, I did not guess that I would participate in the birth of a new citizen of Chechnya.
From the beginning of June, a cooker worked somewhere at the TPU, but hot food practically did not reach us - we had to eat dry rations and pasture. (I taught the fighters to diversify the ration of dry rations - the stew for the first, second and third - at the expense of pasture. The tarragon was brewed like tea. You could cook soup from rhubarb. And if you add grasshoppers there - rich such soup turns out, and the protein again And before, when we were standing in Germenchug, we saw a lot of hares around. You go with a machine gun behind you - the hare jumps out from under your feet! Those seconds while you take the machine gun, you spend it - and the hare is gone ... Only the machine gun was removed - they are again here. I spent two days at least one tried It's useless to eat, but quit this occupation ... I taught the boys still to eat lizards and snakes. Catching them turned out to be much easier than shooting hares. The pleasure from such food is, of course, not enough, but what to do is something you need ...) It's also a problem with water: it was muddy all around, and we drank it only through bactericidal sticks.
One morning, the locals arrived with the local district lieutenant. He even showed us some red crusts. They say: we know that you have nothing. Here the terms of the cows go. A cow with painted horns can shoot down - this is a collective farm. But do not touch the unpainted ones - these are personal. "Good" seemed to be given, but somehow it was difficult for us to step over ourselves. Then all the same, near Bass, one cow was filled up. They killed someone, but what to do with it? .. And here comes Dima Gorbatov (I put him to cook). He is a village boy and, in front of an astounded public, he completely butchered a cow in a few minutes! ..
We have not seen fresh meat for a very long time. And then kebab! Another clipping in the sun hung out, wrapped with bandages. And after three days, dried meat turned out - no worse than in the store.
What bothered us was the constant night shelling. Return fire, of course, we did not immediately open. Let's note where the shooting came from and slowly go to the area. Here, the Esbe'erk helped us very much (RRF, short-range reconnaissance radar. - Ed.).
One evening, we and the scouts (we were seven people), trying to go unnoticed, went towards the sanatorium, from where they had shot at us the day before. They came - we find four "beds", near a small mined warehouse. We did not clean up anything - we just set our traps. It worked at night. It turns out that we did not go in vain ... But we didn't begin to check the results, for us it was mainly that there was no more shooting from this direction.
When this time we returned safely, for the first time in a long time I felt satisfied - after all, the work I was able to do began. Besides, now I didn't have to do everything myself, but something could already be entrusted to someone else. Only a week and a half has passed, and people have been replaced. War learns fast. But it was then that I realized that if we hadn't pulled the dead, but left them, then the next day no one would go into battle. In war, this is the most important thing. The guys saw that we are not leaving anyone.
Our sorties were constant. Once left the armored personnel carrier below and climbed into the mountains. They saw the apiary and began to examine it: it was converted into a mine class! Immediately, in the apiary, we found the lists of the company of the Islamic battalion. I opened them and did not believe my eyes - everything, like ours: 8-i company. In the list of information: name, surname and from what place it comes. Very interesting part of the department: four grenade launchers, two snipers and two machine gunners. Ran with these lists for a whole week - where to give? Then he handed over to headquarters, but I am not sure that I reached this list where necessary. All this was a damn.
Not far from the apiary, they found a pit with an ammunition depot (one hundred and seventy boxes of sub-caliber and high-explosive tank shells). While we were examining all this, the battle began. We began to beat the machine gun. The fire is very dense. And Misha Mironov, a country boy, as an apiary saw, became not himself. He lit fumes, got frames with honeycombs, bees like a branch. I told him: "Myron, shoot!". And he entered into a rage, jumps, does not throw a frame with honey! We have nothing special to answer - the distance is six hundred meters. We jumped on an armored troop-carrier and went along the Bass. It became clear that the fighters, though from far away, but herded their mine class and ammunition (but then our engineers still bombed these shells).
We returned to ourselves and pounced on honey, and even with milk (local people allowed us to milk one cow occasionally). And after the snakes, after the grasshoppers, after the tadpoles, we experienced simply indescribable pleasure! .. Sorry, but there was no bread.
After the apiary, I told Gleb, the commander of the reconnaissance platoon, said: "Go, look at everything around you". The next day, Gleb reports to me: "I kind of found a caches." Come on. We see in the mountain a cave with cement formwork, it went fifty meters deep. The entrance is masked very carefully. You will only see him if you come close.
The whole cave is filled with mines and explosives boxes. Opened the box - there are new anti-personnel mines! In our battalion we had only the same old ones as our automata. There are so many boxes that it was impossible to count them. Only one plasticite, I counted thirteen tons. The total weight was easy to determine, since the plastic boxes were marked. There was also an explosive for the Snake Gorynych (a demining machine for an explosion. - Ed.), And squibs for it.
And in my company the plastic was bad, old. To make something of him blind, it was necessary to soak it in gasoline. But, of course, if the fighters begin to soak something, then surely some nonsense will happen ... And here it is fresh. Judging by the packaging, 1994 year of release. From greed, I took four sausages for myself, five meters each. Scored and electric detonators, which we also did not have a trace. Caused the sappers.
And then came our regimental intelligence. I told them that the day before we found a militant base. There were about fifty "spirits." Therefore, we did not come into contact with them, only the place marked on the map.
The scouts on three armored personnel carriers pass by our 213-th checkpoint, enter the gorge and begin to shoot KPVT on the slopes! I still thought to myself: "Wow, intelligence went ... Immediately identified myself." It seemed to me something wild then. And my worst forebodings were justified: in a few hours they were covered just in the area of ​​the point that I showed them on the map ...
The engineers were doing their own thing, preparing to undermine the explosives warehouse. Dima Karakulko, deputy commander of our battalion for armament, was also here. I handed him a smooth-bore cannon found in the mountains. "Spirits" of her, apparently, from the wrecked BMP, were removed and put on a self-made platform with a battery. An unsightly thing, but you can shoot from it, aiming at the trunk.
I was going to go to my 212 station. Then I saw that the sappers brought crackers for blasting the electric detonators. These crackers operate on the same principle as a piezo lighter: when a button is mechanically pressed, a pulse is generated, which drives the electric detonator. Only a flapper has one serious drawback - it works for about one hundred and fifty meters, then the impulse fades. There is a "twist" - it acts on two hundred and fifty meters. I, Igor, the platoon commander of the sappers, say: "Did you go there yourself?". He: "No." I: "So go, look ...". He returned, I see - already unraveling the "vole". They kind of unwound a full reel (this is more than a thousand meters). But when they blew up the warehouse, they were still covered with earth.
Soon we set the table. We again have a feast - honey and milk ... And then I turned and I can not understand anything: the mountain on the horizon begins to slowly climb up along with the forest, with trees ... And this mountain is about six hundred meters wide and about the same height. Then came the fire. And then I was thrown a few meters away by a blast wave. (And this happens at a distance of about five kilometers to the explosion site!) And when I fell, I saw a real mushroom, like in educational films about atomic explosions. It was this: the sappers blew up the "spiritual" warehouse of explosives, which we discovered earlier. When we sat down at the table again in my meadow, I asked: "Where do the spices come from, pepper?". But it turned out that it was not pepper, but ashes and earth that fell from the sky.
After some time, the air flashed: "The scouts were ambushed!". Dima Karakulko immediately took the sappers, who had previously been engaged in preparing the warehouse for the explosion, and went scouting pull! But they also went to the APC! And they also fell into the same ambush! Yes, and what the sappers could do - they have four stores per person and that's all ...
The battalion commander told me: "Seryoga, you are covering the exit, because it is not known where and how our people will come out!". I was standing right between the three gorges. Then the scouts and sappers in groups and one by one went through me. There was a big problem with the release: there was a fog, it was necessary to make sure that people did not shoot their own ones.
Gleb and I raised our 3 platoon that was standing at the 213 block and what was left of the 2 platoon. To the ambush site from the checkpoint was two or three kilometers. But ours went on foot and not along the gorge, but through the mountains! Therefore, when the "spirits" saw that it was no longer possible to cope with these, they shot and moved away. Then ours did not have a single loss either killed or wounded. We probably knew that former experienced Soviet officers fought on the side of the militants, because in the previous battle I clearly heard four single shots - this was from Afghanistan meant a signal to withdraw.
With intelligence turned out like this. "Spirits" saw the first group on three armored personnel carriers. Hit Then they saw another, also on the APC. They hit again. Our guys, who drove away the "spirits" and were the first on the ambush site, told us that the sappers and Dima himself had been shooting to the last from armored personnel carriers.
The day before, when Igor Yakunenkov died from a mine break, Dima kept asking me to take him on some sally, because he and Yakunenkov were godfathers. And I think that Dima wanted "spirits" to take revenge personally. But then I firmly told him: "Do not go anywhere. Mind your own business". I understood that Dima with the sappers had no chance to pull out the scouts. He himself was not prepared to perform such tasks, and the sappers too! They studied to another ... Although, of course, well done, that rushed to the rescue. And not cowards were ...
Scouts killed not all. All night my men fought the rest. The last of them came out only on the evening of the seventh of June. But from sappers who went with Dima, only two or three people survived.
In the end, we pulled out absolutely everyone: the living, the wounded, and the dead. And this again very well affected the mood of the fighters - once again they made sure that we are not leaving anyone.
On the ninth of June the information about the assignment of titles came: Yakunenkovu - Major (turned posthumously), Stobetsky - Senior Lieutenant early (also posthumously). And what is interesting: the day before we went to the source for drinking water. Returning - there is a very old woman with pita bread in her hands and Isa is near. Tells me: "Happy holiday to you, commander! Just do not tell anyone. And passes the bag. And in the bag - a bottle of champagne and a bottle of vodka. Then I already knew that those Chechens who drink vodka were given a hundred sticks on their heels, and those who sold two hundred. And the next day after that, congratulations to me ahead of time (ahead of schedule for a week) were given the title, as my fighters joked, "a major of the third rank". This again indirectly proved that the Chechens knew absolutely everything about us.
On the tenth of June, we went to another raid, on the high-rise 703. Of course, not directly. First, the APCs went supposedly for water. The fighters slowly load the water on an armored troop-carrier: oh, they poured it, then again it's necessary to smoke, then pocketed with the local ones ... And at that time the guys and I went down the river carefully. First found trash. (He is always taken away from the parking, so that even if the enemy stumbles upon him, he would not be able to accurately determine the location of the parking itself.) Then we began to notice the recently trodden paths. It is clear that the militants are somewhere nearby.
We walked quietly. We see "spiritual" security - two people. Sit, rumble about something else. It is clear that they should be shot silently so that they could not make a single sound. But there was no one to send the sentries to me - they did not teach the sailors on the ships this. Yes, and psychologically, especially for the first time, this is a very terrible thing. Therefore, I left two people (a sniper and a soldier with a gun for silent shooting) to cover me and went myself ...
Protection removed, we go further. But the "spirits" still alerted (maybe a branch was cracked or some other noise) and ran out of the caches. And this was a dugout, equipped according to all the rules of military science (the entrance was a zigzag, so that it was impossible to put everyone inside with one grenade). My left flank almost came right up to the caches, it remains five meters before the "ghosts". In this situation, the winner is the one who rotates the first shutter. We are in a better position: they didn't wait for us, but we were ready, so we shot them first and put everyone in place.
I showed Misha Mironov, our main beekeeper, a melliferous plant, and in combination with a grenade thrower, at the window in the caches. And he managed to shoot from an eighty-meter-long grenade launcher so much that he fell right into this window! So we filled up and the machine gunner, who hid in the caches.
The result of this transient battle: the "spirits" have seven corpses and I do not know how many wounded since they left. We have - no scratches.
And the next day, again from the same direction, a man came out of the forest. I shot from a sniper rifle in that direction, but not specifically at him: what if it is "peaceful." He turns and runs back into the forest. I can see into the sight - behind his back the machine gun ... So he turned out to be no peaceful at all. But it was not possible to remove it. Gone.
Locals sometimes asked us to sell them weapons. One time they ask the grenade launchers: "We will give you vodka ..." But I sent them very far. Unfortunately, the sale of weapons was not such a rarity. I remember back in May I come to the market and see how the soldiers of the Samara Special Forces soldiers sell grenade launchers! .. I am to their officer: "Is this what is happening?". And he: "Easy ...". It turns out that they took out the head of the grenade, and in its place inserted a simulator with plastic. I even had a recording on the camera of the phone, how to "spirit" such a "charged" grenade launcher tore off the head, and the "spirits" themselves filmed.
June 11 comes to me Isa and says: "We have a mine. Help demining. " My checkpoint is very close, up to two hundred meters. Let's go to his garden. I looked - nothing dangerous. But he still asked to pick it up. We stand talking. And with Isa were his grandchildren. He says: "Show the boy how the grenade launcher shoots." I shot, and the boy was scared, I almost cried.
And at that moment, on a subconscious level, I felt rather than saw flashes of shots. I instinctively kid in a bunch of grabs and fell with him. At the same time I feel two blows to the back, two bullets hit me ... Isa does not understand what the matter is, she rushes to me: "What happened? .." And then the sounds of shots reach. And I had a spare titanium plate in my pocket on the back of the vest (I still have it). So both bullets pierced through this plate, but did not go further. (After this incident, full respecting of us began on the part of peaceful Chechens! ..)
16 June, the fight begins at my 213-m checkpoint! "Spirits" move to the checkpoint from two directions, there are twenty of them. But they do not see us, they look in the opposite direction, where they are attacking. And from this side, the "spiritual" sniper hits us. And I see the place where it works! We go down on the Basu and stumble on the first escort, about five people. They did not shoot, but simply covered the sniper. But we went to the rear of them, so they instantly shot all five at close range. And then we notice the sniper himself. Next to him are two more submachine gunners. We threw them too. I shout to Zhenya Metlikina: "Protect me! ..". It was necessary that he cut off the second part of the "spirits" that we saw on the other side of the sniper. And I rush for the sniper. He runs, turns, shoots me with a rifle, runs again, turns around again and shoots ...
From a bullet to dodge completely unreal. It was useful that I could run after the shooter in such a way as to create him maximum difficulties in aiming. As a result, the sniper never got into me, although he was armed with the full program: besides the Belgian rifle, the AKSU submachine gun behind his back, and on his side a twenty-shot nine-millimeter "beretta". This is not a gun, but just a song! Nickel-plated, two-handed! .. He snatched the "Beretta" when I almost caught up with him. Here a knife was useful to me. I took the sniper ...
Led him back. He was limping (I wounded him with a knife in the thigh, as it should be), but he was walking. By this time, the battle had stopped everywhere. And from the front our "spirits" shooed, and from the rear we hit them. "Spirits" in such a situation almost always go away: they are not woodpeckers. I realized that even during the fighting in January 1995 in Grozny. If, during their attack, you do not leave the position, but you stand or, better yet, go forward, they leave.
The mood of all was elevated: the "spirits" were driven away, the sniper was taken, all were safe. And Zhenya Metlikin asks me: "Comrade commander, and who in the war you most dreamed of?". The answer is: "Daughter." He: "But think for it: this bastard could have left your fatherless father! Can I cut off his head? " I: "Marrying, back off ... We need him alive." A sniper is lame next to us, and this conversation is listening ... I well understood that the "spirits" swaggering only when they feel safe. And this one, as soon as we took it, became a norny mouse, no arrogance. And on the rifle serifs he has about thirty. I didn't even count them, there was no desire, because behind each notch there is someone's life ...
While we were leading the sniper, Zhenya spent all these forty minutes and with other proposals addressed me, for example: "If you can't have a head, then let him at least cut off his hands. Or I'll put a grenade in his pants ... ". Of course, we were not going to do anything. But the sniper was already psychologically ready for questioning at the regimental special ...
According to the plan, we had to fight until September 1995. But then Basayev took hostages in Budennovsk and, among other conditions, demanded that paratroopers and marines be withdrawn from Chechnya. Or, as a last resort, withdraw at least marines. It became clear that we will be deduced.
By mid-June, we had only the body of the deceased Tolik Romanov in the mountains. True, for some time there was a ghostly hope that he was alive and went out to the infantry. But then it turned out that the infantrymen had his namesake. We had to go to the mountains, where there was a fight, and take Tolik.
Before that, I asked the battalion commander for two weeks: "Let me go and pick him up. I do not need platoons. I'll take two, so a thousand times easier to walk through the forest than a column. " But until the middle of June, I did not receive "good" from the battalion commander.
But now they are taking us out, and I finally got permission to go after the Romanovs. I build a checkpoint and say: "I need five volunteers, I am the sixth." And ... no sailor takes a step forward. I came to my dugout and thought: "How is that?". And only an hour and a half before it reached me. I take the connection and say to everyone: "You probably think that I'm not afraid? But I have something to lose, my daughter is small. And I'm afraid a thousand times more, because I'm also afraid for all of you. " Five minutes pass and the first sailor approaches: "Comrade Commander, I will go with you." Then the second, third ... Only a few years later, the fighters told me that up to this point they perceived me as some kind of combat robot, a superman who does not sleep, is not afraid of anything, and acts like a machine gun.
And the day before, on my left hand, a "branch udder" jumped out (hydradenitis, purulent inflammation of the sweat glands. - Ed.), A reaction to the injury. It hurts unbearably, all night tormented. Then I felt on myself that with any gunshot wound I had to go to the hospital to clean the blood. And since I had a wound in my back on my feet, I started some kind of internal infection. Tomorrow into battle, and I had huge boils in my armpit, and boils in my nose. I recovered from this infection with burdock leaves. But more than a week from this infection suffered.
We were given MTLB, and at five-twenty in the morning we went to the mountains. On the way, I came across two militant patrols. Each had about ten people. But the "spirits" did not join the battle and left without even firing back. It was here that they threw the "UAZ" with that damned "cornflower" from which mines we have suffered so many people. "Cornflower" at that time was already broken.
When we arrived at the scene of the battle, we immediately realized that we had found the body of Romanov. We did not know whether Tolik's body was mined. Therefore, two sappers first pulled him off the cat. There were doctors with us who collected what was left of him. We have collected things - a few photos, a notebook, pens and a cross Orthodox. It was very hard to see all this, but what to do ... It was our last debt.
I tried to restore the course of those two fights. That's what happened: when the first battle started and Ognev was wounded, our guys from the 4 platoon scattered in different directions and started shooting back. They fired for about five minutes, and then gave the command of the castle platoon to withdraw.
Gleb Sokolov, a medical orderly of the company, at this time was bandaging Ognev's hand. A mob of ours with machine guns ran down, on the way, they blew up a "cliff" (heavy caliber machine gun NSV caliber 12,7 mm. - Ed.) And AGS (automatic grenade launcher. - Ed.). But due to the fact that the commander of the 4 platoon, the commander of the 2 platoon and his "deputy" fled in the front ranks (they ran so far that they didn't even come to our infantry, but to the infantry) cover the waste of all and shoot for fifteen minutes ... I think that at that moment, when he got up, a sniper and hit him in the head.
Shreds fell off a fifteen-meter cliff. Down there was a fallen tree. He hung on it. When we went downstairs, his things were pierced through with bullets. We walked around the cartridges, like on the carpet. It seems that the "spirits" of his already dead were riddled with anger.
When we took Tolik and left the mountains, the battalion commander told me: "Seryoga, you are the last to leave the mountains". And I pulled out all the remains of the battalion. And when there was no one left in the mountains, I sat down, and I felt so sickening ... Everything seemed to be running out, and therefore the first psychological return came, some kind of relaxation, or something. I sat for about half an hour and went out - my tongue was on my shoulder, and my shoulders were lower than my knees ... The battalion shouted: "Are you doing well?". It turns out that during those half an hour, when the last fighter came out, but I wasn't, they almost turned gray. Chukalkin: "Well, Seryoga, you give ...". And I did not think that they could worry about me that way.
I wrote awards to the Hero of Russia for Oleg Yakovlev and Anatoly Romanov. After all, Oleg until the last moment tried to pull out his friend Shpilko, although they were beaten with grenade launchers, and Tolik covered his comrades' retreat with his life. But the battalion commander said: "Hero's fighters are not supposed to." Me: "How not to be? Who said that? They both died saving their comrades! .. ". Combat as cut off: "According to the order is not supposed to order from the group."
When Tolik's body was brought to the location of the company, the three of us on an armored troop-carrier drove behind the "UAZ", on which that damned "cornflower" stood. For me it was a matter of principle: because of him, so many of ours died!
"Uazik" we found without much difficulty, there were about twenty cumulative anti-tank grenades in it. Here we see that the UAZ cannot go under its own power. Something stuck in his hands, so the "spirits" and threw him. While we were checking whether he was mined, while the cable was hooked, it was obvious that some noise had been made, and the fighters began to make this noise. But we somehow slipped through, although the last section was driving like this: I was driving a "UAZ" and the BTR was pushing me from behind.
When we left the danger zone, I could not spit out or swallow - all my mouth was tied up by the experience. It is now I understand that UAZ did not cost the lives of two boys who were with me. But, thank God, it cost ...
When we went down to our own, in addition to the "UAZ", the BTR was also completely broken. Does not go at all. Here we see the St. Petersburg RUBOP. We tell them: "Help with BTR." They: "And what is this for your" UAZ? ". We explained. They are on the radio to someone: "UAZ" and "cornflower" in the Marines! ".
It turns out that two RUBOP squads were hunting for "cornflower" for a long time - after all, he shot not only at us. Began to negotiate, as in St. Petersburg, they will cover the clearing about this. They ask: "How old were you?" We answer: "Three ...". They: "How are the three? ..". And they were engaged in this search two officer groups of twenty-seven people in each ...
Next to RUBOP, we see correspondents of the second television channel, they arrived at the TPU battalion. They ask: "What can we do for you?" I say: "Call my parents' house and tell me that you saw me at sea." Then my parents said to me: "They called us from television! They said they saw you on a submarine! "And my second request was to call Kronstadt and tell the family that I was alive.
We after these races in the mountains on the armored personnel carrier for the "UAZ" five of us went to Bass to plunge. I have four shops with me, the fifth one is in the machine gun and one grenade in the grenade launcher. The fighters are generally only one store. We are swimming ... And then the battalion of our battalion is undermined!
"Spirits" passed along the Bass, mined the road and rushed in front of the armored personnel carrier. Then the scouts said that it was revenge for the nine shot at TPU. (We had one alcoholic man on the TPU. We arrived somehow peaceful, got out of the car-nine. And he was cool ... He took it and shot the car for nothing from the machine gun).
A terrible confusion begins: ours take us with the guys as "spirits" and start shooting. My men in shorts jump, barely dodging bullets.
I Oleg Ermolaev, who was next to me, I give the command to leave - he does not leave. I shout again: "Go away!". He takes a step back and stands. (The fighters only later told me that they had appointed Oleg my "bodyguard" and told me not to leave a single step away from me.)
I see the outgoing "spirits"! .. It turned out that we were in their rear. That was the task: to somehow hide from the fire, and not to let the "spirits" go. But, unexpectedly for us, they began to leave not into the mountains, but through the village.
In war, the one who fights better wins. But the personal fate of a particular person is a mystery. No wonder they say that "bullet is a fool." This time, a total of sixty people were shooting at us from four sides, about thirty of whom were their own, who took us for "spirits". In addition to this, we were hit by a mortar. Bullets were flying around like bumblebees! And no one even hooked! ..
Reported to Major Sergei Sheiko, who remained behind the battalion commander, about the "UAZ". At first they didn't believe me at TPU, but then they examined and confirmed: it's the one with the "cornflower".
And on June 22 some lieutenant colonel comes to me along with Sheiko and says: "This" UAZ "is" peaceful ". From Mahketov came for him, he must be given away. " But the day before I felt what the matter could end, and I ordered my guys to mine the "UAZ". I lieutenant colonel: "I will definitely give it back! ..". And I look at Seryoga Sheyko and say: "You yourself understood what you ask of me?". He: "I have such an order." Then I give my fighters a flick, and the "UAZ" in the eyes of the amazed public takes off into the air! ..
Sheiko says: "I will punish you! I remove from the command post! ". I: "But there is no longer a checkpoint ...". He: "Then you will be today the operational duty officer at the TPU!". But, as they say, there would be no happiness, but misfortune helped, and in fact I just slept for the first time that day - I slept from eleven in the evening until six in the morning. After all, all the days of the war had not been a single night before, when I would have gone to bed before six in the morning. Yes, and I usually slept only from six to eight in the morning - and that's all ...
We are starting to prepare for the march to Khankala. And we were located about a hundred and fifty kilometers from Grozny. Just before the start of the movement, we receive an order: to hand over weapons and ammunition, leave one store and one rifle grenade from an officer, and the fighters should have nothing at all. The order is given orally by Seryoga Sheiko. I immediately take the front stand and report: "Comrade Guard Major! 8-I company ammunition surrendered. " He understood…". And then he himself reported to the top: "Comrade Colonel, we have all surrendered." Colonel: "Just passed?". Seryoga: "Exactly, passed!" But everyone understood everything. A sort of psychological etude ... Well, who would think of what the insurgents and I had done in the mountains, go one hundred and fifty kilometers across Chechnya without a weapon! .. We arrived without incident. But I am sure: only because we did not surrender the weapons and ammunition. After all, the Chechens knew everything about us.
27 June 1995, the download began in Khankala. The paratroopers came to shmon us - weapons, we searched for ammunition ... But we prudently got rid of everything superfluous. I was only sorry for the "beretta" trophy, I had to leave ...
When it became clear that the war was ending for us, the battle for rewards began at the rear. Already in Mozdok, I see the rear man - he writes a bonus list for himself. I told him: "What are you doing? ..". He: "If you will speak here, I will not give you a certificate!". I: "Yes, it's you who came here for help. And I pulled out all the boys: both the living, and the wounded, and the dead! .. " I was so wound up that after this our "conversation" the personnel officer was taken to the hospital. But what is interesting is that he designed everything that he received from me as a concussion and acquired additional benefits for it ...
In Mozdok, we experienced stress cleaner than at the beginning of the war! We go and marvel - people walk ordinary, not military. Women, children ... We have lost the habit of it all. Then I was taken to the market. There I bought a real kebab. We also made kebabs in the mountains, but there was neither salt nor spices there. And then the meat with ketchup ... Tale! .. And in the evening the light in the streets caught fire! A marvel is wonderful, and only ...
We approach the career filled with water. The water in it is blue, transparent! .. And on the other side of the kids running! And we were what, in that and flopped into the water. Then we undressed and, as decent, in shorts, swam to the other side, where people swam. On the edge of the family: Ossetian dad, child-girl and mother - Russian. And then the wife starts to shout loudly at her husband for not taking the child water for drinking. After Chechnya, it seemed to us to be utterly wild: how is this woman commanding a man? Nonsense! .. And I involuntarily say: "Woman, what are you shouting? See how much water is around. " She tells me: "Are you contused?" I answer: "Yes." A pause ... And here she sees a token on my neck, and it finally reaches her, and she says: "Oh, excuse me ...". It already comes to me that I drink water from this career and I am glad that it is clean, but not they. They will not drink it, and to give the child water for sure. I say: "That you will excuse me." And we left ...
I am grateful to fate that she brought me to those with whom I ended up in the war. I am especially sorry for Sergei Stobetsky. Although I was already a captain, and he was only a young lieutenant, I learned a lot from him. Plus, he behaved like a real officer. And sometimes I caught myself thinking: "Was I the same at his age?" I remember when the paratroopers came to us after the explosion of the mines, their lieutenant approached me and asked: "Where is Stobetsky?". It turns out that they were in the school in the same platoon. I showed him the body, and he said: "Of our platoon of twenty-four people, only three are left alive today." It was the release of the Ryazan Airborne School 1994 of the year ...
It was very hard then to meet with the relatives of the victims. It was then that I realized how important it is for my relatives to get at least some thing as a keepsake. In Baltiysk, I came to the house to the wife and son of the deceased Igor Yakunenkov. And there are the rear men sitting there and talking so emotionally and vividly, as if they had seen everything with their own eyes. I could not stand it and said: "You know, do not believe what they say. They were not there. Take it to memory. " And I give Igor a flashlight. You should have seen how they gently took this scratched, broken flashlight in their hands! And then his son began to cry ...