Today, the Estonian military command announced the arrival in the republic of heavy military equipment belonging to the US Armed Forces. She began to unload at the railway station Tapa. Recall that last Friday (February 3) three platoons of US troops from the 4-th Infantry Division of the US Army arrived in Estonia. It is reported that in this situation we are talking about rotational events. Soldiers of the 4 Infantry Division are changing American paratroopers from the 173 Brigade of the US Armed Forces.
Recall that the Pentagon argues such actions by "protecting the Estonian people from the possible aggression of Russia", as well as "partnership commitments within NATO".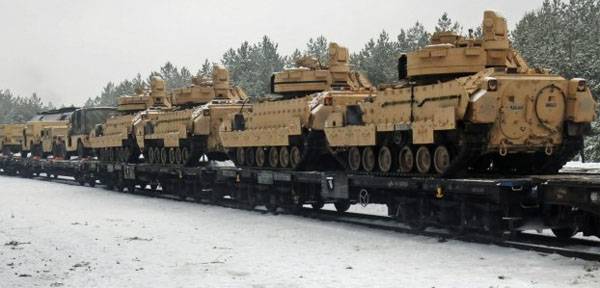 Speaking of "rotation measures", the USA nevertheless does not report a change in military equipment. Instead, it is reported that several more arrived on the territory of the republic
tanks
Abrams and the Bradley infantry fighting vehicles.
It should be noted that in March British troops will also arrive in Estonia. Will arrive as part of the NATO campaign to deploy military contingents in the Baltic States and Poland.
В
Estonian Ministry of Defense
reported that they are going to attract American soldiers to the program of popularization of military service in NATO formations. For this, American and Estonian military personnel will attend schools in Estonian cities, starting with Narva, where the population is predominantly Russian-speaking.