On the eve of the United Nations, the new US representative Nikki Haley (Nimrat Nicky Randhava Haley's full name) harshly criticized Russia for "annexing and occupying the Crimea" (Haley's interpretation), saying that the United States would lift the sanctions from the Russian Federation only after "Crimea passed under the jurisdiction of Kiev ". This statement was commented by the head of the American Institute of National Interests, Dmitry Simes, in an interview with the 60 Minutes program at the Russia-1 shopping center.
According to Sayms, Haley's harsh rhetoric in relation to Russia is surprising, but at this stage Hayley herself can express her opinion. The fact is that Haley was appointed by Trump to the post of US representative to the UN before the approval of the US Senate Rex Tillerson as head of the State Department. Symes notes that Haley was one of Trump's most obvious critics before being appointed to a new position, and Trump "could have appointed Haley to the post of UN envoy" as a switchman to see the reaction to her statements. Simes compared such an appointment with the practice of the Soviet politburo, when politicians who were not particularly honored by the top were appointed to separate posts.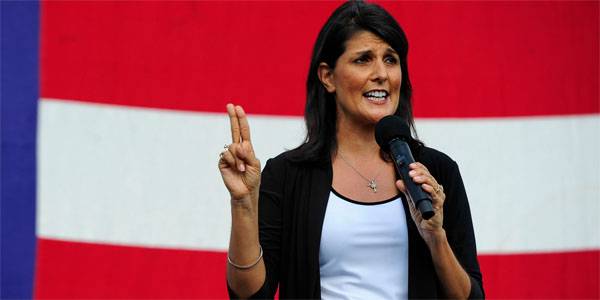 Although this idea of ​​Simes does not look quite plausible, it is strange that as soon as Tillerson, who took the oath, was appointed as US Secretary of State, the United States Permanent Representative to the United Nations suddenly changed her tone. Hayley went to the reception to the Russian Permanent Representative Vitaly Churkin, declaring readiness for full-scale cooperation. Reports about it
Interfax
.
According to the press secretary of the permanent representative of the Russian Federation to the UN, Fedor Strzhizhovsky, Hayley noted the mood for cooperation "taking into account the mood of both capitals". Vitaly Churkin has confirmed readiness to cooperate with the US Permanent Representative on any issues in the UN format.