From Paris, there are reports that an unknown man armed with a cleaver (machete) (according to other sources, two large knives) attacked military personnel in the area of ​​the historical and museum complex of the Louvre. The head of the Paris police, Michel Cado, told the press that before the attack, an unknown person shouted "Allah Akbar" and randomly waving a cold
weapons
.
Unknown tried to break through the military patrol, who worked near the arch on the square of the Carrusel at the entrance to the museum complex. One of the servicemen managed to react and shot the attacker in the stomach. However, the attacker still managed to strike another representative of the military patrol, he was injured and was urgently hospitalized.
According to the latest data, the criminal is alive and is also in one of the Paris medical institutions. French police report that the identity of the assailant is being identified, and most likely it is one of many migrants from Arabic-speaking countries.
He tried to be inside the museum complex to commit a terrorist act. In the Paris municipality state that the version of the attack "is considered among others."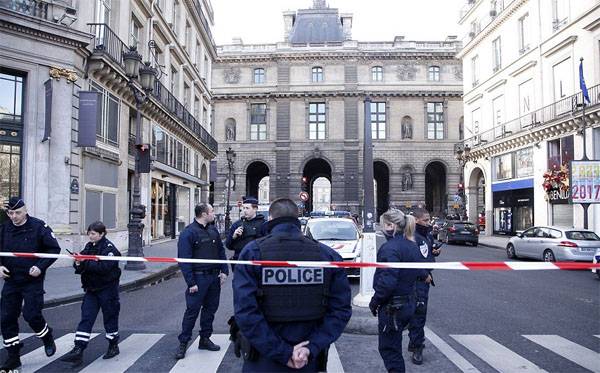 French media reported that at that moment there was an excursion for children in the Louvre - there were several dozens of schoolchildren in the museum.
It is known that the station is closed meters "Royal Palace - Museum of the Louvre." This is reported by the TV channel
BFMTV
.
Recently, France has become one of the most dangerous from the point of view of a terrorist threat to its citizens. Terrorist acts, unfortunately, are becoming everyday things for other European countries, which, together with France, sought to impose "democracy" in third countries under the dictates of the United States.