According to Jane's Defense Weekly, Argentine Defense Minister Julio Martinez 1 February 2017 explained that following a joint discussion of the issue with Argentine President Mauricio Macri, the government decided to suspend the purchase of new fighters, which had previously been planned to replace the old American attack aircraft Lockheed Martin (McDonnell Douglas) A-4AR Fightinghawk.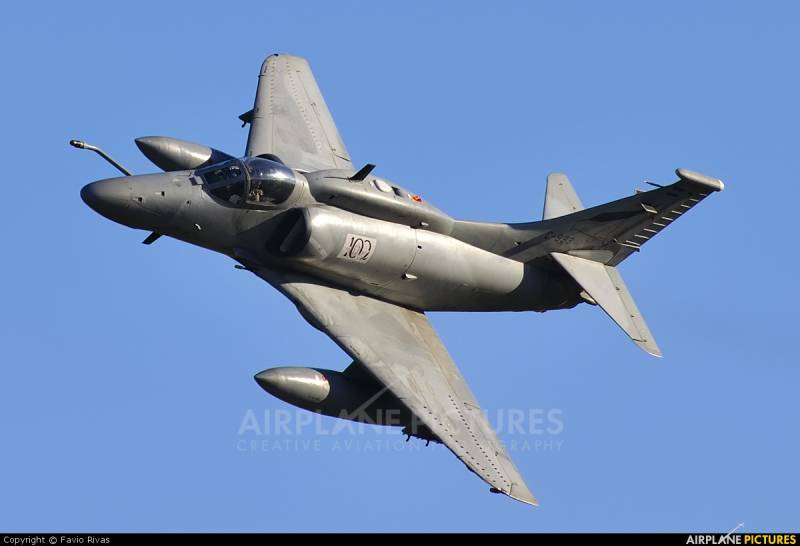 This type of aircraft is supposed to be completely removed from the arsenal of the Argentine Air Force before 2018 due to the lack of spare parts and the development of a resource. In November, 2015, the massive cancellation of Dassault Mirage fighters, which remained without any replacement, was already taking place.
Instead of A-4AR, it was planned to procure 12 light fighter / combat-training aircraft as a temporary measure, which could be Korean Aerospace Industries (KAI) FA-50 or Leonardo M-346FT.
Thus, in case of decommissioning the A-4AR, the Argentine Air Force will remain completely without jet fighters. The cause of the degradation of the Air Force is the difficult financial situation of the country. The country's economy is reeling from 2001, when the largest
stories
default (on 80 billion dollars). It was caused mainly by the pegging of the national currency to the US dollar, which affected the competitiveness of local production, and the redistribution of investments in favor of the regional leader, Brazil.
In these conditions, the stake is on the development of cheaper segments
aviation
. Argentinean Air Force will focus on the purchase of about ten turboprop aircraft to control the country's northern border against illegal flights, strengthening
fleet
IA-58 Pucará aircraft, partially replacing the Embraer EMB-312 Tucano as advanced training aircraft.