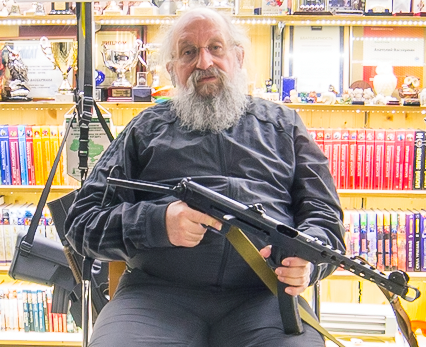 The famous Russian champion of intellectual games, political scientist and political consultant Anatoly Wasserman has long won in the runet and far beyond its borders the deserved laurels of the "mega brain". It would seem that there are simply no such topics on which the press did not communicate with him - from collecting to the depths of geopolitics.
The apartment of Wasserman is a paradise for bibliophiles: the walls of the spacious apartment are lined with floor-to-ceiling books — they are literally everywhere, interspersed with numerous cups, certificates and ...
weapons
.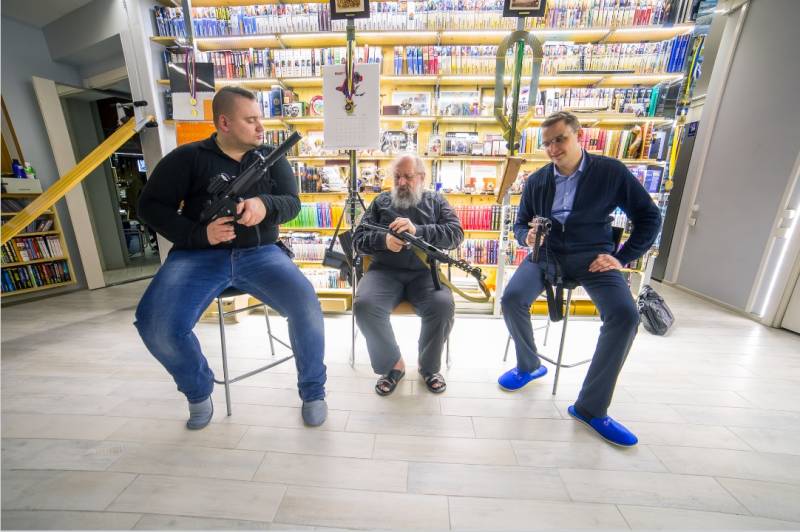 "Intuition goes on the attack", photo: "Russian Planet"
- Do you think this is all real weapon? - Anatoly Wasserman asked slyly squinting. "There is no: both this German Mauser, and this rifle and this American submachine gun are models." Russian laws do not allow them to keep calm. In Ukraine, as far as I know, allow. But I still have a way to go there. Although something tells me that in a year and a half my native Odessa will become part of the south-western federal district of Russia.
- Maybe this intuition speaks to you? - and the conversation itself goes on the topic of intuition. - By the way, what is this phenomenon? Is it a "gift of nature" or a skill that can be mastered? The product of thinking or just the fruit of fortune?
- I'm not sure that this is intuition, rather, it's exact knowledge. But Knowledge is the mother of intuition, "answered Anatoly Alexandrovich beautifully. - From this we can conclude that intuition can and is useful to train. Especially those engaged in political and economic analytics.
Wasserman admitted: that intuition is inextricably linked with Knowledge even when he was an active player in the "What? Where? When?". After all, it was Knowledge that helped him intuitively and faithfully to find answers to the most tricky questions. Yes, and the clear progress that his colleagues demonstrated from game to game would simply be impossible if the experts did not work on themselves, honing their ability to analyze different sources of information and from time to time to come to more accurate solutions.
- Although some element of luck and luck is always present here, but the ability to correctly predict events is actually the result of a certain serious intellectual work.
Views from the window of Wasserman / photo: "Russian Planet"
The online game "Intuit", in which, by the way, readers of Russian Planet can take part, interested the Master of intellectual games precisely because it not only entertains and allows winning great high-tech prizes, but also trains the players in the sixth sense. .
After all, in order to correctly "guess" a scenario, you need to be interested in its background, compare and compare, get acquainted with the opinion of experts - that is, "work with brains", isolating patterns. And although Anatoly Alexandrovich himself complained about the lack of time for active participation in the game, but he carefully went through all the stages of registration and became its full participant.
By the way, for the most political consultant Wasserman, intuition is really a work tool. After all, in order to foresee the development of events in the same Ukraine, where our hero comes from, sometimes it is necessary to have only the "sixth sense" and be guided - so great is the political turbulence in "Square".
"I know who and for what arranges the state coups in Ukraine, and I also know why the support of the Kiev terrorists will stop." I just can not yet say for sure how fast this support will decrease.
Again, the sensational victory of Donald Trump in the US presidential election, our hero just "foresaw" - on an intuitive level. When his fellow political analysts with foaming at the mouth convinced the press of the "inevitability" of the victory of the democrats, Wasserman himself calmly and confidently predicted in his comments: it is this temperamental Republican who will win.
"I was mistaken only in one thing," admitted "RP" Wasserman. "I thought that the victorious Trump would not be allowed to occupy the White House." And here I was mistaken, however, I am sincerely happy about this mistake.
The choice of the online game "Intuit" as an additional simulator of the ability to make accurate predictions is another example of a well-functioning intuition that our hero, as we learned, brings extremely and extremely rarely. As, however, and most of its players, one of which is now Anatoly Wasserman.
But our intuition tells us that now occupations on this wonderful intellectual simulator promise to become even more interesting and exciting - whether the joke, Legend itself challenges the "mere mortal."