As you know, the day before, the Ministry of Defense of Ukraine brought accusations against Russia that allegedly from a drilling platform on which deposits are being developed by Russian companies (in the Black Sea) from rifle
weapons
An-26 Ukrainian Navy plane was fired. In ukroSMI showed photos with small holes in the fuselage of the aircraft.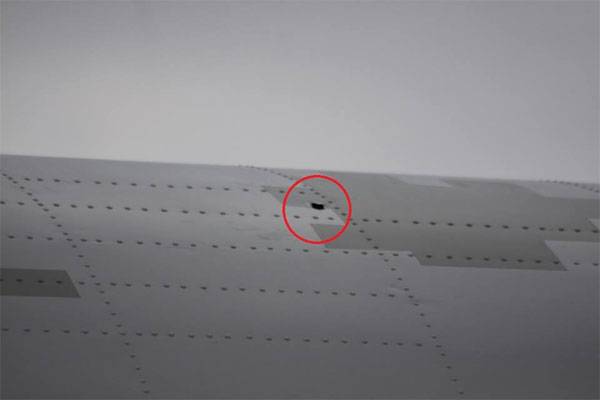 Today, the Chief Military Prosecutor of Ukraine Anatoly Matios on the air of 112 Ukraine TC announced that Kiev intends to transfer to the International Criminal Court "evidence of the shelling of a Ukrainian transport aircraft by Russia."
It is reported that a bullet was allegedly found on the plane, which was "sent for examination".
In turn, the Defense Ministry Attache at the Ukrainian Embassy was called to the Russian Defense Ministry. The attache received a note of protest in which it is said that the Ukrainian military aircraft made a dangerous rapprochement with the oil rigs in the Black Sea, which created a safety hazard for the work on these oil rigs.
Commentary by the official representative of the Ministry of Defense of the Russian Federation, Major General Igor Konashenkov (quote
TASS
):
On Wednesday evening, the defense attache at the Ukrainian Embassy in the Russian Federation was invited to the Russian Defense Ministry to deliver a military diplomatic note. The Ukrainian defense attache expressed a protest of the Russian Defense Ministry against the actions of the Ukrainian side, during which the Ukrainian An-26 on February 1 from 11: 30 to 12: 00 made two dangerous overflights of the Russian oil rigs Tavrida and Crimea-1 on the extreme low altitude, creating a safety hazard for their personnel and equipment. In the transferred note it is especially noted that the actions of the Ukrainian aircraft are regarded as provocative
At the same time, representatives of the Black Sea Fleet refute the statements of the Ukrainian side about the shelling of an aircraft from firearms. According to the press service
fleet
, during re-approach to the drilling platform, an employee of the security unit, on the basis of the instruction, gave four light signals from a signal pistol.
In connection with the statements of Matios that Ukraine appeals to the ICC, this Matios would be worth for a start to get acquainted with the "materiel" and establish that Russia has now ceased to be a party to the Rome Statute of the International Criminal Court.