Arsenyev company "Progress" Sazykina produced the first in the current year combat reconnaissance and attack helicopter Ka-52 "Alligator", reports
press office
holding "Helicopters of Russia".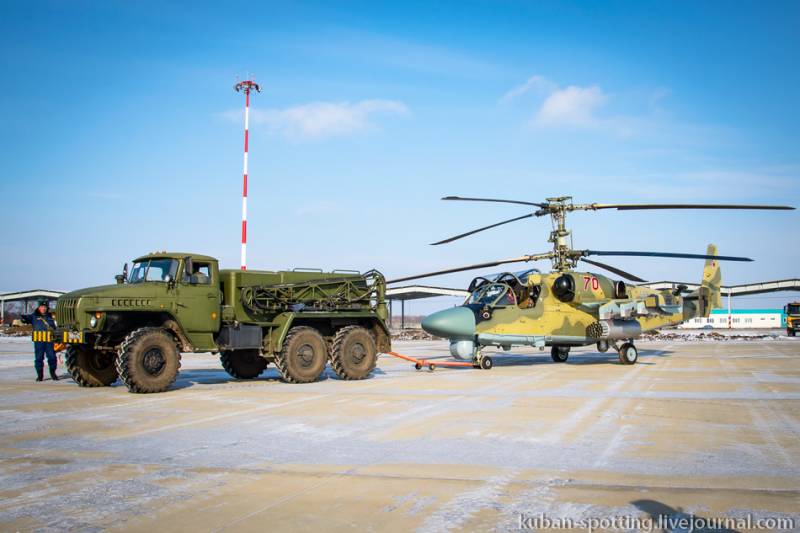 One of the transferred Armed Forces of Russia at the end of 2016 JSC "Arsenyevskaya aviation Progress company named after N.I. Sazykina "Ka-52 combat helicopters (tail number" 70 red ", serial number 35382613009, serial number 13-09) as part of the 55th separate helicopter regiment of the Southern Military District. Korenovsk, January 2017.

"The first experimental machine for the foreign customer has already been assembled and is successfully undergoing scheduled tests," the release says.
According to the press service, "a few more fuselages for new helicopters are currently in the final assembly shop." This month, the next batch of Ka-52 will be transferred to the operating organizations.
"Recall that the first batch of Alligators, scheduled for delivery in 2017 year in accordance with the terms of the State Contract, was transferred to the Ministry of Defense of the Russian Federation ahead of schedule in December last year. In 2017, the production of these helicopters will be more than doubled due to the start of work for export, "said the company.
According to Vladislav Savelyev, Deputy Director General of Russian Helicopters, all necessary organizational and technological measures were taken at Progress to expand production due to the forthcoming increase in its volumes.
Today, the plant is fully ready to manufacture Ka-52 helicopters that meet world-class requirements in a timely manner, both for the needs of the Ministry of Defense and for a foreign customer,
Said Saveliev.