In the mountainous terrain of the province of North Kivu in the east of the Democratic Republic of the Congo (DRC), 2 military helicopters Mi-24 Air Force DRCs crashed, reports
Defence.ru
with reference to the Belgian agency Belga.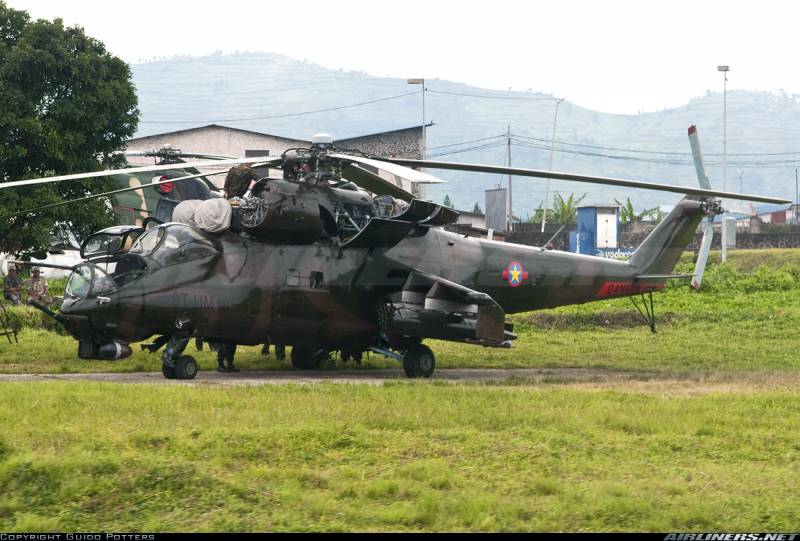 January 27 morning "during a reconnaissance flight by a couple to detect rebels from the M23 group, one of the helicopters hit the rotor blades of the treetops near the Mikeno mountain at an altitude of about 500 meters and crashed," the report said.
The second helicopter, having lost visual contact with the first car, took steps to search for it, but also crashed. "Probably for the same reason," the agency notes.
According to another publication (www.veritasinfo.fr), "the helicopters were shot down by rebels from the Strela air defense system".
According to media reports, one crew consisted of Georgian citizens, the second - of the citizens of Belarus.
According to the Armenian resource razm.info, which refers to Georgian sources, a helicopter with Georgian citizens on board made a hard emergency landing. The second car crashed.
It is also reported that the crew members aboard the "Belarusian" helicopter are alive, but all were injured. The Georgian crew was reported missing on January 30. The search for pilots makes it difficult to rain heavily, pouring 4-th consecutive day.
The information was confirmed by the Ministry of Defense of Georgia. The press service at the same time stressed that "the pilots have no relation to the armed forces of Georgia and are located on the territory of the DRC as private individuals."