To be objective, this practice has long been inherent in our state. That is, take the oath, take
weapon
and you have the right to go to fulfill your duty to the Motherland, even if you have to perform far from the borders of your country, but getting at least something for it is more difficult.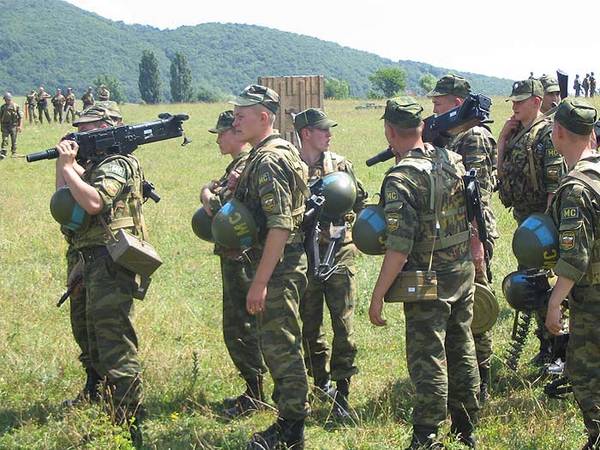 I don't even speak about "ikhtamnetah" now, although we also try to get information about them from time to time. I am about those who officially defended the interests of our country. From "Afghans" to "Abkhazians". With the "Syrians", thank God, there seems to be no such problems.
Everything is more or less clear with the "Afghans". At one time, many media outlets tried to depict this category of soldiers as complete scumbags, drug addicts, who were eligible only for replenishing the ranks of the criminals. Diligently spat upon generation. And only after 20 years, the "Afghans" received at least some positive recognition.
All my life I was puzzled by the moment when you have no right to buy vodka, and to protect the interests of the country with a weapon is completely. And nothing for you will not be. No fame, no recognition, no material wealth. Nothing.
Over time, something changed. The approach has changed, even the laws have changed. But not always for the better.
Write this article I finally prompted the report in the program "Postscript". Who cares in detail, look from 14 minutes. Who is not interested - I will write in two words.
A certain number of officers who performed their peacekeeping duty in Abkhazia, according to the law, sued 35 US dollars per day. Yes, the phrase "judged according to the law" sounds outright idiotic, but this is Russia ...
The money they paid. I am sure that almost everyone, like the hero of the report, Andrei Yashin, did not rush to buy his jeeps. And bought an apartment. A year later, quietly, the sentence was canceled, and after 14 years, the Ministry of Defense happily reported that the traveling officers were charged wrong. And they must be returned. Collect money, sell apartments, bought for illegally obtained travel allowances, but loot - to the cashier.
And now this situation will be considered by the Supreme Court.
From the heart, sometimes from the meanness of our state, hatred overwhelms. To steal billions and not to jail for years on 15 - this is normal here. To serve it on the territory of another state and to get nothing for it, too.
Nobody says that if you performed your duty abroad, you should be showered with gold and diamonds. But to take away from a person what he has rightfully received is despicable.
Especially in the performance of our Ministry of Defense. So, spending billions of rubles on a military-patriotic park that is empty for 10 months in a year is normal. At what cost, "overhead" of high-level commanders, I just keep quiet. More precisely, I will give primerchik.
Last year we shot a video about building a road bypassing Ukraine. Good stuff was, I do not argue. Together with us, the TC Zvezda group worked, which arrived along with the commander-in-chief of the railway troops. The group flew out of Moscow by plane and sat in Millerovo, Rostov Region. Then they were brought by helicopter to Kantemirovka. It is not far kilometers 120-130. The plane from Millerov flew to Rostov-on-Don, and the helicopter also went there after the shooting and distribution of the "cakes" by the commander in chief. And from Rostov-on-Don all flew by plane to Moscow.
And all this for the sake of 15 minutes of conversation with officers and 2-minute video.
Well, it's the commander in chief ... He shouldn't count money, is it? And the officer who served his service in Abkhazia also should not? Has served, remained alive - and already well? So what?
I understand if Yashin had not served in Abkhazia. It would be fraud and direct damage to the state. But he served there. And he earned money, or rather, an apartment, which the Defense Ministry is now eager to take away from him.
But in this country, everything is permitted to those at the top. Those who are lower should have served their time and continue to live in rented apartments. Comrades officers of the Soviet, and Russian times, maybe I'm wrong? Or living in a dilapidated hostel or on a removable hut cheaper - it was not a mandatory attribute that way to the captain-major? Okay, keep quiet ...
The question arises: why do we still have about people who have honestly served, and, unfortunately, have proven their right to the well-deserved by the court, you can wipe their feet, while others, gently wagging their fingers, can be left to live and live well in 13- room apartment in the center of Moscow?
Or am I again wrong, and Mrs. Vasilyeva has lost her "honestly earned" modest hat? It seems to have not lost. But this is Vasilyeva ... And who is Yashin? Starley Vedavishnik. It can be. And, as I understand, even necessary! Another in the example. To even think they did not dare that, having won theirs in the "hot spot", they have the right to travel allowance, apartments and other benefits. It is not for them.
Otherwise, if every officer thinks that he has a right to an apartment, to which will those who are immeasurably higher than their status will drag out their existence?
You say that far from everywhere it was so hot? And in Abkhazia, just three days fought?
I will disappoint.
When we started publishing stories about "Angolans," "Vietnamese," "Cubans," and other "Ikhtamnets", I tried to talk specifically with the "Abkhazians." Found four. Three refused to communicate at all, two still serve, they have no need for adventures on the fifth point. Only one answered, and I will simply give part of his letter, in which he, too, refused (given without proofreading; instead of maters, there are signs "*". - Ed.).
"Actually, to be honest, this is the idiocy of our state !!! After all, before the troops were brought into Ossetia and Abkhazia, our units were already there. On the territory of a foreign state. In Abkhazia, not far from the New Athos monastery, our artillery battery stood in 2004 !!! BATTERY UNDERSTAND !!!! Under UFO (This is a village on the border with Georgia) stood
tank
division. On the border with Ossetia there was an infantry division! DIVISION!!!!! All this stood on the territory of Abkhazia !!! That is, it turns out that our troops were in the territory of someone else !!!! state and everyone was silent !!!! Because it was beneficial to everyone !!!
And you should understand that there were no contract soldiers standing there. And now more and more facts pop up about it. And you yourself understand that the war did not start right one day. Well, it sounds strange agree! And the clashes (combat) were before 08.08.08., It was just not profitable for our government to say that our troops were there. We see this now in Ukraine. Exactly the same scenario.
And I generally served with a white stripe on his helmet. I'll send a photo of schA. We were peacekeepers. Without chevrons and identification marks. And I am sure that you used this trick in ****. If you get hit, the hell knows who you are. So with 2005, there were clashes between our troops (in which the hodgepodge mainly served), but these were local conflicts. Well, like trying to cross the border or how Ufo from artillery covered. And everyone says the Georgian-Ossetian conflict ....
Sorry for the mat. ******! From Georgia, three settlements were bombed by art. Just suddenly shells began to fly into the territory of Abkhazia. The blow was struck on the territory of the New Athos monastery. And all this in 2005. Do you know who cleaned the corridor on a padded art by hitting a tank, in which even the tower did not turn? Fucking conscript. Which got out of the padded tank and shot Kalash from the house. And then he realized that the village *****, jumped into the tank and, like a tractor, punched a corridor for the retreat of the civilian population.
But nobody will tell you this.
Because there were no our troops in 2005 year there. And how did our 405-I make the sweep of highlands art blows? And how the whole caravan "Hummers" smashed, which carried the infantry, and how covered a warehouse full of American rifles ... But no. Everyone knows only one thing. Russia sent troops to 2008. And before that there was no war. Was. And she was more fearful ...
And I was there, honey-beer drank. And the state never admits that military operations were conducted there. The state is not profitable. There was no war there until 2008 was there, and that's it. And the zinc, which was sent from there, went through parts on the territory of the Russian Federation under any pretexts. I really don't know what they were inventing there. I know that two of my colleagues left, like those who died at the exercises by ridiculous chance at some training ground, or near Pskov ... well, I don't remember, kill me. But the fact of fraud on the face.
You say readers will poke around on the Internet looking for information? Yes, hell they will find. Or find another ***** our country. Do you believe that the war began on 08.08.08 and ended in 6 days ??? Tell me honestly, YOU OFFICER, do you believe in it?
Today I was thinking all day about my offer and your details. And I understood again. That our country ***** on the soldiers. Yes, I think it always has been.
History
winners write. BUT! Here are the facts. All movements of the Georgian troops were carried out on American technology. I personally saw the caravan "Hummers", which we art fire and covered. When viewed (well, it was true two days later) found a bunch of American rifles. I LOT !!!! All were handed over to the command. The warehouses that the infantry was cleaning were full of boxes ... And guess with whose weapon !!! Well, etc. etc.
You know ... I analyzed your words and realized that I really have nothing to tell you. And this is not my fault. This is the fault of our state. But on the other hand, our troops 08.08.2008 heroically entered the territory of a foreign state and won almost without loss !!!!
And the fact that before that for almost three years they were cleaning the border areas, the fact that the 19 summer boys with fraudulent writing were sent home in iron boxes, that the equipment was left there until the mother's ***** nobody will tell you. And you will not find anything on the Internet about this. You are an officer! And I must understand that it was impossible to win that war in 6 days. WELL IMPOSSIBLE !!!! If it were not for us before. Well, something like this. Consider it my cry of the soul. Consider that I shout from injustice. Although ... I'm alive. This is not bad.
Photo, I'm sorry, I will not publish. As well as telling where and how this man served in Abkhazia. Served Was injured. Has rewards. He considers himself lucky. But after Abkhazia, the army said goodbye.
I don't know how many are in the country, how many are in our country, on the "Review". I know that there is. And I am sorry that these people are silent, although I absolutely recognize this right for them. Meanwhile, they are worthy of recognition of their merits in the performance of their duty, and the material evidence of this.
At the end, regarding Senior Lieutenant Yashin, I want to say one thing. At the beginning of the article I used the word "meanness", now I repeat. Comrade Defense Minister, respected Sergei Kuzhugetovich, the ministry you are leading creates a meanness towards Russian soldiers.
I understand that all their fault is that they dared to get what is due to them according to the law. And now, according to a different law, you (as this is your ministry) are trying to rob them. Because it is only Russian soldiers. Who just fulfilled their duty and survived.
Why do you have to do this to soldiers? No other savings?
But would it not be better to confiscate the loot from the thieves of the Ministry of Defense? Not? Or maybe it is worthwhile to bring savings in other places? By the way, I was impressed by the motorcade of the Minister of Defense at the opening of ARMY-2016. There were only 9 machines. Each one is worth several times more than the apartment of the unfortunate starley. I don't know who these young people of the 30-35 were in iridescent suits and expensive ties that fell out of these cars with flashing lights, but maybe the Russian-assembled Toyota-Camry will replace the Audi A8 or the Mercedes- 600?
But saving SO on Russian soldiers is an obvious meanness.