iNkunzi Strike is a new 20-mm light automatic gun manufactured by Denel Pretoria Metal Pressings (PMP), a division of Denel, a large state-owned South African defense corporation. Together with the cannon, small-sized shots of caliber 20x42 mm (weight of the projectile 110 grams, weight of the shot 160 grams) are used. New artillery system is quite compact. Total length - 850 mm (barrel length does not exceed 30 calibers), weight - only 13 kg. Lightweight 20-mm automatic cannon can be easily installed on standard machine guns caliber 7,62 and 12,7 mm.
According to the manufacturer, the iNkunzi Strike light automatic gun has a practical rate of fire of 300-350 per minute. At the same time, the effective firing range for "small targets" is 400 meters, for "large targets" - up to 600 meters, on squares (fire to suppress the enemy) to 1000 meters. In this case, the maximum firing range is 3000 meters. At maximum distance, you can use iNkunzi Strike to conduct disturbing fire on the enemy. High rate of fire automatic gun iNkunzi Strike provides a tape feed system ammunition (two-way). Externally, the design of a lightweight 20-mm automatic cannon resembles numerous large-caliber machine guns, including the famous 12,7-mm Browning M2.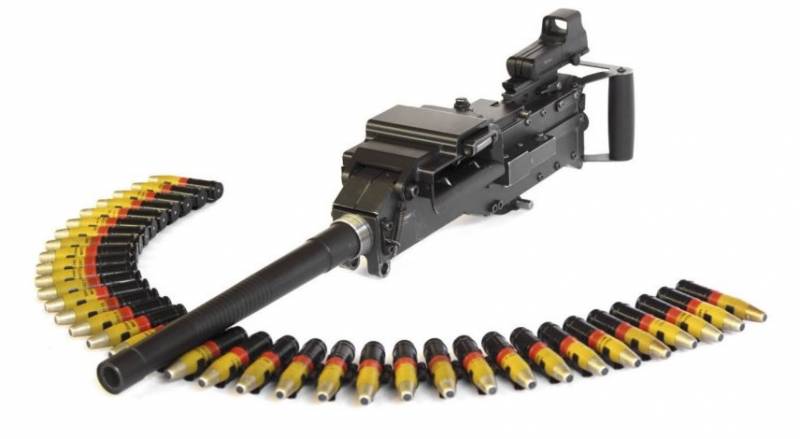 iNkunzi Strike
Ammunition caliber 20x42 mm was created by engineers of the company Denel PMP and previously used in the serially produced by the company anti-personnel seven-grenade launcher iNkunzi PAW-20 Neopup. Its production began in the 2015 year. The automation of the PAW-20 Neopup hand grenade launcher was built on the principle of removal of powder gases. At the same time he received a pistol grip mounted on the right side
weapons
. You can fire from it only with single shots, the capacity of the 7 shots shop. On the grenade launcher, two Picatinny-type guides were installed, which can be used to mount an optical or collimator sight, as well as a night-vision device.
The PAW-20 Neopup anti-personnel hand-held grenade launcher provided firing with only single shots, while Denel Pretoria Metal Pressings was a fully-fledged automatic cannon, the firing capabilities of which are significantly higher. At the same time in the weapon used ammunition of one caliber. They were created on the basis of standard projectiles 20-mm automatic guns GA-1 (20 x82 mm), loaded into short cylindrical sleeves with a length of 42 mm.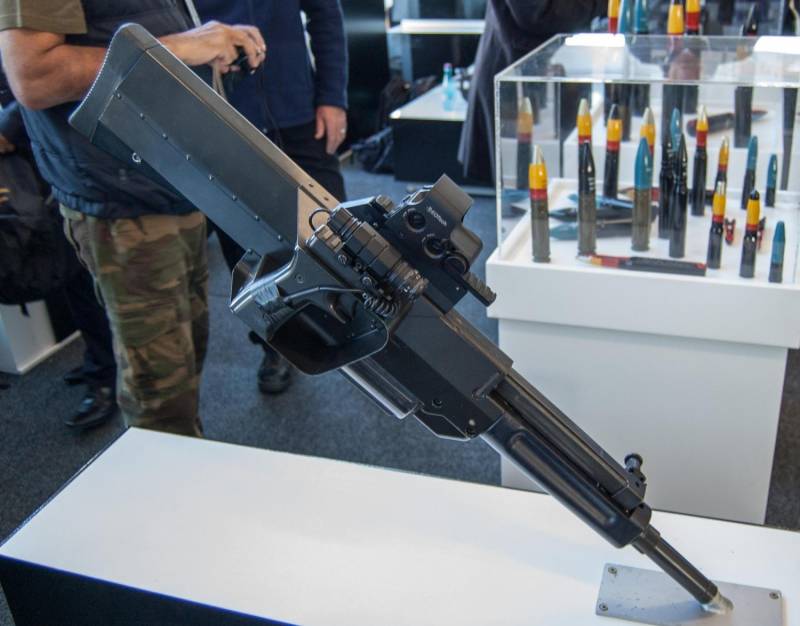 PAW-20 Neopup
Currently, two types of basic combat shots have been created for the iNkunzi Strike light automatic gun — a semi-armor high-explosive incendiary and a high-explosive incendiary. Both shots are filled with Hexal P30 explosive (composition based on hexogen) and equipped with a contact fuse. The affected area of ​​the 20x42 mm ammunition is about two meters. There are also tracer ammunition. In the future, the manufacturer promises to submit at least two new training ammunition for his gun.
These ammunition can be used to destroy enemy infantry, located both in open areas and behind light shelters. Also, with their help, you can easily hit all types of unarmored combat vehicles, various cars, helicopters and airplanes located in open parking areas, light structures. The explosive Hexal P30 provides them with a high explosive incendiary effect, and the shortened size of the 20x42 mm ammunition against the 20x82 mm of the universal GA-1 automatic cannon provide less recoil when fired.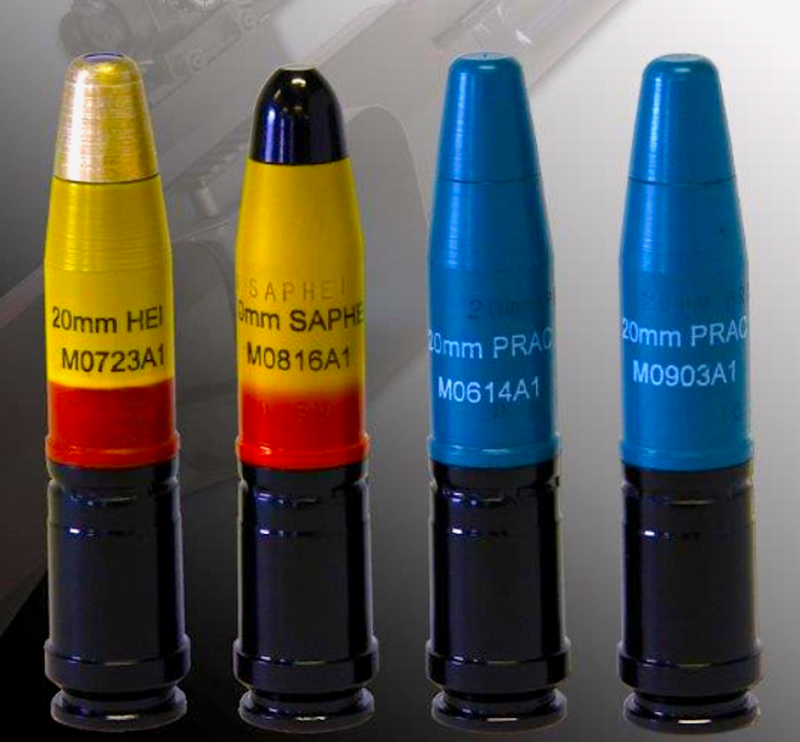 Ammunition caliber 20x42 mm
According to representatives of the South African company Denel PMR, their new lightweight iNkunzi Strike automatic cannon with a shot of 20х42 mm wins over the traditional automatic grenade launchers of the 30-40 caliber mm. So compared to the standard Western anti-personnel grenade launchers with 40x46 mm rounds, the new development of gunsmith designers from South Africa has significantly better accuracy due to the higher speed of the projectile and a more flat shooting trajectory. This allows you to increase and effective range. For comparison, the initial speed of a projectile from an 20-mm automatic gun iNkunzi Strike is 310 m / s, whereas the initial speed of a grenade from the Russian AGN-30 automatic grenade launcher is 17 m / s.
Currently, South African developers are working on options for installing their automatic cannon on various vehicles, including armored vehicles. It is possible that the iNkunzi Strike lightweight 20-mm automatic cannon will be integrated into the SD-ROW (Self Defense Remotely Operated Weapon) remote-controlled module, which until recently only used 5,56 and 7,62 mm machine guns. The integration of a light automatic gun into this module will seriously increase its firepower, allowing the module to be used as the main armament of armored personnel carriers.
Information sources:
https://nplus1.ru/news/2016/07/19/inkunzi
http://bmpd.livejournal.com/2026296.html
http://modernfirearms.net/grenade/safr/paw-20-neopup-r.html
Open source materials