Another material from "unnamed sources" is published in the media on the fact of the investigation into the causes of the crash of the Tu-154 in the Sochi area. This time, the information, which has not yet been commented on by official representatives of the Ministry of Defense of the Russian Federation, published
Kommersant
. The newspaper reported that a source "close to the investigation" reports that the investigation process is very difficult, since "outdated" flight recorders were installed on the Tu-154Б-2.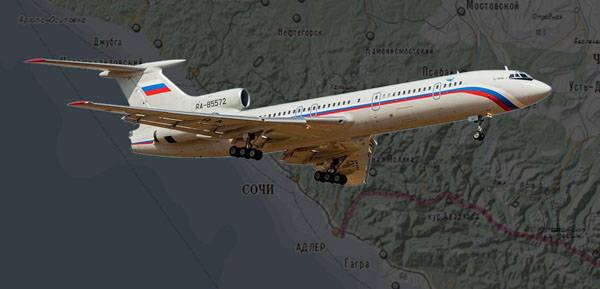 We are talking about "black boxes", the recording of information which is carried out on a magnetic tape. The article "Kommersant" states that the Research and Development Institute of operation and repair of aircraft of the Air Force of the Russian Federation (located in the Moscow region) "there is no equipment and specialists" who can work with magnetic tape.
It is reported that the data allegedly managed to count, but could not manage to correctly interpret this information. The main problem is that the research center is allegedly unable to understand the speed with which the so-called tape drive mechanism must be launched in order to understand the exact time intervals that took place between the events before the crash of the airliner.
But that's not all. It is stated that there is no possibility to synchronize the data of the flight recorder responsible for recording the negotiations of the crew members with the data of the so-called parametric "black box". Amazing statements ...
But the most interesting thing is that after the statements about the "absence of specialists in studying data from outdated flight recorders," the same Kommersant claims that there are allegedly already data on the preliminary findings of the investigation. And on the basis of these "conclusions" it is stated that all the systems of the airliner before the collision with water worked in the normal mode. It was announced that today the only version being worked out is the version of the crew's error.
Recall that earlier about the same "conclusions of experts familiar with the situation," reported "Life News." And in the Ministry of Defense of the Russian Federation they called journalists from "Life" not to engage in "the spread of delirium".
What will they say now about the statement that there are no specialists in the Air Force Research Center of the Ministry of Defense of the Russian Federation capable of decoding data from magnetic tapes? ..