In the American edition
Nation Interest
Another article appeared by columnist Kyle Mizokami, in which he tries to compare Russian and American weapons in a hypothetical battle. This time, the material is devoted to the comparison of the combat capabilities of the Zumwalt destroyer recently introduced into the US Navy (DDG-1000) with the Russian 1144 heavy nuclear-powered missile cruiser (in the Kirov classification, the class named after the first Soviet cruiser of the 1144 project, recycling project considered since 2015 year).
Today composed
fleet
the last of these ships is the Peter the Great TARK. It is precisely with him that the "Zamwalt" (in the German transcription - "Zumwalt") "unleashes a sea battle" is mentioned by a columnist from NI.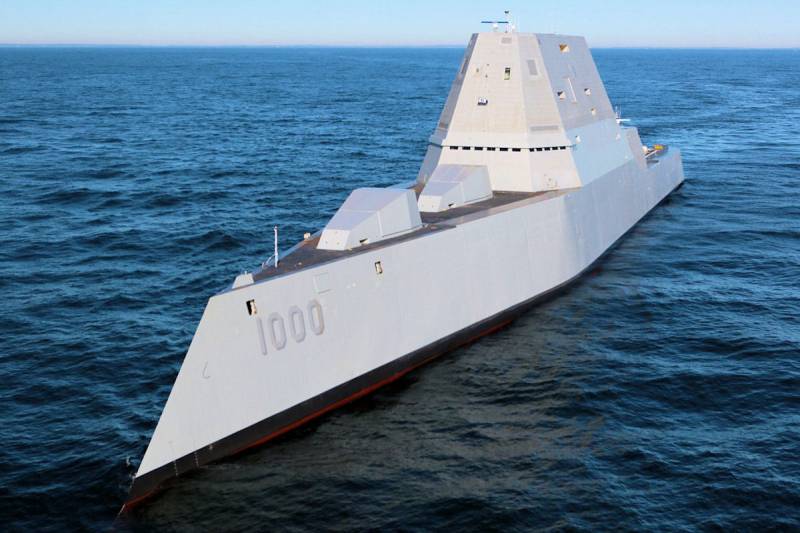 According to the American author with Japanese roots, the Russian ship is "excellently armed, but the American one has the most important advantage — the stealth technology implemented on it."
Of
material
:
Huge Zumwalt on the screens of the ship of the Russian Navy will be displayed no more than the usual fishing schooner, even if they are at a distance of defeat anti-ship
weapons
.
At the same time, Mizokami declares that Zamvolta has nothing against Peter the Great, that stealth technology. In the absence of the Harpoon anti-ship missiles, the American destroyer will have to go a distance of about 70 nautical miles (about 130 km), "in order to be able to effectively defeat with the available means". According to the author of the material in NI, it is almost impossible to hit a Russian ship from such a distance from conventional 155-mm guns, "even if they use corrected ammunition. Argues his findings Mizokami that "Peter the Great" will not stand still and wait for the "fly", and will use all the possibilities for maneuvering.
Mizoki:
At the same time, the Russian cruiser will respond with the launch of the Granites, although Zumwalt not only has stealth, but also effective anti-missile weapons that the Granites are capable of intercepting.
In general, all the material and is devoted to how one ship will be able to repel the attack of another, and the other - the attack of the first.
As a conclusion, the NI columnist states that "friendship will win," since "none of these ships has an unequivocal advantage over a potential enemy ship."