In the US, the new Secretary of Defense was sworn in - 66-year-old John Mattis. At the same time, the American press notes that for the entire post-war period (meaning
история
United States after the Second World War) is only the second case in the country, when a retired soldier is appointed Minister of Defense. The first was the appointment of General George Marshall to the post of head of the Pentagon.
US President Donald Trump, who took the floor after the ceremony, said that he intends to carry out a "serious reform" in the American army. It drew attention to the fact that in his speech, Trump eventually replaced the word "reform" with a variant of the word "large-scale restructuring".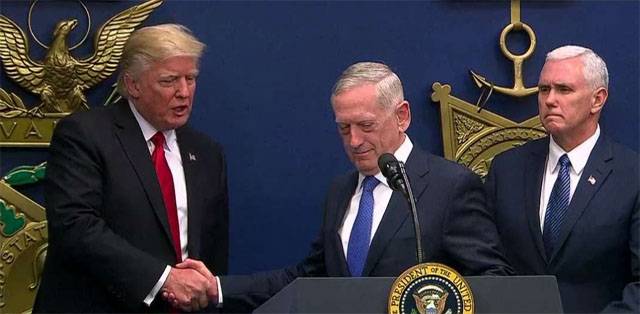 The US media cites a fragment of a statement by the White House host:
Today I intend to sign a decree on large-scale restructuring in our armed forces. New aircraft, new ships, new resources and new tools for our people in the form.
According to Trump, the military department "will move away from the practice of torture of persons suspected of terrorism." In addition, in the text of the document that the US President is preparing to sign, it is noted that the Pentagon "will conduct an analysis of the missile defense system."
After the oath, the activity immediately decided to show Mattis himself. According to him, he has already ordered the start of testing the program of the X-NUMX-generation F-5 aircraft. According to the new head of the US Department of Defense, "the cost of the program is too high." Mattis added:
The Deputy Minister of Defense should monitor the verification of the F-35 program in order to reduce its cost.