Pakistan, which gained its statehood in the 1947 year, being populated predominantly by Muslims, almost immediately found itself in confrontation with India.
Between these countries there were two more "big" wars and smaller conflicts. The parties still have significant territorial claims against each other, primarily in Kashmir (in the north of both countries). This confrontation determines the military construction in Pakistan throughout its
stories
. In particular, it was to deter India that their own nuclear weapons were created.
weapon
and means of delivery.
For half a century, Islamabad has been a strategic ally of both Beijing and Washington. It was China and the United States, as well as France, that became the main suppliers of military equipment to Pakistan. This situation persists to this day, however, Islamabad is gradually leaning toward Beijing. According to Chinese projects and licenses in the country are produced
Tanks
and fighters, military boats are being built. An active participant in this cooperation is Ukraine, which supplies various components for joint equipment, in particular engines. Due to the secrecy of data on the production and procurement of new weapons and the pace of the withdrawal of old, the amount of equipment in the armed forces of Pakistan is known only approximately.
Islamabad has a very large influence on the situation in neighboring Afghanistan, largely controlling the Taliban movement.
The ground forces are organizationally divided into nine army corps, three corps-level commands and a group of SSOs.
The 1 th AK (headquarters in Mangla) includes the 6 th armored, 17 and 37 th infantry divisions, 11 th armored, infantry, artillery, air defense brigades.
2-th AK (Multan): 1-I armored, 14 and 40-I infantry divisions, armored, infantry, artillery, air defense brigades.
4-th AK (Lahore): 10 and 11-I infantry, 2-I artillery division, 3-I armored, 212-I infantry, artillery brigades.
5-th AK (Karachi): 25-I mechanized, 16 and 18-I infantry divisions, two armored, 31-I mechanized, artillery brigades.
10-th AK (Rawalpindi): 12, 19 and 23-I infantry divisions, 8-I armored, 111-I infantry, artillery brigades.
11-th AK (Peshawar): 7 and 9-I infantry divisions, armored brigade.
12-th AK (Quetta): 33 and 41-I infantry, artillery division, armored and infantry brigades.
30-th AK (Gujranwala): 8 and 15-I infantry divisions, 2-I armored, anti-tank, artillery brigades.
31 th AK (Bahawalpur): 26-I mechanized, 35-I infantry division, 13-I armored and 101-I infantry brigade.
Command of the Northern Territories (Gilgit): 61, 62, 63, 80, 150, 323-I infantry brigades.
Air Defense Command (Rawalpindi): 3 and 4-I Air Defense Division.
Command Strategic Forces (Rawalpindi): 21 and 22-I missile divisions.
MTR command: three brigades (11, 22, 33), anti-terrorist battalion.
At present, strategic commands are being formed on a geographical basis (Northern, Central, Southern, Western, Eastern), but their structure is not well-established. Apparently, the Northern Command will include 1 of the AK, Central - 2, 4 and 10, Western - 11, AK, Eastern - 30, South, 5, 12 and 31 y.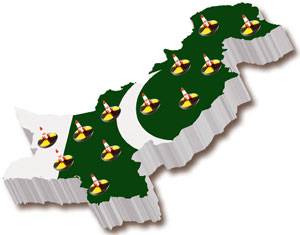 It is in the land forces - in the command of strategic forces is the entire nuclear missile arsenal of Pakistan. Its composition is known only very roughly. It has up to 40 BRSM "Ghori" (created on the basis of North Korean "Nodon-1", flight range - 1300 km, weight of warheads - 700 – 1000 kg), up to 85 OTR "Gaznavi" (based on Chinese M-11, 290 –400 km, 700 kg), up to 16 OTR "Shakhin-1" (750 km, 700 kg), not less than 8 "Shahin-2" (1500 km), 105 TR "Hatf-1В" (70 – 100 km, CUs - 500 kg), no less than 6 "Nasr" (60 km, can carry up to 4 CUs), no less than 8 KRNB "Babur" (350 – 700 km, to 3 CUs). All missiles are capable of carrying nuclear warheads, their number is 140 – 160. Developed new missiles, ballistic and cruise.
The most modern tanks are the 320 Ukrainian T-80UD and 358 Al Khalid, which are built in Pakistan under a Chinese license and are the export version of the 96 Tour. There are at least 268 regarding the new Chinese 85II Tours, 250 older 69 Tours, to 1600 completely old 59 Tours (of which from 500 to 600 have been upgraded in Pakistan under the name Al-Zarrar), as well as 50 light Tours 63, 32 50 PT-76.
They are armed with 129 BRM (45 Italian LMV, 10 English Ferret and 74 Shoreland), 3172 American BTR M113 and Italian VCC-1 / 2, no less than 500 created on their basis in Pakistan itself BTRH and Talha Saad ", 20 American armored cars" cougar "and MahRro 22 to 169 Soviet BTR-70 (used in UN missions outside the country), to 100 German UR-416 and 10" Dingo-2 ", FROM Czech 6-64.
There are 50 old American ACS M7, 267 newer M109 (152 A2, 115 A5), 90 Chinese wheeled SAU SH-1, 40 American М110А2. Towed implements: up to 1000 English QF, 50 Italian M-56, up to 300 American М101А1, 143 Chinese 85 Tour (copy of the Soviet D-30), up to 400 Tour 54-1, to 200; their Soviet counterparts M-60, 260 old American M59, 1 M100, 46 M30, from 59 to 60 South Korean "Panther", 114 American M124. There are 198 self-propelled mortars M60 (on the M72 chassis), 26 French mortars AM-115 and M-232. All MLRS - Chinese production. These are 125 "Azar" (Tour 113, collected in Pakistan), 2350 KRL-50, 61 latest A-52, copied from the Russian "Smerch".
There are more than 3000 old German ATRAK Cobra and 1000 American Tou (including 24 self-propelled M901 and 232 on MXXUMX chassis), 113 Chinese VET Toure 200.
Troops air defense is armed with 2650 local Anza and 200 Chinese HN-5 (both copied from the Soviet Arrow-2), 50 of the latest Chinese FN-6, 350 American "Stinger", from 100 to 230 French, from XRUMX to 144, 70 from 248, from 002 to 005 French. , 310 Swedish RBS-55. Anti-aircraft guns: 65 Swiss GDF-50 / 60, 144 Chinese Type 59 / 200, 72 Swedish L / XNUMX, XNUMX Chinese Type XNUMX and XNUMX Type XNUMX.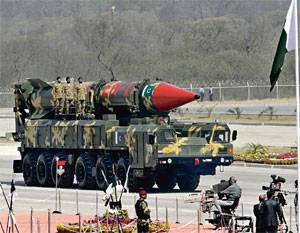 Army
aviation
It has numerous light aircraft - up to 30 American O-1Es, 3 Cessna-208Vs, 1 Cessna-421, 1 Cessna-550, 1 Cessna-560, 1–2 Commander-690, 4 Chinese Y-12. Combat helicopters: 53 American AN-1 "Cobra" (33 F, 20 S), 3 latest Chinese Z-10. Multipurpose and transport helicopters: 6 European AW139, 19 French AS550, 6 AS350, up to 27 SA315B, up to 33 SA316, 36 SA330 and from 6 to 14 Romanian IAR-330, 45 Russian Mi-17 and up to 11 Soviet Mi-8, 26 American Bell-412, up to 20 UH-1, 6–8 Bell-205A, from 13 to 18 Bell-206V, up to 10 Hughes-300C.
The Air Force is organizationally divided into five commands - strategic (Islamabad), Northern (Peshawar), Central (Lahore), Southern (Karachi), air defense (Rawalpindi).
The most modern combat aircraft are 77 US F-16 (34 A, 25 B, 12 C, 6 D) and at least 48 Chinese JF-17, which are produced in Pakistan under license. There are more 300 old fighters - up to 162 Chinese J-7Р (including up to 50 PG, Chinese version of Soviet MiG-21) and up to 29 training-combat JJ-7, up to 167 French "Mirage-3" and "Mirage-5 », 8 airplanes Awarded (4 Chinese ZDK-03, 4 Swedish Saab-2000) and 2 DER (American" Falcon-20F "), 4 purchased in Ukraine by Soviet tanker Il-78.
Helicopters: 3 Russian Mi-17, 15 French SA316.
Surface VOP includes 1 battery (6 PU) Chinese SAM HQ-2 (copy Soviet C-75), 12 batteries (144 PU) French "Krotal" SAM short range and 10 batteries (up 80 PU) Italian SAM "Spada-2000» .
The Pakistani Navy has 5 French Agosta submarines (2 older Agosta-70 Hashmat, 3 newest Agosta 90B Khalid) and 3 Italian sabotage SMPL Kosmos MG110. With the submarine "Khalid" it is possible to launch the Babur-3 SLCMB.
The basis of the surface
fleet
make up 10 frigates: "Alamgir" (American "Oliver Perry"), 4 "Zulfikara" (Chinese project 053H3), 5 "Tariks" (English "Amazons").
From 9, the newest Azmat type 2 missile boats were built in China, 3 Jalalat and 2 Jurrath in Pakistan according to Chinese projects, 2 MRTP-33 in Turkey. There are 8 patrol boats: 1 "Larkana", 1 "Rajshahi" (of the "Town" type), 2 MRTP-15, 4 "Barkata" (in coast guard). In the 3 minesweeper type minesif (French "Eridani"). The landing force consists of 4 English Griffin-type air cushion boats.
Naval aviation: X-NUMX – 5 US anti-submarine R-7, 3 Dutch patrol F-5 and up to 27 English BN-3, 2 English EW "Hoker-1XR", 850 Italian ATR-2, X-NUMX Italian transport ATR-72, I have ON-ANI-ANIs, 12, 6 of Italian ATR-6, 9, 3, 2. Sea King ", 4 Chinese Z-319C, another XNUMX English" Links "in storage), XNUMX – XNUMX French multipurpose helicopter SAXNUMXВ.
Given the possession of nuclear weapons and their means of delivery, as well as a sufficiently high level of combat and moral and psychological training of personnel of the armed forces of Pakistan can be considered the strongest in the Islamic world. Nevertheless, they are significantly inferior in their potential to the Armed Forces of India ("In a healthy Delhi, a healthy spirit"). To deter Delhi from attempting to defeat Islamabad its own nuclear arsenal and close alliance with Beijing help.
There is a chance, albeit small enough, for Islamic radicals to come to power in Pakistan, who in this case will have access to the country's nuclear missile arsenal, which will pose a threat to all of humanity.
Pakistan does not border with Russia and is generally quite far from it, nevertheless it is our long-time, tried and tested enemy from at least the time of the Afghan war. The most obvious threat from his side today is support for the Taliban, who, after the withdrawal of NATO members from Afghanistan, could create major problems for us in Central Asia, and in the worst case - on our own territory. The threat is almost as obvious - the aforementioned probability of Islamic radicals coming to power in Pakistan. Pakistani missiles do not reach Russia yet, but new samples with Chinese help are being developed very actively. Their next generation will already reach Siberia and the Urals. It should be understood that, unlike the current Iranian authorities, the Sunni radicals, they get access to nuclear missiles, are quite capable of taking steps of a frankly suicidal nature. Suicidal terrorism is a purely Sunni offspring, and if individual individuals are engaged in self-exploitation on a massive scale, no one said that the whole state cannot go for it.
However, even present-day Pakistan, in which the radicals have not yet come to power, almost does not hide its readiness to sell nuclear charges to Saudi Arabia for the Chinese Dongfeng-3 missiles available to Riyadh, which are already capable of reaching southern Russia. At the same time, in Saudi Arabia ("A kingdom without a king in the head"), the Wahhabi radicals are essentially in power now.
It is necessary to note one more point on which we decided to close our eyes. Since the time of our Afghan war, the informal axis of Beijing-Islamabad-Riyadh has emerged from the anti-Soviet coalition of that time, to which Ankara is now increasingly attached. Pakistan is the most important link here, both geographically and politically. In particular, Pakistan created nuclear weapons mainly on Chinese technology and almost exclusively on Saudi money. For several decades, this axis was not very noticeable. But for us it is fundamentally hostile, regardless of the current relations of the countries of this "quadruple alliance" with the United States. Unfortunately, not everyone understands this in Russia.