The first soldiers of the Armed Forces of the Federal Republic of Germany arrived in Lithuania as part of strengthening the NATO multinational battalion, betraying
RIA News
with reference to Spiegel.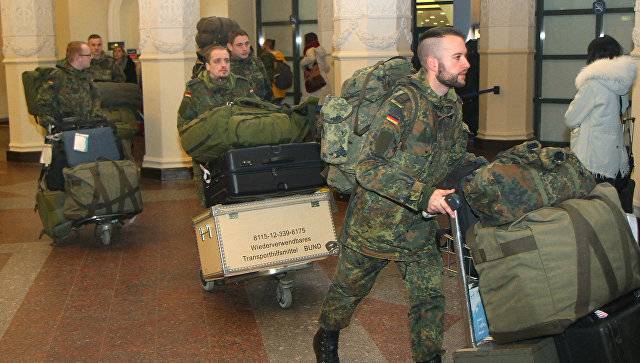 The arrival of the aircraft with the military was expected on Monday, but the flight was postponed due to weather conditions.
"Germany has a key role in strengthening the NATO battalion in Lithuania, where soldiers from Belgium, the Netherlands and Norway will join the German military. By the end of February, the command of the Bundeswehr intends to transfer troops and military equipment, including armored vehicles, to 450 in several stages, "
- writes the edition.
The previously planned number of battalions at 1200 will be reached in May.
Recall that the decision to deploy the multinational battalions in the Baltic States and Poland to "deter Russian aggression" was taken at last year's NATO summit in Warsaw. Sergei Lavrov said on this occasion that the alliance "consciously increases the degree of tension in relations with Moscow under the pretext of a mythical threat from the East."