The Ministry of Defense of the Russian Federation has adopted drones capable of replacing cell phone towers and sending sms and audio messages to subscribers, and in the future - small video clips, according to Izvestia.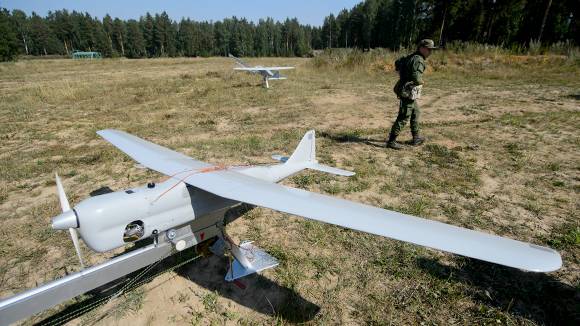 "New UAVs are based on the Orlan-10 drone. They will become part of the modernized electronic warfare complex RB-341В "Leer-3". The first "Leers", whose task is to suppress GSM networks, entered the troops back in 2015 year. But until recently, the complexes could not always work with networks that use data transmission technologies of the 3G and 4G generations, "the newspaper writes, citing a source familiar with the situation.
"Tests of new UAVs have already been completed. The upgraded Orlan-10 has been tested in Syria. This year, new UAVs for Leer-3 will begin to be delivered to the troops. While products can send SMS and audio messages. But in the near future, small videos will be added to this list, "said the source.
The Leer-3 complex consists of three Orlan-10 UAVs and a control point on the KamAZ-5350 truck. Their main task is to suppress cell phone towers. To do this, the "Orlan" installed "jammers" and one-time interference transmitters that are dropped to the ground.
Denis Kuskov, general director of Telecom Daily research firm: "This is actually a base station. She can drag over traffic or calls. The user will not notice the connection and he will not be able to change the connection to another base station. The drone operator will be able to send SMS, call the phones of subscribers who fall into the zone of the drone. And through the browser you can send a video message. When you try to access the Internet on the stub page, you can display anything. By the same principle, normal Wi-Fi works when connected to it in a public place. "