The command of the National Guard of the Russian Federation decided to completely get rid of the heavy tracked engineering vehicles created on the basis of
tanks
. Starting this year, such equipment will be replaced by modern bulldozers and excavators based on the Urals and KamAZ,
News
.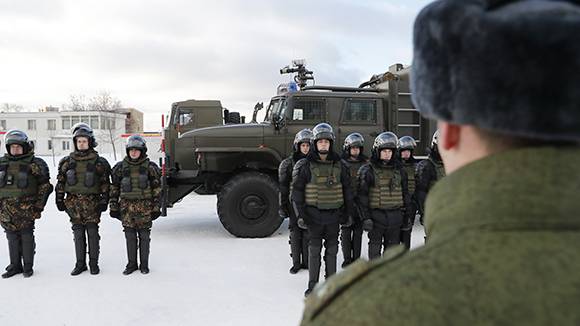 "At present, the engineering units of the Rosguards are armed with the IMR-2 engineering vehicles, the BAT-2М track-laying machines and the high-speed trenching machines BTM-3. All this equipment was created by Russian designers for the "big" war. They got the Interior Ministry troops from the Ministry of Defense in the middle of the 1990s, when the explosives were engaged in establishing the constitutional order in the North Caucasus, "the newspaper quoted Alexander Zarovnyatnyh as the head of the engineering department of the department.
The decision to remove vehicles from service was taken at the end of last year. "As the technical resource expires, the cars will be written off and replaced with modern ones, on a wheeled chassis. We used the machine for quick digging of the BTM-3 trenches for the last time in 1997, when the idea was to "dig in" the Chechen Republic with a moat. IMR-2 was last used in the 2001 year, then it was cleared with mine. Currently, the troops of Rosgvardia are faced with the task of ensuring law and order in cities. Therefore, we need wheeled vehicles capable of moving on asphalt, "said Pitcher.
According to military expert Oleg Zheltonozhko, the decision to change heavy equipment was long overdue. Most of the samples were created in the USSR. Maintaining the proper technical condition of such machines is expensive, since they no longer produce spare parts for them.
"Wheeled platforms are cheaper to operate than tracked vehicles. In addition, more different equipment is being installed on them today than before. One of the tasks facing Rosgvardia is to eliminate, together with the Emergencies Ministry, the consequences of man-made disasters. Few people know, but in 2012, it was the military personnel and the equipment of the internal troops who took an active part in the aftermath of the floods in Krymsk, "the expert added.