The United States considered the OUN (Organization of Ukrainian Nationalists) a terrorist organization, but this did not prevent its financial support from the beginning of the Cold War. This is evidenced by the recently published archival documents of the CIA.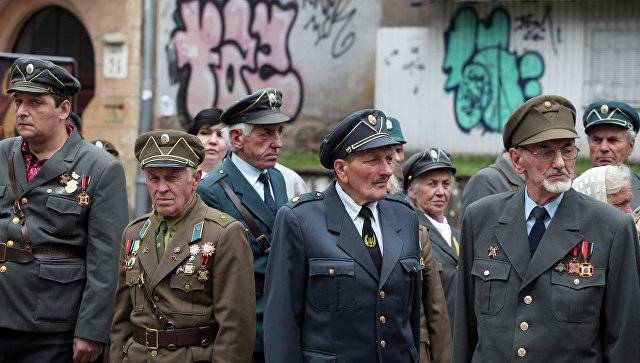 Veterans of the OUN-UPA
"A number of organizations-ideological followers of the OUN, including the Ukrainian Insurgent Army (UPA), are recognized as extremist in Russia, their activities in Russia are prohibited. The lists of terrorist organizations of the Ministry of Justice of the United States are not, "- writes
RIA News
.
Among the declassified documents there is a reference from February 4 1948 g, which includes Stepan Bandera (Stefan Bandera).
"He was a member of the OUN terrorist organization and was associated with the murder of (Bronislav) Peratsky, the Minister of Internal Affairs of Poland," the statement says.
Peratsky was killed in Warsaw in 1934. After that, the Polish authorities arrested all OUN leaders, including Bandera, and sentenced them to death. However, the sentence was not carried out.
The certificate says that the OUN was later transformed into the UPA in order to "fight against the German and Soviet troops."
It is noted that after the war, "Bandera formed the Ukrainian Council of National Liberation, as well as the Anti-Bolshevik Bloc of Nations." At the time of the drafting of the document, the nationalists "continued to operate in regions with Soviet influence, and some of their followers moved to Argentina."
A number of published documents directly indicate the funding by the American special services of representatives of the OUN for counteracting the USSR. True, the amounts and names of the banks through which financing was removed are removed from the texts.