The press service of the JSC PO North Machine-Building Enterprise (Severodvinsk) reported on the completion of the hydraulic testing of the nuclear submarine hull of the 885М project
Ash-M
"Krasnoyarsk": "The submarine successfully passed a leak test, and the hull withstood the design characteristics laid down by the designer. At present, further planned work is under way related to the preparation of the body for insulation and installation work. "
The lead ship of project 885, designed by the St. Petersburg Maritime Bureau of Engineering "Malachite" - the multipurpose nuclear submarine with cruise missiles "Severodvinsk" - took up combat service as part of the Northern
fleet
in 2014. The following ships of the series (Kazan, Novosibirsk, Krasnoyarsk and Arkhangelsk) are being built according to the improved design 885M Yasen-M. Krasnoyarsk was founded on July 27, 2014.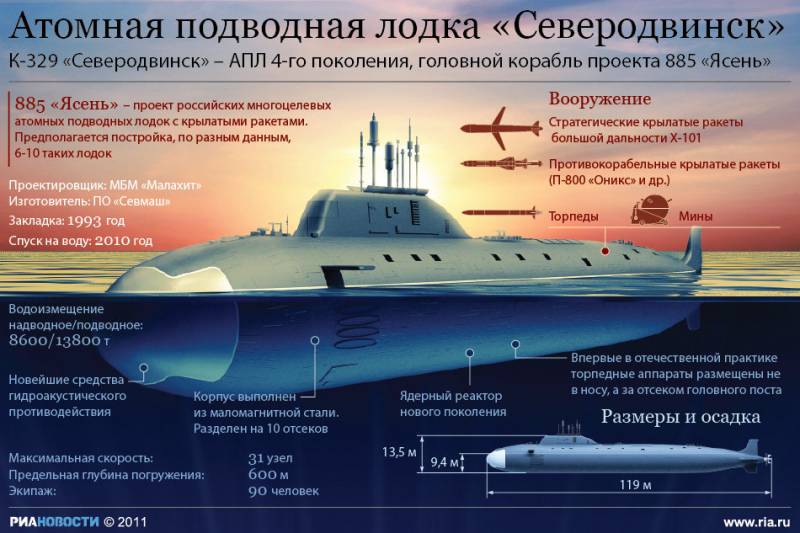 According to the current
to plans
, Sevmash will build seven submarines for the YNF of the Russian Federation 855 Yasen and 885M Yasen-M. Work is being done on six of them. The fourth-generation low-noise boat is capable of performing all the functions of a multi-purpose torpedo hunter boat, but it also carries cruise missiles. The maximum travel speed is 16 surface nodes and 31 submarine node. Crew - 85 man. The arsenal consists of ten 533-mm torpedo tubes, Granit cruise missiles and anti-submarine missiles. The boat can carry up to 32 anti-ship missiles P-800 "Onyx" (firing range - up to 300 km) or cruise missiles of the "Caliber" complex.
As the Ministry of Defense of the Russian Federation reported on 2016 in April, the crew of the Severodvinsk submarine of the 885 project serving in the Northern Fleet completed a successful launch of the Caliber sea-launched cruise missile from a submerged position. "The launch was carried out from the water area of ​​the Barents Sea along the coastal training target at the Chizha range in the Arkhangelsk region. The rocket hit the training target with high accuracy. "