As the construction of the Crimean bridge is completed, temporary housing camps, temporary moorings and technical roads will be placed under the authority of the Rosguards. These facilities will serve as the basis for creating the security infrastructure of the bridge.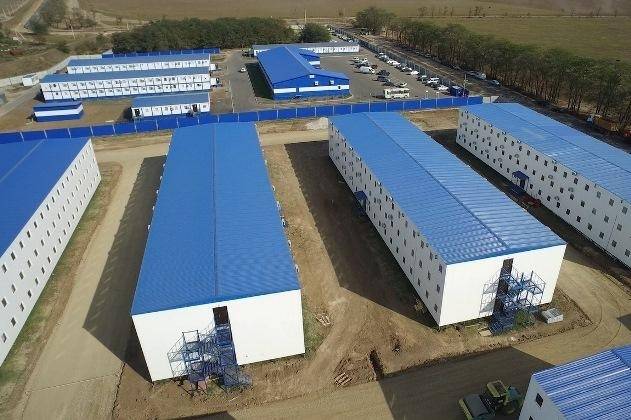 According to "Izvestia", referring to informed sources in the National Guard of the Russian Federation, the department is already negotiating with the heads of administrations of Kerch and Taman "about the seizure of land plots on which two construction camps are located: in the Taman area - on 4 thousand, and in Kerch - on 3 thousand people.
In parallel, negotiations are underway with construction organizations on the transfer of these townships to the Rosguards with all the infrastructure. The first units are planned to settle there at the end of 2017.
"Both towns are well-equipped facilities. Although the buildings are temporary, there are good houses, sheathed with siding, with electricity, sewage and hot water. Also in the towns there are equipped parking lots and places for the repair of trucks and other equipment. They are quite suitable as parking for combat vehicles. But in the future, FSFVNG will replace all buildings with stationary ones and build high-grade military camps with military equipment parks, "one of the sources told the newspaper.
The interlocutors also said that Rosgvardiyu is "interested in the technical roads along which construction vehicles are moving and building materials are being transported - they will be used to patrol the neighborhoods of the bridge and for economic needs," since they connect residential campuses of builders, technology parks and the entire infrastructure of the building.
As for the temporary moorings, they are planned to be used for "locating boats, motorboats and other watercrafts of the Rosguards, which will protect the bridge from surface and underwater threats".
Military historian Dmitry Boltenkov: "Now the Kerch bridge from the sea is guarded by the anti-sabotage detachment of the Black Sea
fleet
. Several groups of boats with combat swimmers on board come from Sevastopol and work as shifts in the crossing area. But when the construction is completed, the shift workers will no longer be able to fully patrol such a complex engineering structure as the Kerch Bridge. We need boats and swimmers who will constantly be in the area of ​​the crossing. Therefore, even temporary berths will be invaluable in guarding the bridge. "