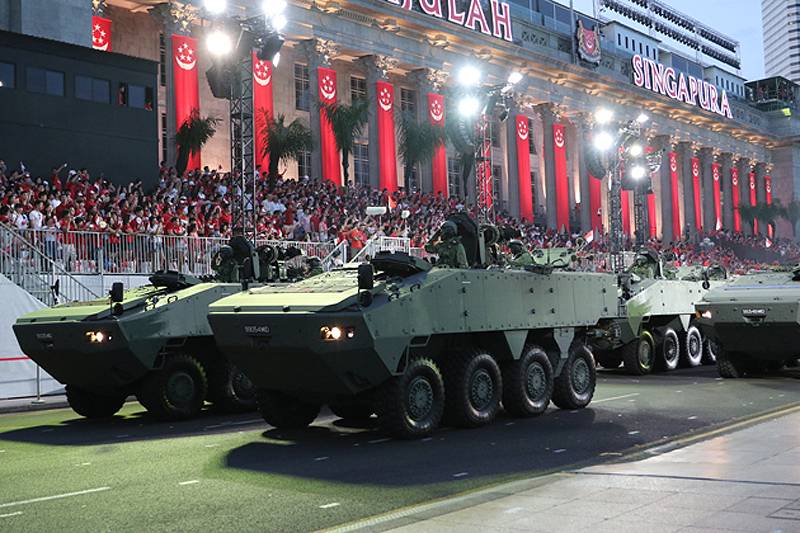 Diplomatic phone lines between Singapore and China were red hot after nine Singapore-based Terrex 8x8 armored personnel carriers were confiscated in Hong Kong in November 2016.
Nine vehicles and three containers with additional equipment were transported aboard the APL Qatar 041 merchant ship, which followed its route from Kaohsiung in Taiwan to Singapore. They were confiscated, allegedly for undeclared military property.
It turns out that the Chinese authorities initiated this arrest, instructing the Hong Kong Customs and Excise Department. The ship was detained in the Chinese city of Xiamen on November 21 before reaching Hong Kong in two days.
Hong Kong Customs reported that it was a routine check, but the Chinese law enforcement authorities immediately denied it. In addition, to check on the vessel APL Qatar 041 instead of the usual two or three officers, a whole group landed.
A spokesman for the Chinese Ministry of Foreign Affairs, Jen Shuang, said that goods arriving and leaving Hong Kong must comply with relevant rules. As expected, he added that "for a long time, China was strongly opposed to official exchanges, including military exchanges and cooperation between Taiwan and any countries that have diplomatic ties with China."
The fact is that Terrex armored personnel carriers arrived in Taiwan to participate in the Singapore's Starlight personnel training program, which was launched in accordance with the agreement of the year 1975. Singapore maintains training units in Taiwan on a full-time basis, although unilaterally rather than bilaterally.
It is interesting to note that a photo of one of the Terrex cars with a Taiwan state registration number appeared in the press, apparently, in order to hide the origin of the car during their stay in Taiwan. Not surprisingly, press releases issued by the Singapore Department of Defense continue to avoid any mention of Taiwan.
China has for many years been absolutely silent about the presence of Singaporean military experts in Taiwan, even though he does not like it very much. Singapore is now more talkative about the persistent Chinese claims about the South China Sea; it is clear that there are tensions in Beijing's relations with the island nation.
An editorial published in the People's Daily newspaper gave a political assessment of this difficult relationship. It states that "for quite some time, Singapore has sought to strike a balance between China and the United States, in fact, taking the side of Washington." In support of this claim, the author of the article refers to Singapore's readiness to accept American ships
fleet
and authorize the operation of the patrol anti-submarine aircraft P-8A.
The article blamed Singapore for being "the platform of Washington restraining and stopping Beijing." It further states that "Singapore has stated that it does not take any side in disputes over the South China Sea, but its comments on the problem are far from neutral; they only complicated and expanded the scale of the problem. "
By confiscating these vehicles from the Singapore Army and using Hong Kong as a confidant to relieve themselves of direct responsibility, China showed its irritation to Singapore for its "unacceptable crimes" associated with working with Taiwan and the courage to resist Chinese expansion in the South China Sea.
This incident also raised questions about the transportation of military equipment. Singapore has long used the merchant fleet to freely move weapons systems, including transportation to and from Taiwan.
However, the statement by the Singapore Ministry of Defense that shipping companies "must comply with strict requirements for protection against theft and damage to property" and that "there have been no incidents of loss, theft or damage in recent years" is now a poor consolation.
The ministry "transferred" the charges to the shipping company APL, noting that "it had to comply with all the rules, including the declaration of the equipment being transported ..." ports.
But in this case Singapore's weakness is also visible, since this island nation is very vulnerable, especially when a large number of equipment and personnel participating in joint exercises are scattered throughout the world. There is no doubt that in any conflict, it will be relatively simple for China or any other potential adversary to block access or apply pressure.
This is a lesson for other countries in the region, such as Japan, the Philippines, South Korea, or Taiwan, whose courts China may hold up to express political discontent.
Perhaps Hong Kong's customs should have allowed the Chinese army or its structures to check Terrex machines? Customs did not respond to the request, but this is understandable, given that Singapore sent a special group whose task was to "rescue" armored vehicles.
Although the Terrex armored vehicle has already turned 10 years, but it would be very interesting for China to get access to the digital battle management system on board these vehicles. The Singapore Ministry of Defense stated that "there was no sensitive equipment on board the Terrex armored vehicles," although no one really expected a different answer.
As for the Terrex armored vehicle project, now it has also gone international. ST Kinetics introduced its Terrex 400 (Sentinel II) variant for the Australian Army Land 2 Phase 3 program, although it was not selected. Also, the Terrex 2 armored vehicle is a contender for the ACV1.1 requirement of the US Marine Corps.
For this reason alone, the Terrex armored vehicle and the underlying philosophy could be interesting for Chinese engineers.
In a statement released by 24 in November, the Ministry of Defense announced that it expects "the shipment of cargo and its return to Singapore in an expedited manner." However, the fate of these nine cars is very far from being resolved and will depend on negotiations with the Chinese Ministry of Foreign Affairs.
Hong Kong had previously regularly confiscated military vehicles passing through its territory, including the WZ551 armored personnel carriers on the way back to China from the Taiwan Defense Exhibition. In 2010, five BTR-70 armored personnel carriers were detained on their way to China and at least one of them now serves as an exhibit in a city park.
Two armored vehicles, including the K21 BMP, returning to South Korea after a demonstration in Saudi Arabia in the 2010 year, were returned to the owner after the missing customs documents were submitted to the Chinese authorities.
Singapore announced last May that 1,66 is investing a billion dollars in large-scale modernization and utilization of military training bases in Australia. The island nation is already in the process of transition to closer military cooperation with its southern ally. Whether the transportation of nine Terrex armored vehicles from Taiwan was part of this process or the usual regular rotation was not yet clear.
Be that as it may, this incident, named Terrexgate, will probably only strengthen the position of Singapore, which will now rely more on military cooperation with Australia and to a lesser extent with Taiwan. In any case, this is what China exactly wants in the first place. His goal is to push back Taiwan at every opportunity.
Materials used:
www.shephardmedia.com
www.stengg.com
en.people.cn
www.wikipedia.org
en.wikipedia.org