Today at
блоге
an expert on armored vehicles Alexey Khlopotov, a photograph of the equipment, representing an engineering vehicle for reconnaissance and demining on the basis of "Armata", appeared. The blog itself says that this is an armored repair and recovery vehicle (BREM) T-16, which is designated in the nomenclature of the manufacturer of the Ural Transport Engineering Design Bureau as an 152 object.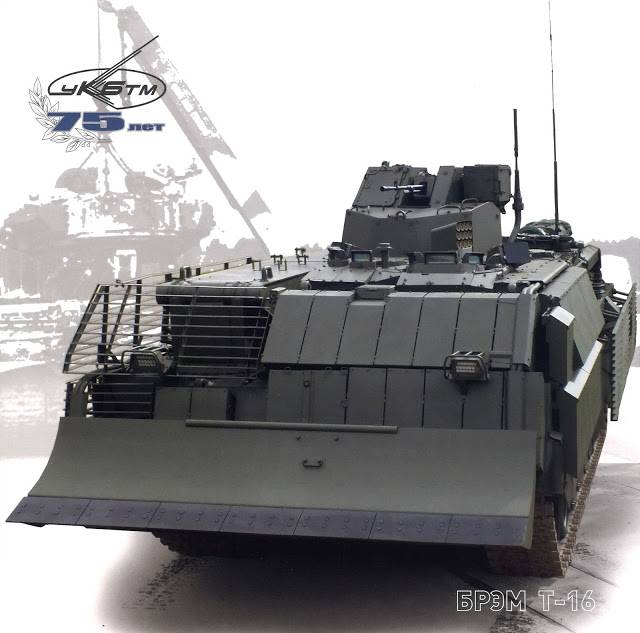 Recall that last fall it was reported about the opening of R & D automated IWW. The main purpose of the development was to determine the appearance of a promising machine, its equipment and the range of tasks to be solved. For the base platform were taken "Armata" and BTR "Boomerang." Moreover, the plans of the Ministry of Defense of the Russian Federation, it was stated that the engineering machine for intelligence and demining in the future should be created in a completely unmanned version. Then it became known that R & D should be completed in 2018 year. That is why, after the armored vehicle was lit up in front of camera objects, the debate about which particular modification was presented only intensified.
As you can see, the presented version of military equipment is equipped with a combat module with an 12,7-mm machine gun "Kord". The same combat module is used on the "Kurgan" - unification takes place.
Engineering (for example, soil) work on the ground allows for a classic dozer blade. With the help of such a heap it is possible to carry out work on creating corridors among the rubble in the conditions of the city for the possible advancement of military equipment and infantry along such corridors.
The armored vehicle has towing systems capable of presenting it both as a unification of engineering and evacuation equipment, which, by and large, is T-16.
The equipment presented in the photo, using communication systems, has the ability to perform tasks within the network-centric interaction, which is generally characteristic of the "Armata" platforms. Network-centric mechanisms allow for improved interaction with other military equipment at the tactical level. In particular, we are talking about a quick search for equipment that needs to be evacuated.
The platform parameters, in principle, allow using the T-16 (as modified) as an armored vehicle capable of effectively carrying a mine sweep in front of it.