As reported by RIA
News
, a representative of the Department of Information and Mass Communications of the Ministry of Defense of the Russian Federation for the Navy, Captain 1st Rank Igor Dygalo said: "Currently, as part of
fleet
the lead ship of the project 12700 Alexander Obukhov is located and is carrying out tasks, and the second ship of the PMO Georgy Kurbatov ship is on the slipways of the Sredne-Nevsky Shipbuilding Plant under construction. In the near term, it is planned to build about 20 Project 12700 mine defense ships for the Russian Navy. "
The ceremony of laying the third minesweeper under construction is scheduled for January 21 at the Sredne-Nevsky Shipbuilding Plant (St. Petersburg).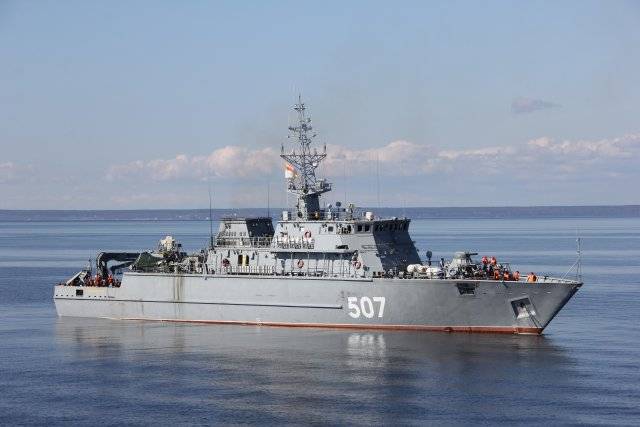 The anti-mine ship of the 12700 Alexandrite project was developed by the Almaz Central Marine Design Bureau and is a new generation of minesweepers. The anti-mine contour of the ship is formed using the newest, highly efficient sonar stations located both on the ship itself and on remote-controlled and autonomous underwater vehicles. At the same time, the ability to use traditional trawling weapons remains.
The displacement of minesweepers is 890 tons, the length of the 61 meter, the width of the 10 meters, the travel speed at full displacement of 16,5 knots, the crew over 40 people. The ship has high maneuverability due to the use of an effective complex of various thrusters. This ship has a unique, the world's largest monolithic fiberglass hull, formed by vacuum infusion. The advantages of the composite hull are lower mass and higher strength compared to low-magnetic steel hulls, which increases the survivability of the ship when searching for mines and increases its service life.
In general, according to the Russian Navy's chief command, the mine defensive ships of the new generation of the 12700 project will significantly increase the effectiveness of the actions of the mine-sweeping forces of the Navy.