There are reports from Syria of continuing operations against ISIS terrorists (prohibited in the Russian Federation) in the province of Deir ez-Zor. Syrian military sources have reported that they were able to intercept the negotiations of the militants, during which they were conducting dialogues on significant losses in the area of ​​the Deir ez-Zor airfield, controlled by government forces. In addition, the ISIL field commanders turn to a certain "emir" with a request to transfer additional forces from the Iraqi province of Anbar.
Recall that on the eve of the aircraft of the Syrian Air Force and the Air Force of the Russian Federation struck rocket and bombing attacks on the positions of ISIS militants in the Deir ez-Zor and Tadmor (Palmyra) areas, and on the columns of terrorists deployed to the said Syrian cities from the Iraqi border.
The information that igilovskie forces suffered heavy losses near Deir ez-Zor, is confirmed by Turkish information sources. Thus, Turkish media reported that an attempt was being made to transfer forces and assets from Iraqi territory to the areas occupied by the militants in the said Syrian province.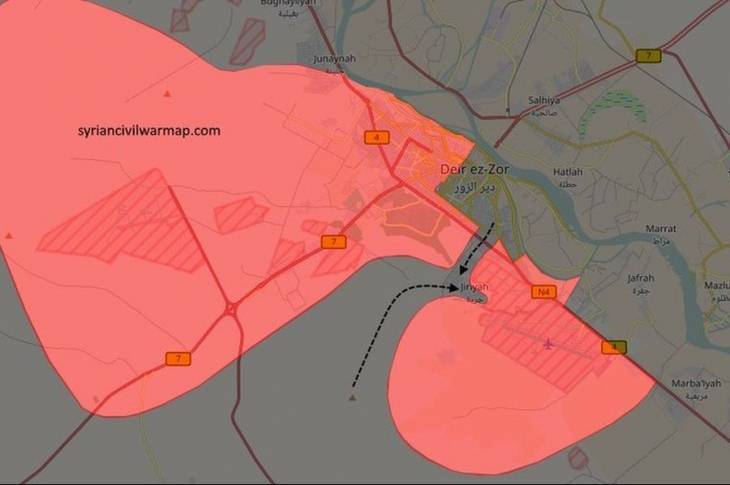 Syrian troops have a good opportunity to develop success and regain control of the road connecting Deir-ez-Zor with a military airfield and the territories and objects surrounding the airfield. Another question is whether the ground forces and assets of the Syrian government forces are enough to regain control over the territories lost a few days ago and ultimately deploy a counterattack on a broad front? The fact remains: it will not be possible to change the situation with air strikes alone.