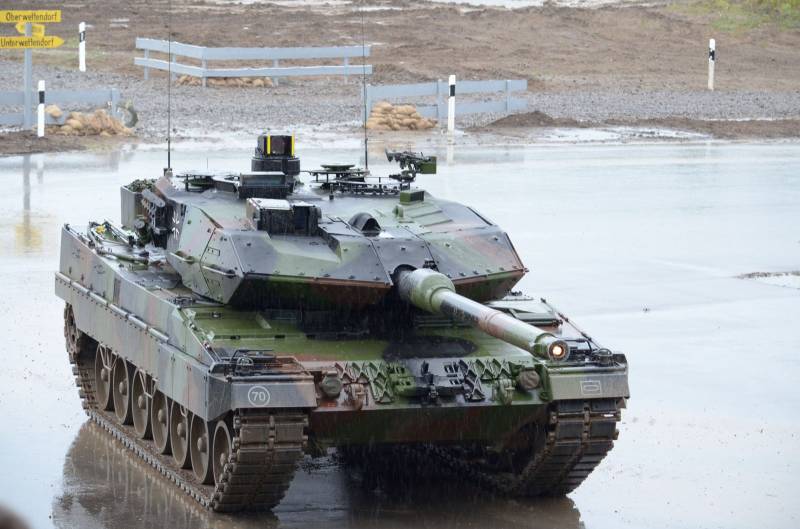 MBT by the German Army Leopard 2А6 produced by Krauss-Maffei Wegmann is armed with a 120-mm L55 smoothbore gun, for which Rheinmetall supplies a full set of ammunition
Recent developments in the field of firepower of armored combat vehicles have mainly focused on the ammunition rather than the guns themselves. However, new survivability technologies are pushing a number of countries to develop new ones. tank guns that will have increased firepower. Consider some of the existing programs.
The main task of the main battle tank (MBT) is to fire on the armored combat vehicles (BBM) of the enemy, but the minor task remains to provide fire support to the dismounted and motorized infantry, which, in fact, has prevailed in recent times.
Recent and ongoing hostilities have highlighted this secondary task, which has led to the development and deployment of more specialized ammunition. Meanwhile, the emergence of improved tank protection systems has led a number of countries, including Germany and Russia, to develop larger-caliber tank guns, which are made of stronger steel and that can shoot new-generation kinetic ammunition with a greater initial speed.
Traditionally, the main ammunition for OBT was an armored-piercing feathered sabot projectile (BOPS), which may also have a tracer element. It is used to neutralize other MBTs and has a long hardened core for maximum impact on the target. It can be made of traditional material or depleted uranium, the latter preferred by tank operators from the UK and the United States.
However, the US is moving away from depleted uranium shells, since they cannot be used in combat training, but they can be a possible source of radioactive contamination of the battlefield.
Other popular projectiles are high-explosive fragmentation (PF), anti-tank cumulative and armor-piercing high-explosive projectile with a crushed head HESH (high-explosive squash-head, in the United States received the designation high-explosive plastic [HEP]).
The Russian military has always used UF as an additional type, and now they have given this role to an air assault projectile, which makes it possible to fight well with entrenched and dismounted infantry.
In addition to the development of new cores and new throwing substances in order to increase the initial speed, there has also been a tendency to develop projectiles that are compatible with the standard for low-sensitive ammunition, and also capable of being used in a wider temperature range.
In addition to traditional ammunition, guided laser-guided projectiles continue to develop, making it possible to hit targets far beyond the firing range of conventional tank guns.
At long ranges, however, target recognition becomes problematic and time to neutralize them takes more than tank guns and projectiles with initial speeds of more than 1400 m / s.
Chinese evolution
The development of Chinese industry proceeded sequentially from the creation of local versions of mainly Russian armored vehicles to the development of their own weapons systems and types of ammunition.
A local version of the Russian 100-mm rifled D-10 cannon installed on the OBT Type 59 manufactured by North Industries Corporation (NORINCO), based on the T-54. In addition, the Chinese industry produces 105-mm rifled gun and corresponding ammunition based on Western designs. This gun was installed on the 59 MBT Tour, replacing the previous gun, and also being installed on other Chinese tanks, including the 69 Tour and the 80 Tour.
Later, the 125-mm smooth-bore cannon was developed for shells, for which they are fed by an automatic loader mounted under the turret, similar to automatic loaders mounted on Russian MBTs. This gun is installed on the Chinese MVT-3000 (also has the designation VT4), Tour 98 / 99, MBT-2000, VT2 and Tour 85.
The 120-mm Chinese-made smooth-bore cannon is mounted on a PTZ89 self-propelled antitank machine (the 89 Tour), which has never been offered for export.
NORINCO also developed a retrofit kit for the Toure 59, which included the 120-mm smoothbore gun, which is no longer offered by the company; in addition, there is no data whether it was sold abroad.
The gun fires BOPS with an initial speed of 1600 m / s, which, according to the manufacturer, can penetrate 550 mm rolled armor at a distance of 1500 meters. The next version of BOPS has a higher initial speed 1725 m / s and improved armor penetration characteristics.
The 105-mm rifled gun with small recoil forces for light tracked and wheeled armored vehicles was also developed, it has a new recoil system and a muzzle brake.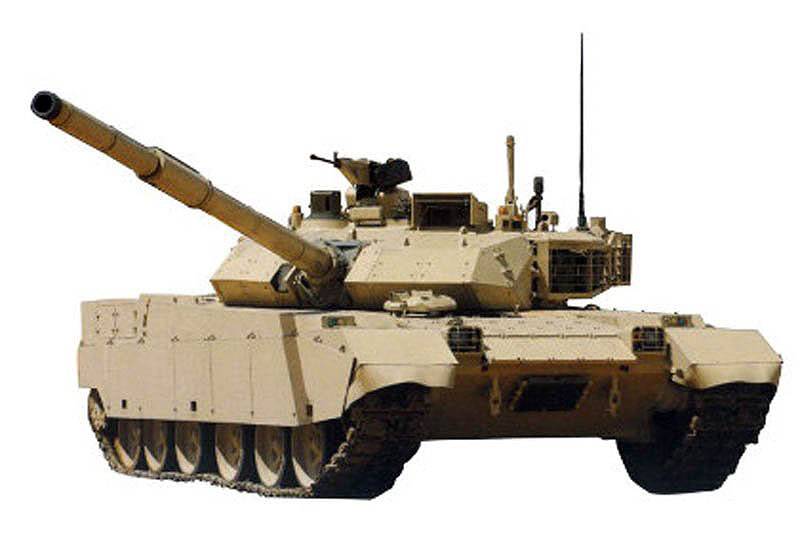 Chinese MBT MBT3000 (VT4), armed with an 125-mm smoothbore gun with automatic loader, is offered in the export market
The gun is mounted on the ZTD-05 artillery, based on the ZBD-05 amphibious assault vehicle, as well as on the ST1 8x8 wheeled anti-tank, which NORINCO offers for export.
NORINCO also offers a GP125 laser-guided projectile and its 7-mm version GP105; both have a maximum range of 2 meters and are equipped with a tandem-shaped cumulative warhead to neutralize targets with dynamic protection.
Germany led
In Western Europe, Germany is the leader in the field of MBT ammunition and the German company Rheinmetall plans to expand its offer on existing cannons and ammunition, as well as present new types.
The German Army's Leopard 2A5 MBT is armed with an 120-mm Rheinmetall L44 smooth-bore cannon, for which there are two main types of ammunition: BOPS with a conventional core and universal cumulative NEAT-MR.
Rheinmetall pays great attention to improving BOPS and its newest model, BOPS DM63 / DM63A1 has enhanced armor penetration and, like all its ammunition of this type, has a traditional tungsten core not of depleted uranium.
In addition to the Leopard 2 tank, the LHNUMX cannon from Rheinmetall is also installed on the American M44А1 / М1А1 Abrams tanks manufactured by General Dynamics Land Systems, although this version differs in a number of improvements, for example, it has a different design. The American version, designated M2, is manufactured at Watervliet Arsenal.
Meanwhile, the LHNUMX tank gun also developed by Rheinmetall began to be installed on the tanks of the German army Leopard 55A2 and 6А2 (and soon on 7А2); It was designed to replace the L8 gun and has a long range when firing BOPS. The gun and its ammunition have a good potential, but ultimately they have exhausted the possibilities for further improvement.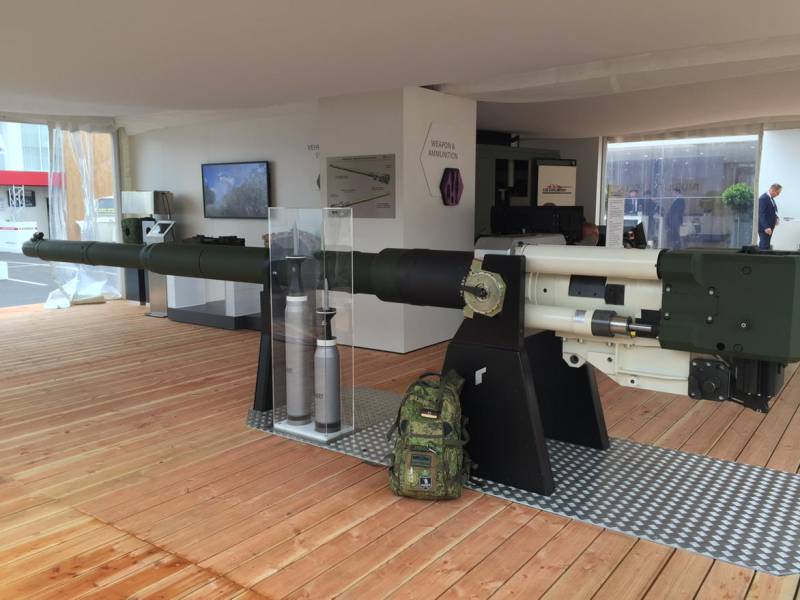 As an initiative, Rheinmetall developed a new 130-mm smoothbore gun, which was first shown in June 2016, along with models of its new 130-mm BOPS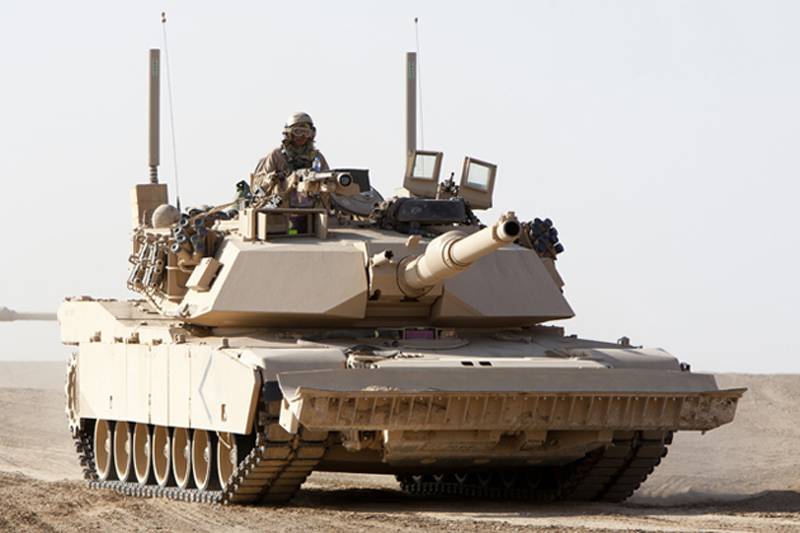 The tank of the American Army М1А1 / М1А2 Abrams is equipped with a 120-mm smoothbore gun M2SXNNUMX, which is a further development of the German 6-mm gun L120
According to the company, it is developing the 130-mm smoothbore gun and the corresponding BOPS, which were shown at the Eurosatory exhibition in June 2016. The company is currently conducting firing tests of the system.
The development of the gun began in 2015 year, while the company led this project at its own expense. The first demo of the gun was made in May 2016.
The new 130-mm smoothbore gun was designated L51 (respectively, the length of the barrel 51 caliber), it has a vertically sliding bolt mechanism, a larger volume of chambers and a chrome finish, but does not have a muzzle brake.
Not much is known about this gun, but the company claims a total mass of 3000 kg, which includes the mass of the recoil system, and the mass of one barrel is 1400 kg.
The specimen presented at the Eurosatory exhibition was equipped with a thermal housing and a system for combining the gun axis with the optical axis of the sight, which are also mounted on the gun undergoing shooting tests. The system of combining the axis of the gun with the optical axis of the sight allows for reconciliation of weapons regularly without the need for the crew to exit the car.
The new generation BOPS will have a semi-combustible sleeve, it will be equipped with a new propellant and a new improved long tungsten core. It should be followed by a new high-explosive fragmentation projectile of an air blasting NOT the AVM, which will have a programmable fuse.
The non-AVM projectile borrowed technology from the OM120 11-mm projectile, which is currently manufactured for the L44 and L55 guns.
BOPS and non-AVM projectile will be insensitive, since such a requirement puts forward an increasing number of customers; all that will remain after the shooting is a half-burned sleeve.
Rheinmetall is positioning a new cannon and ammunition as a possible weapon for promising MBTs or artillery mounts and, in principle, it could be part of the modernization of existing MBTs.
Along with installation, the armament complex can be integrated into traditional three-seat towers into two-seat towers (with a gunner-operator and commander) equipped with an automatic loader, which allows them to be made more compact.
Another possible application is the installation in remote-controlled towers with a gun mounted externally and with the supply of projectiles from an automatic loader, which allows the crew to be placed under the protection of the hull.
For lighter platforms, Rheinmetall also developed a prototype 120-mm tank gun Rh120 L47 with a new anti-recoil system (respectively, with low recoil forces), a thermal housing, an ejector of gunpowder gases and an alignment system (cold adjustment). The prototype can shoot all standard 120-mm tank ammunition manufactured by Rheinmetall.
Previously, Rheinmetall developed prototypes of 105-mm smoothbore guns, giving them the designation Rh-105-20 from Rh-105-30. They are designed for installation on lighter platforms, in addition, a family of corresponding high-performance 105-mm ammunition was developed. The designs of both guns are distinguished by a vertical bolt mechanism, and the Rh-105-20 version is a muzzle brake; until the production of these guns began.
In addition to Germany, several more countries are engaged in the development of weapons systems for MBT in Western Europe. The French MBT manufactured by Nexter Systems Leclerc, is in service with the French army and the United Arab Emirates, is armed with a 120-mm smoothbore F1 gun also manufactured by Nexter Systems. Initially, the gun ammunition included the BOPS and the cumulative fragmentation NEAT-MR projectile; later, the APFSDS F1В version of the BOPS, having an initial speed of 1790 m / s, was developed for it.
Recently, the French army received a Nexter Munitions RP-projectile with an initial speed of 1050 m / s and a declared range of 4000 m. It should be followed by an insensitive 120-mm M3M RP-projectile with a three-mode fuse, which is programmed as a shock, delayed and airborne undermining.
Nexter Systems also worked on the 120-mm recoilless LRF cannon, which was tested on the 8x8 test platform, but its production has not yet begun.
Italian options
For many years, Oto Melara (currently part of the Leonardo holding) has been producing 105-mm rifled and 120-mm smooth-bore tank guns. She also developed recoilless 105-mm rifled guns, which were installed on the Centauro 8x8 Mobile Gun System (MGS) ACS, currently in service with Italy, Spain and Jordan.
Later a smooth-bore 120-mm / 45 klb high-pressure barrel gun was developed, which was installed on the Centauro II MGS ACS. The gun, capable of firing all standard 120-mm ammunition, is equipped with a muzzle brake, a thermal housing, an ejector of powder gases and an instrument alignment system. 120-mm version of the L52 LRF with a barrel length 52 caliber could be an alternative that would increase the range when firing armor-piercing shells.
The Belgian company CMI Defense has found a niche in the field of armament of combat vehicles and, along with the line of towers, produces two 90-mm rifled guns - the 8 and 3 and the 105-mm rifle gun.
The 8 Mk gun is installed in the LCTS 90MP (Medium Pressure) twin-seat tower, and the 3 Mk gun in the CSE 90LP (Low Pressure) twin-seat tower.
The 105-mm CV gun was initially installed in the CT-CV twin-turret with an automatic loader in the rear of the turret, which reduced the crew in the turret to commander and gunner. The development of the CTCV tower has been completed, but it is known that no contracts for its mass production have been concluded yet.
One possible application for the 105-mm CV guns is the modular turret 3000 Modular Turret System from CMI Defense Cockerill, which is produced for an unnamed overseas customer (clearly Saudi Arabia), and is likely to be installed on some of the newest lightweight armored LAV 8x8 machines manufactured by General Dynamics Land Systems - Canada.
In addition to firing standard ammunition, the CV gun successfully shot off the Falarick anti-tank guided missile. This projectile was developed by the company together with the Ukrainian industry and allows you to fire at targets at a distance of 5000 meters.
The projectile is equipped with a tandem cumulative warhead that copes well with targets with dynamic protection. In order to ensure the defeat of the target, the gunner must keep it in the crosshair until the rocket reaches the target.
CMI Defense also received technical documentation and rights to sell the Compact Tank Gun (CTG) developed by RUAG Defense's 120-mm gun, which was originally intended to upgrade the Swiss Pz 68 MBT, which, however, were eventually decommissioned.
For testing, the CTG smoothbore gun was installed in the Falcon 2 turret developed by the King Abdullah II Design and Development Bureau (KADDB) of Jordan and at the Al Hussein MBT (former British Army Challenger 1 tank), but these works did not go beyond initial firing tests.
This gun is demonstrated as one of the claimants for the armament of the CMI Defense XC-8 twin-turreted tower, the other challenger is the 105-mm rifled CV gun. The model of the XC-8 turret was shown on the South Korean K21 infantry fighting vehicle, which is standardly equipped with a twin turret armed with an 40-mm cannon and a twin machine gun.
Israeli weapons
Israeli industry is working to increase firepower by improving ammunition for the Israeli army's MBT.
Tanks Merkava Mk 1 and Mk 2 local development, now decommissioned, were armed with 105-mm rifled gun manufacturing IMI Israeli company, while the newer versions of Merkava Mk 3 and Mk 4 armed 120-mm smoothbore gun MG251 and MG253 respectively also produced by IMI, the latter stands on the Turkish platforms M60T Sabra.
In addition to the development of new-generation BOPS, IMI pays close attention to the development and production of 120-mm tank shells optimized for urban combat, including anti-personnel shells.
IMI has also developed 105-mm and 120-mm smooth-bore guns with a small recoil, but it is not known whether their production began and whether they will be offered to foreign customers.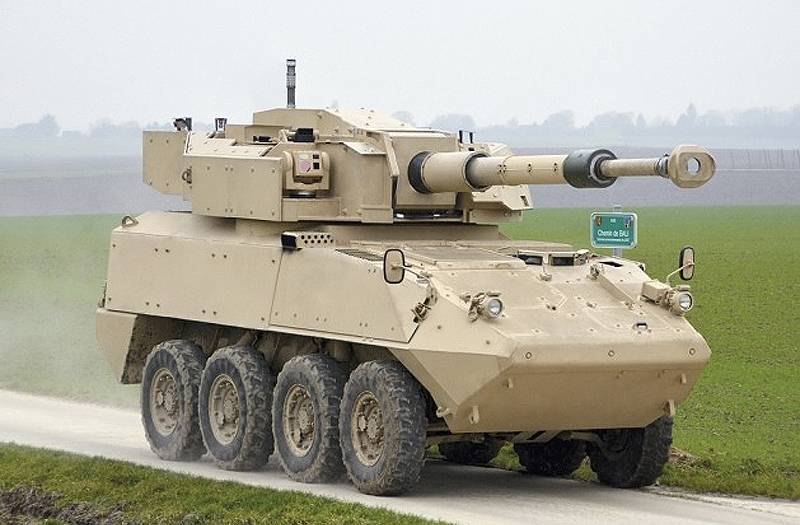 General Dynamics European Land Systems - Desert Piranha - MOWAG with a CMI Defense Cockerill 3105 turret, armed with an 105-mm 105 CT rifled gun
Russian expansion
Russia basically arms its tanks with guns of larger caliber than the guns of tanks of NATO countries. The T-72, T-80, T-90 tanks and the latest Armata T-14 MBT are armed with 125-mm smooth-bore guns developed by Plant No. XXUMX. They can fire guided projectiles, as well as all traditional ammunition.
In the sphere of guided missiles, first emphasis was placed on the complex with radio command guidance, named Cobra (index of the 9K112 complex), but later the Russian military "put" on laser-guided munitions that were made in three calibers: 100 mm, 115 mm and 125 mm . For the BMP-3 and towed anti-tank installation T-12 was intended 100-mm, and for self-propelled anti-tank gun 2X25 Sprut-SD 125-mm projectile.
The latest laser-guided 125-mm projectiles have a maximum range of 5000 meters and are equipped with a tandem cumulative warhead.
For the T-4 T-95 perspective XBNT project (which was closed in favor of the Armata project in 2010), which has already died in the Bose, Plant No.9 (part of Uralvagonzavod) developed and tested an 152-mm gun, which received the designation 283 . It was rumored that it could be installed in future versions of the Armata T-14 MBT, although the prototypes and the first 100 production machines will have an 125-mm smooth-bore 2-82-1-gun. A new laser-guided projectile for the 2А82-1М gun was designated the "Sprinter" (index of the guided missile ZUBK21).
For its tank BM "Oplot", the Ukrainian industry manufactures 125-mm smooth-bore cannon KBA-3, which, like the Russian
weapon
This caliber also shoots separate-loading ammunition.
In addition, since Russian-made laser-guided projectiles are no longer available, the Ukrainian state-owned Luch Design Bureau has developed its own family of such ammunition. The 125-mm version, called "Combat", has a declared maximum range of 5000 meters and is equipped with a tandem cumulative warhead.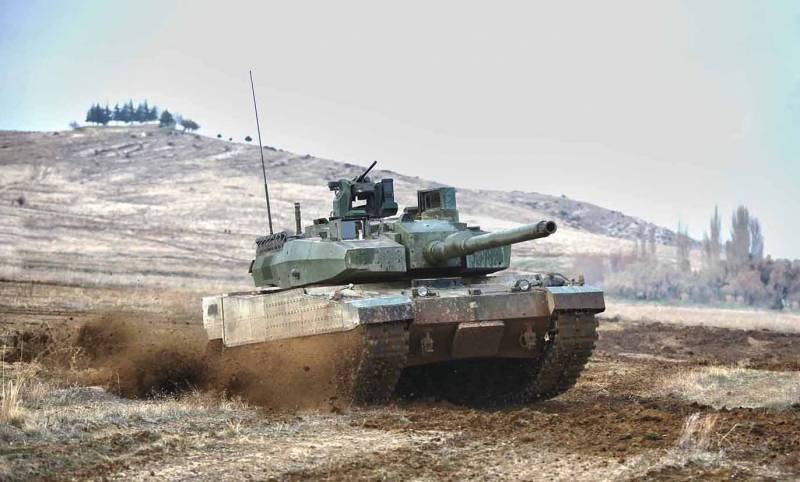 Turkish Altay MBT armed with 120-mm smoothbore gun
American affairs
The main BOPS of American tanks M1А1 / М1А2, which are in service with the army and the Marine Corps, is the М829 armor-piercing projectile with tracer, which is equipped with a core of depleted uranium to improve armor penetration. The projectile was constantly being improved, the length of the cores grew, the characteristics of armor penetration increased; its last variant is designated as M829А4.
Little is known about the details of the improvement of the M829А4 projectile, but some sources report that it has a longer core compared to previous versions. The M829X4 uses an improved sleeve as well as a propelling charge independent of temperature.
Ammunition for 120-mm smoothbore gun М256 is manufactured by General Dynamics Ordnance and Tactical Systems and Orbital ATK Armament Systems, and for foreign buyers they offer BOPS with non-depleted uranium core.
The 120-mm universal cumulative fragmentation projectile goes under the designation М830А1, among other special projectiles it is necessary to call the 120-mm cluster anti-personnel projectile М1028.
Although the Abrams army and marine corps tanks are equipped with the same M256 smoothbore gun manufactured by Watervliet Arsenal, which is based on the German L44 gun developed by Rheinmetall, but they use different projectiles.
The infantrymen purchased a DM120 11-mm OB-projectile from Rheinmetall, while the army began a program to develop such a projectile, designated as HM1147 AMP (Advanced Multi-Purpose - advanced universal), which is carried out by two groups of developers at once.
It was expected that MBT M1А1 / М1А2 would be replaced by one of the components of the Future Combat System (Mounted Combat System) Future Combat System (Future Combat System) program that was closed in 2009. This system would have been armed with a new 120-mm XM360 smoothbore gun manufactured by Watervliet Arsenal.
The number of contractors in NATO countries that currently have the ability to design, develop and produce tank guns and related ammunition kits has decreased over the past few years.
The development of tank guns in Europe has actually stopped, and time will tell whether the development and production of the Russian T-14 tank will force Armata of global manufacturers to new developments besides the recently presented Rheinmetall 130-mm smooth-bore gun.
Materials used:
www.rheinmetall.com
www.kmweg.com
www.norinco.com
www.nexter-group.fr
www.leonardocompany.com
www.cmigroupe.com
www.imi-israel.com
www.uvz.ru
www.zavod9.com
www.luch.kiev.ua
www.gd-ots.com
www.wikipedia.org
en.wikipedia.org