Without much news coverage in major media, a meeting was held between leaders of Palestinian political movements. We are talking about the leaders of Fatah and Hamas, who met in the Russian capital. During the conversation, the main issue on the agenda was discussed - the creation of a national unity government of Palestine. According to representatives of the movements, within two days after the meeting, a document with proposals for the creation of such a government will fall on the table of the head of Palestine, Mahmoud Abbas.
In addition to the government of national unity, Fatah and Hamas are going to introduce their representatives to the Palestine Liberation Organization (PLO). This is due to the fact that it is this organization that the Israeli authorities recognize as a party to the negotiations. Thus, Fatah and Hamas expect that when their representatives are included in the PLO, Israel will have no choice but to recognize the government of the national unity of Palestine. Do they share such logic in Israel?
During the meeting in Moscow, the leaders of Fatah and Hamas declared that the so-called quartet on the settlement of the Palestinian-Israeli conflict had not actually been working lately. The main reason Palestinian politicians called the fact that one of the representatives of this quartet - the United States - takes a pro-Israel stance even if this stance runs counter to the interests of a peaceful settlement. Here, the statements of the leaders of Fatah and Hamas are somewhat incompatible with reality. The fact is that quite recently the United States actually missed a resolution condemning the construction of Jewish settlements. Israeli authorities expressed outrage at the American position. True, no one imposed any sanctions on Israel for continuing the policy of building settlements.
Representatives of the Palestinian political forces Azzam al-Ahmad and Mustafa al-Barsugi met with Russian Foreign Minister Sergei Lavrov.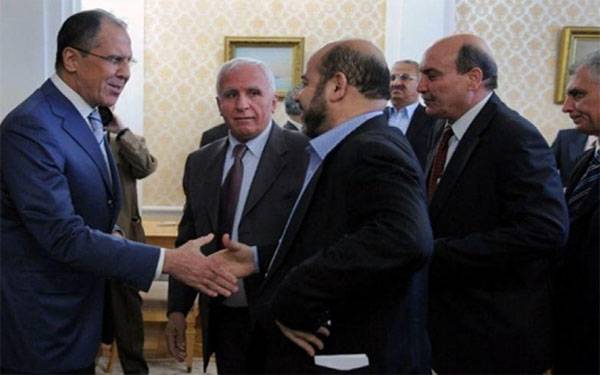 It was noted that the Russian minister promised to initiate an international conference under the auspices of the UN to resolve the Palestinian-Israeli conflict after the creation of a unified government of Palestine.